Serena Williams is looking like a snack!
The tennis ace gave birth to her firstborn daughter Alexis Olympia at the start of September.
The 36-year-old showcased her enviable post-baby figure in a stunning cocktail dress.
The mom-of-one turned heads at the Kings Theatre in Brooklyn on the red carpet for the Glamour Women Of The Year Awards.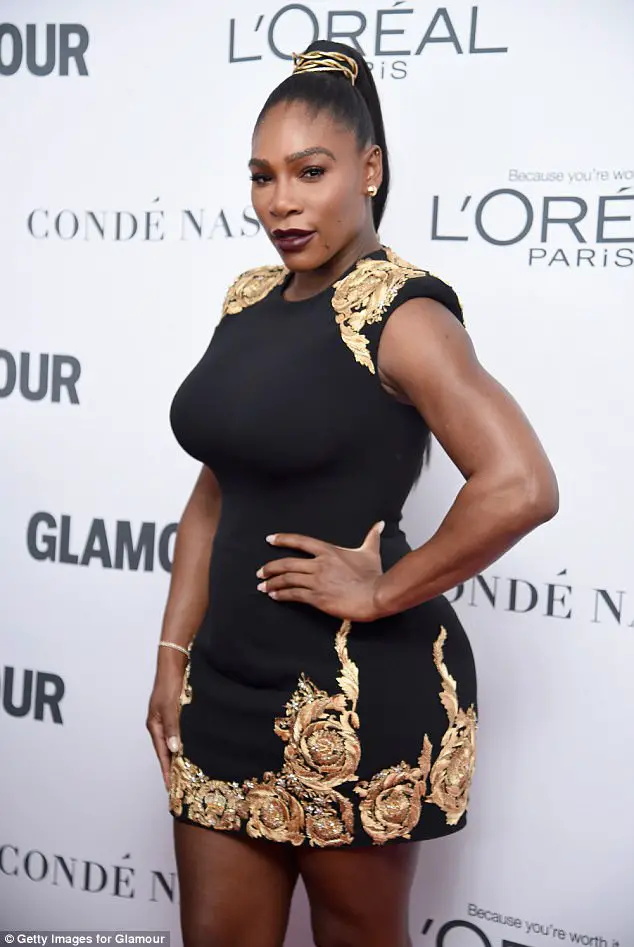 Her sleeveless black dress featured mesmerizing gold floral patterns swirling round its mid-thigh hemline and over her shoulders, matching her earrings.
A gold-colored tie held her hair into a high bun. Serena accessorized with a slender bracelet on her right wrist.
The 23-Grand Slam winner was there to present Gigi Hadid with the Supernova award at the ceremony.
Williams wore the black and gold Versace number to honor Gigi who modeled it during the Spring 2018 Milan Fashion Week.
'Gigi, you are one of the few people on this planet I would leave my baby for — for one night — but for you, it shows how much you mean to me.'
'And I want you to imagine the effect you have on the world,' Serena said before giving the award to the 22-year-old supermodel.
'Since I've known Gigi Hadid since she was a kid, she's always been a woman with goals. Not only beautiful on the outside but totally stunning most importantly on the inside,' she added during her presenter's speech.
'She understands in order to be the best you have to think like you are the best. You have to work the hardest and you have to make sacrifices.'
Serena – who set a Grand Slam record by defeating her sister and fellow tennis star Venus at the Australian Open this January – completed the look with black heels.
She and her fiancé, Snapchat co-founder Alexis Ohanian, got engaged last year.
They are rumored to be marrying very soon.
Serena seems to be throughly enjoying mother and constantly updates fans on her daughter's Instagram page.
But there's one thing that is getting on her nerves, writing on Snapchat: 'I do love Alexis Sr. @alexisohanian but if he buys one more outfit or toy for Olympia @OlympiaOhanian I'm going to explode'.