Can you believe that Malia Obama is officially a college student? I remember her little face smiling brightly as her father became sworn in as the 44th President of the United States.
Now the oldest daughter of Barack and Michelle Obama has moved into her Harvard University dormitory. The 19-year-old was pictured on Monday afternoon with her fellow students arriving with their parents.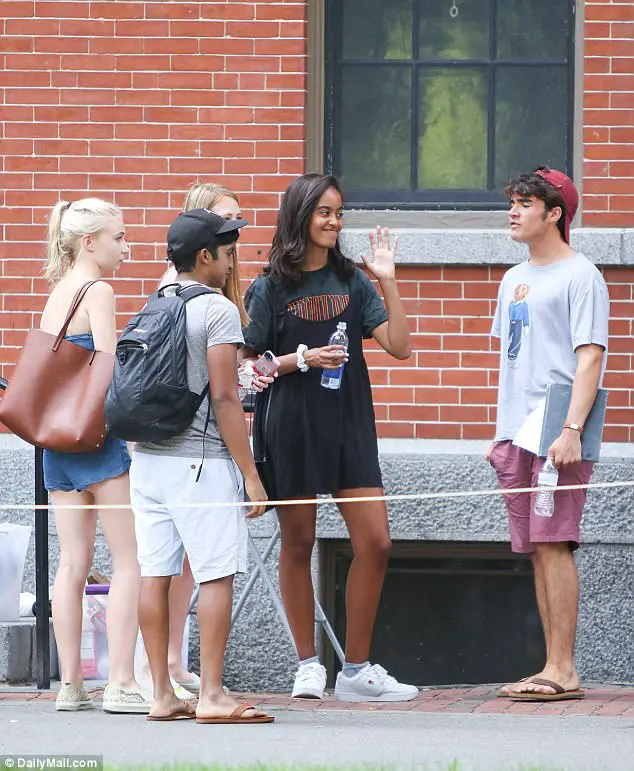 The family were also joined by members of the Secret Service as they pulled up to Malia's new residence in a two-SUV envoy.
As any parent saying goodbye to their kids on their first day college – it did not look easy for Barack and Michelle. 
But the former President and First Lady know she is in safe hands as they both went to Harvard Law School.
The proud parents said an emotional goodbye to their daughter at the Cambridge campus.
They then put on dark shades as they exited Malia's dorm, keeping their faces down as they rushed into their SUV.
Barack has made no secret in the past about how emotional he feels at these milestone moments. He was seen crying when Malia graduated high school back in June of 2016.
He was even brought to tears in September 2015 during a speech in Michigan.
Barack was recounting sending Malia off to her first day of senior year, revealing he choked up when his daughter told him: 'Daddy, you know, you realize this is probably going to be the last time that you ever send me off for my first day of school.'
Barack has also admitted that when he does cry, he immediately puts on his sunglasses.
For her big college debut Malia opted to wear a $275 top by Alexander Wang which she paired with a black baby doll dress and white sneakers. 
But when approached by one reporter from the Boston Globe, and asked if she would be willing to speak with him, the classy college student politely declined by saying 'I can't' and shook his hand.
Malia will not be the only big name on campus either, with 'Black-ish' star Yara Shahidi set to start classes a little later in the year.
A few students posted snaps of Malia to social media on Tuesday, including one young woman who could not contain her excitement when her father sent a picture of her brother chatting with the former first daughter.
'My brother and Malia are about to be besties,' wrote Robin Daggers, whose younger brother is attending Harvard on a full scholarship.
She also included the photo her father sent of Malia and her brother chatting in front of the dorm.
That was then followed up with another tweet from Robin, who wrote: 'Obama is about to start inviting my family on family vacations. He's going to let me call him Barack.'