She cruelly burnt a 3-year-old's hand and leg on a hot stove. She later swung her by the hair and locked her inside a toy chest.
Lidia Quilligana, 32, showed no mercy to the defenseless infants she was supposed to be taking care of. Yet she was in floods of tears when she was sentenced to 15 years in prison for her heinous crimes.
Quilligana pleaded guilty to second-degree assault, which was reduced from first-degree assault in exchange for pleading guilty to 24 counts of risk of injury to a minor.
Quilligana, an immigrant from Ecuador with three children of her own was arrested in 2015.
She was caught on a hidden camera repeatedly abusing her employers' 3-year-old girl and 1-year-old twin siblings, according to The News-Times. 
Prosecutors say she also ripped hair out of the children's heads.
A defense attorney called Quilligana's actions 'unfathomable' at Tuesday's sentencing, but said she was not a 'monster' but 'a sad person who lost control.' 
The attorney also said Quilligana was abused as a child at the hands of her alcoholic father and didn't know her actions were abusive. 
But an advocate for the three victims said the abuse suffered by the 3-year-old girl and her younger siblings could only be described as torture.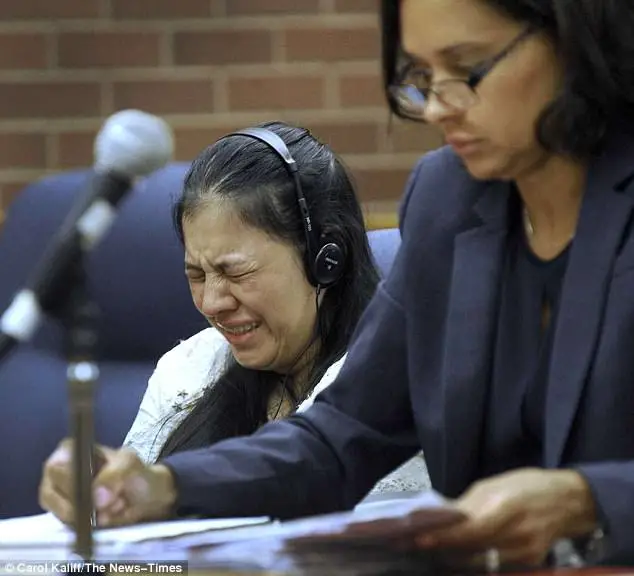 'I couldn't control myself,' Quilligana said Tuesday through an interpreter. 'Believe me, I loved those children with all my heart. I'm sorry a thousand times.'
The victims' mother rejected her former nanny's apology and said in a statement there was no excuse for her conduct.   
The judge agreed, telling the defendant 15 years 'doesn't even come close to fitting the crime.'