When Dana Vulin took a nap on the evening of February 16th, 2001, she could have never predicted that her life would be forever changed.
University graduate Dana was at home in Perth, Western Australia taking a well earned rest on her sofa when a woman's voice said: 'Hello, Dana.'
Dana awoke to see Natalie Dimitrovska.
She was the jealous estranged wife of a man named Edin who Dana had met once before at a New Year's Eve party. Natalie stood above Dana – her eyes pure with rage.
Dimitrovska, a convicted drug user, suddenly threw a bottle of methylated spirits over Dana.
In her other hand she held a pipe used for smoking crystal meth.
Before Dana could fully react to the mysterious substance on her skin or even ask Natalie why she was in her home, the deranged woman lit a match and tossed it at her.
The scene was horrific. Dana and the sofa she had innocently been sleeping on moments before went up in flames.
'I was pretty much instantly on fire,' a weeping Ms Vulin told Western Australia's District Court. 'I was a human fireball.'
'The moment I was on fire, [Dimitrovska and a male accomplice] just laughed and ran out of my apartment,' she added.
28-year-old Dana was completely helpless and on her own.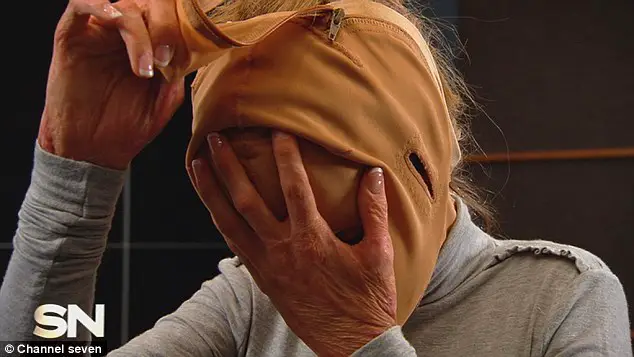 'I screamed: 'help me, help me, help me.'
Dana described how she rolled on the floor and frantically poured water over herself in an attempt to put out the flames.
After what seemed like an eternity to Dana, a neighbor heard her cries for help.
She discovered Dana lying in the shower and called emergency services. Dana was rushed to hospital.
After 30 months of painstaking reconstructive surgery and more than 30 procedures, Dana has become the poster girl for survival over adversity.
Having suffered agonising pain from her burns, she was been forced to wear a mask between her countless operations.
Dana has come a long way from the woman who almost died after suffering third degree burns to two-thirds of her body just a few years ago.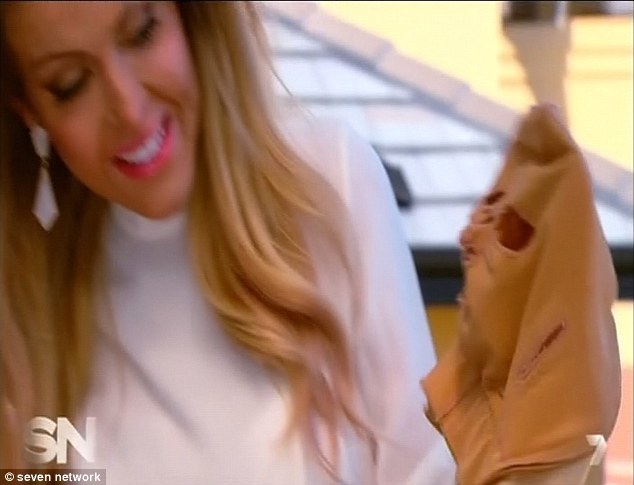 Her attacker Natalie Dimitrovska was obsessed with the notion that her husband was having an affair with Dana.
She threatened her for weeks before the premeditated attack. Dimitrovska made repeated threatening phone calls, saying: 'You're dead, b****' and vowed to ruin her 'pretty little face'.
When Dana told Natalie she was not interested in her husband and wished them well the abuse did not stop.
Natalie continued to leave threatening messages and called her day and night even calling Dana a 'f***ing sl**'.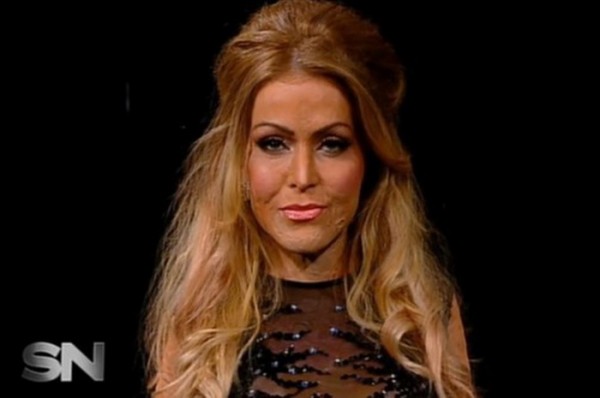 After her ordeal Dana felt like she was stripped from her identity by having to wear a pressure suit and mask.
 "I've been faceless and it makes you feel like a nothing and a no one,' she said.
"I know who I am, but I'm beige. I don't have any expressions on my face, you can't see my mouth, you can't see my nose, you can literally only see my eyeballs, not my eyebrows. It makes me feel like a faceless nothing, that's the best way to describe it."
After the attack Dana could not believe the horrific burns she had on her face.
"It's your identity, so I think in order for somebody to heal inside you have to heal on the outside. I have the right to have my face that I was born with back. Everyone has the right to have their face."
Natalie Dimitrovska was eventually sentenced on October 11, 2013 in the District Court of Western Australia and was given 17 years in prison for grievous bodily harm.
Judge Bruce Goetze told a sobbing Natalie: "It is totally unimaginable how you could not put out the flames, or try to do so, or at least call for help. Instead, you laughed and ran away."
But sadly Dana's terrible ordeal was not over yet.
Just when things seemed to be looking up for Dana she had another battle to face.
Doctors told her the heartbreaking news she had been diagnosed with cervical cancer.
'As soon as I looked into his eyes I said to him, 'it's bad isn't it?' And he said, 'Yeah I'm sorry, you have cancer',' Ms Vulin told Channel Seven's Sunday Night show. 
'I just couldn't believe that, dealing with so much at once, there were times where I thought how much can one person deal with?'
But despite Dana's terrible ordeal and the battle ahead – she's thankful she is able to smile once again.
"In my wildest dreams in the beginning I didn't for one second think I could look in the mirror and see the old Dana again."
Dana decided the only course of action was to keep fighting on: "I'm going to make this burn my b*tch, I'm going to kick it in the face and I am going to rock scars, look hot with my scarred-up body and just make this work.'
'It would've been easier to die but I've never taken the easy road to anything so… it is the hardest, rockiest, biggest mountain you can possibly think of.'
Dana now supports a range of charitable and social change initiatives and events, including:
Survivor Foundation Inc
Model Camp Australia (giving motivational talks to young woman about body image and loving the skin you're in)
Momentum for Australia – Kiss Violence against Women Goodbye