Oh, how I miss the Obama administration.
President Obama was the epitome of class, dignity and grace.
As much as I miss them, it's nice to see the family enjoying post-White House life.
Michelle Obama and her eldest daughter Malia were spotted having some quality mom and daughter time in Miami over the weekend.
The former First Lady and Daughter were spotted walking on Miami Beach Saturday surrounded by friends. The group were also protected by Secret Service personnel.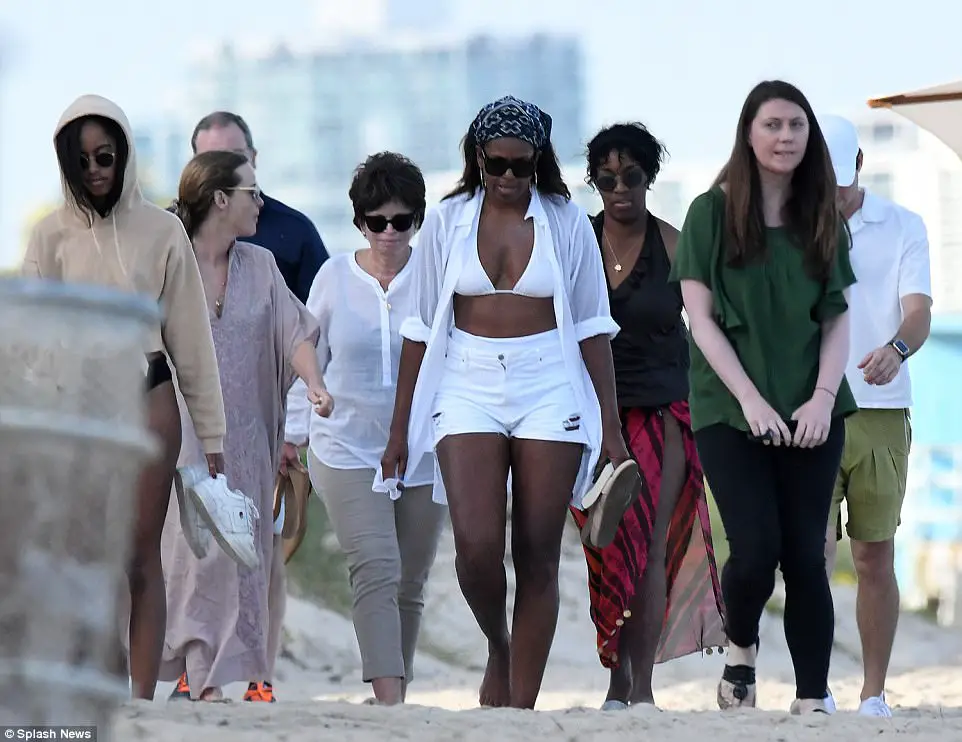 Michelle, 53, looked gorgeous in a white bikini top, matched with high-waisted white denim cut-off short.
The married mom-of-two also sported a long white blouse, a bandanna and large hoop earrings for the outing.
Malia was a statuesque beauty alongside her mom. She wore a tan hoodie over her black bikini.
The tall teen held a pair of white sneakers and her iPhone with a charger.
Earlier in the day, Malia and Michelle were seen leaving their hotel with a large number of bags.
The pair grabbed some dinner at the trendy Prime 112 steakhouse and heading out of town.
Former president Barack Obama and younger daughter Sasha was nowhere to be seen.
Malia looked stunning in a black and white patterned dress.
She was all smiles outside of the restaurant, with her mom appearing in similar great spirits right behind her.
Michelle strutted out of the celeb eatery in a set of flowing high-waisted trousers with a green tank and long blue cardigan.
She accessorized with gold chains and dark shades.
Malia is currently enjoying a well-earned break from her studies at Harvard.
The whole family got together in Obama's hometown of Hawaii over the Christmas period.
According to the University's website, students are due back on January 22 for Spring term.
Check out more photos below: