South Africans are not here for H&M!
The retailer is at the center of a PR nightmare, after featuring a black child model on it's website wearing a green hoodie with the slogan 'coolest monkey in the jungle' on it.
Activists trashed H&M stores in protest. Violence, mayhem and chaos spilled out in at least six malls in the country.
In one instance police had to fire rubber bullets at protesters.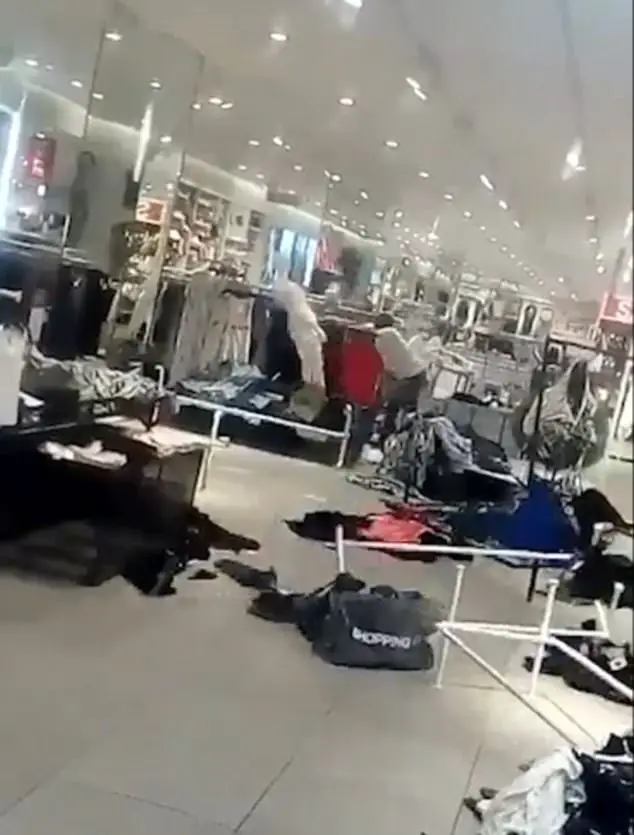 Terrified shoppers were forced to flee, as chanting gangs wearing uniforms of the country's radical opposition party, swept through H&M stores.
It was clear the demonstrations were well planned, as hundreds of protesters turned up at various H&M stores as they opened for Saturday trading.
Pictures and videos of the mayhem went viral on social media.
In one video, said to be taken at the Menlyn Park store, one of red shirted activists is seen trashing displays and kicking over clothes rails.
He also pulls down mannequins – with the store being left in complete disarray.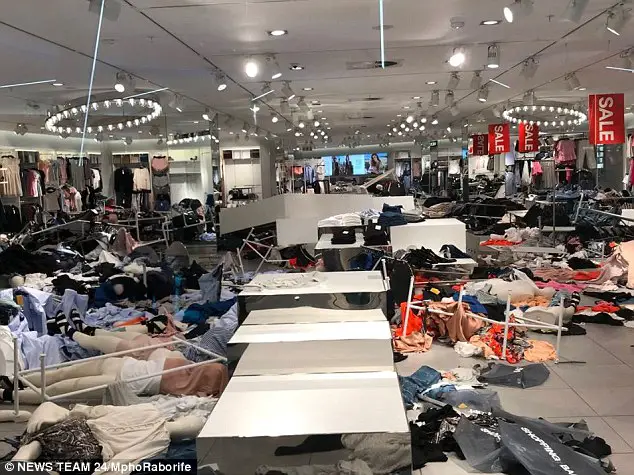 He was then joined by another activist in a white t-shirt and the pair continued to trash the store.
Floyd Shivambu, spokesman for the Economic Freedom Fighters party, praised the action, saying the retailer was 'now facing the consequences for its racism'.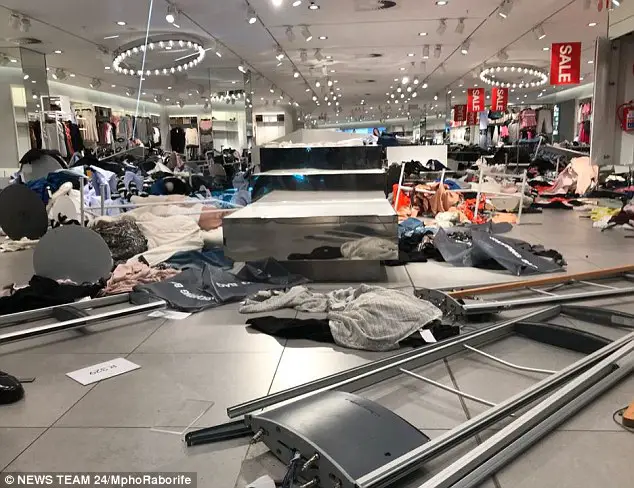 The clothing giant first opened their store in Africa two years ago.
But they soon faced public backlash when it failed to feature any black models in its advertising.
However, many people on social media warned that if H&M did abandon the country due to the protests, hundreds of jobs would be lost.
They also noted that the majority of the jobs were held by black people. So the mess would be left for the black workers to clean up.
The Swedish fashion chain withdrew the green hoodie from its UK and US websites after it caused uproar.
It quickly issued a statement apologizing to 'anyone it may have offended'.
Manchester United footballer Romelu Lukaku, basketball player LeBron James and music mogul P Diddy are among the celebrities who slammed the advert.
Many shoppers vowed to boycott the chain.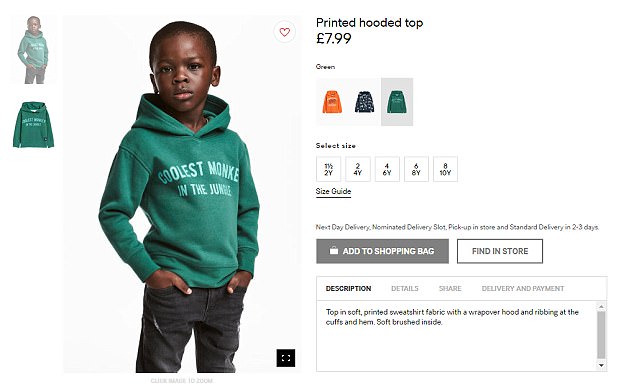 But Terry Mango, mother of the child model, five-year-old Liam, branded the backlash to the image 'unnecessary.'
She urged critics to 'stop crying wolf' and 'get over it'.
H&M also took to Instagram to express further apology, saying: 'We understand that many people are upset about the image of the children's hoodie. We, who work at H&M, can only agree.;
'We're deeply sorry that the picture was taken and we also regret the actual print.'
'Therefore, we've not only removed the image from our channels but also the garment from our product offering.'