There is a tragic update to the case of missing two-year-old girl Nalani Johnson. 
The body of the Pennsylvania toddler – missing since the weekend – has sadly been found. Nalani's body was found on Tuesday at Pine Ridge Park in Indiana County just outside of Pittsburgh.   
The female suspect was reportedly in a relationship with Nalani's father. On Monday, Allegheny County Police charged Sharena Nancy, 25, with Nalani's kidnapping.
According to KDKA, it is likely her charges will be upgraded now that the toddler's body has been found.
In­di­ana County Dis­trict At­tor­ney Patrick Dough­erty confirmed at a press con­fer­ence that the body of Nalani John­son was found by searchers.
"We can con­firm that the miss­ing child was found here in Pine Ridge Park in In­di­ana County. This is an on­go­ing in­ves­ti­ga­tion. The info we can pro­vide is very lim­ited," the DA said.
"We are work­ing hand in hand with state po­lice and Al­le­gheny County po­lice and the dis­trict at­tor­ney's of­fice. The FBI has also been here and is as­sist­ing."
According to po­lice, Nancy drove through Mur­rys­ville and New Al­ex­an­dria to Blairs­ville, In­di­ana County.
After an Amber Alert was issued, she was pulled over by po­lice on Rodi Road in Penn Hills about 7:30 p.m. However Nalani was not in the car, and nei­ther was the car seat she had been in.
The Pittsburgh Post-Gazette reports that Nancy told cops Nalani's father, Paul Johnson, told her to hand the little girl to a woman along Route 22. She said he was sell­ing his daugh­ter for $10,000.
But Superintendent McDonough said there was noth­ing to cor­rob­o­rate Ms. Nancy's ver­sion of events.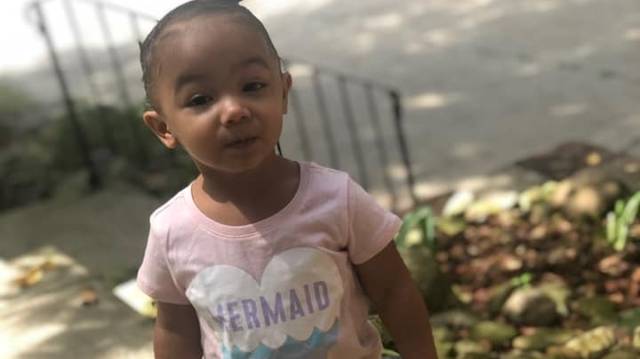 "She's pro­vided a num­ber of state­ments to us," he said.
The child's father previously told investigators in Penn Hills that he and a friend were riding in a car driven by Nancy on Saturday evening. 
When he got out of the car and was moving to get Nalani out of her car seat, Nancy drove off.
"Sharena Nancy and Paul Johnson became acquainted intermittently over the last few months, so they were known to each other," police said.
"They were friends; they were in the beginnings of an intermittent romantic relationship."
Bur Johnson's grandmother has fiercely denied the child's father had any involvement in the kidnapping.
Taji Walsh, dismissed the allegations, telling reporters that if police thought the father was involved "he wouldn't be walking freely – he'd be locked up like she is."