She's a musical pioneer and the first female rapper inducted into the Songwriters Hall of Fame.
Missy Elliott proved her legendary status as she entertained the crowd with a medley of her greatest hits at the MTV Video Music Awards.
The musical icon was honored with the Michael Jackson Video Vanguard award by Cardi B at the Prudential Center in Newark, New Jersey, this Monday. 
Fans were also astonished to see dancer Alyson Stoner appear on stage. She was only nine years old when she appeared in Missy's 2002 'Work It' video.
Alyson arrived onstage in a canary yellow tracksuit with her name emblazoned on the back.
The now 26-year-old proved she still had the moves.
Back in 2003, Alyson performed 'Work It' onstage with Missy, with the artist winning Video Of The Year. Now 16 years later, Alyson was back doing her thing on the VMA stage.
During her show-stopping performance, Missy performed 'Get Ur Freak On' from her 2001 album Miss E… So Addictive.
The star-studded audience were seen dancing to her hit songs 'Lose Control', 'Pass That Dutch' and 'The Rain.'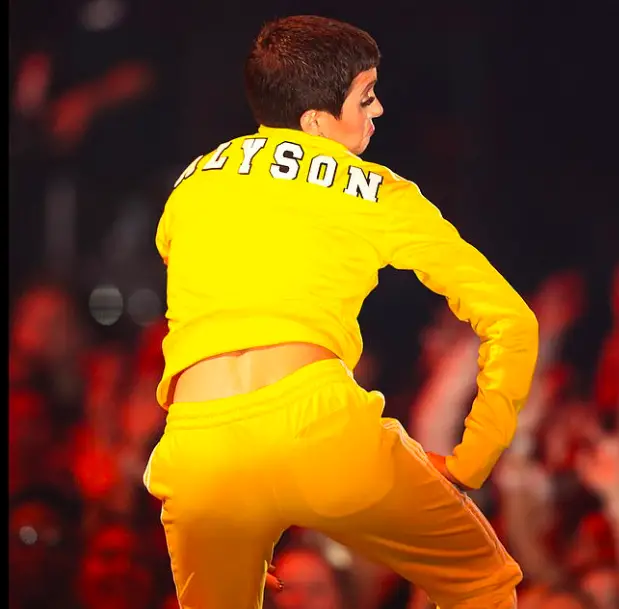 Missy, full name Melissa Arnette Elliot, opened her set with her new single 'Throw It Back' from her EP Iconology.
The super producer modeled several different outfits for her performance.
One of her outfits was a camouflage hoodie and matching trousers, as she wore in the 'Get Ur Freak On' video. 
She also rocked a black tracksuit with sparkling gold accents, including: 'MISSY' scrawled across the front.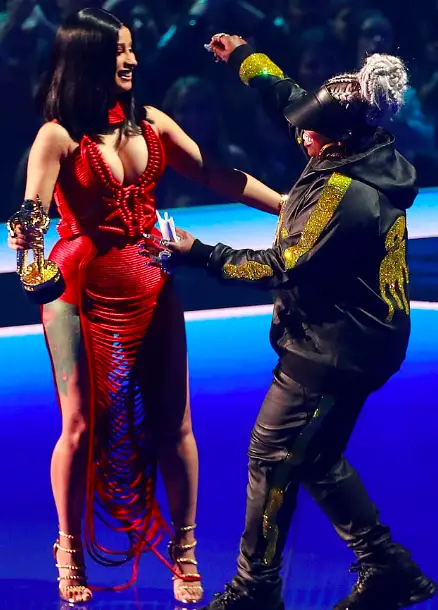 Over the course of her career, Missy has won a grand total of 15 MTV Video Music Awards and has 32 nominations to her name.
As Grammy-winning artist Cardi B presented Missy with her Vanguard award she said: "Her album was the first one I ever bought. Everyone has copied from Missy Elliott. Even me. I don't care! So what?"
When Missy arrived onstage to accept her trophy, she hid her eyes behind a visor.
"I promised I wouldn't cry this time, 'cause I cry every awards."
"This means so much to me. I have worked diligently for over two decades, and I never thought that I would be standing up here receiving this award, so it means so much to me," Elliot said humbly. 
Missy did not forget to pay tribute to the sister of the award's namesake, telling Janet Jackson: "I love you. I thank you for being such a great friend."
She also paid tribute the late singer Aaliyah. Early in Missy's career she had worked with her friend Timbaland to produce music for her.
"Aaliyah, I love you. We miss you," she said earnestly. 
Then Missy paid tribute to the hard working dancers who brought her set to life.
"And lastly, I want to dedicate this award to the dance community all around the world, because when y'all get on the stage with these artists, it is not – y'all are not just props. Y'all are the icing on the cake. Y'all are the beats to the heart."