Lisa Fleming developed an unhealthy relationship with food at an early age.
By the age of 11, she already weighed 120lbs.
Now the 49-year-old from Mobile, Alabama, weighs 704 pounds.
Lisa appeared on TLC's My 600lbs Life seeking gastric surgery after discovering maggots in the folds of her skin.
But after gaining 30lbs, she was denied surgery by Dr Younan Nowzaradan ahead of planned weight loss surgery.
Lisa was kicked off the hospital program by Dr Nowzaradan after he discovered she had secretly been eating junk food.
Nutritionists also discovered she had donuts and ice cream in her fridge.
He even suggested that she was 'manipulative' after she had an epic meltdown and tantrum.
Growing up with five brothers, Lisa admitted her dad spoiled her and constantly and told her he loved her.
But her mother struggled to verbalize her affection, instead cooking her daughter whatever she wanted to show she cared.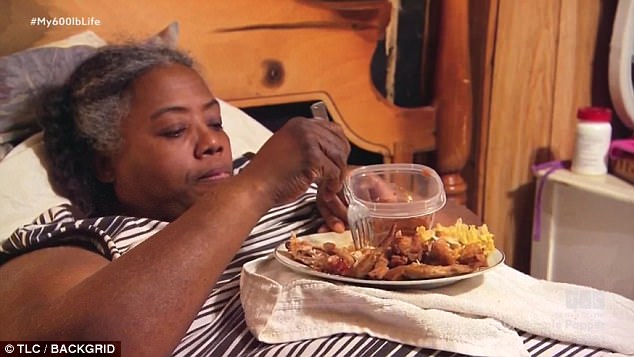 'I remember this one time, I asked for some cake and she wouldn't give it to me,' she explained. 'I didn't understand so I just stuck my finger in and rubbed all the icing off the cake.
'My mama caught me and said, "I know ain't nobody done this but you," and she sat me down and said I had to eat the whole cake. But after an hour my dad came and threw it in the trash can.'
'He always saved me.'
After her mother passed away from cancer, she gained another 100lbs as she sought comfort in food.
'One day I just couldn't get up and move,' Lisa said sombrely.
For the first time in years, she was able leave the same bed her mother died in due to her obesity.
Lisa made the six-hour trip, to Houston in order to ask for his help.
At the end of the show, it was revealed that she had managed to lose a total of just 58lbs on her own over the course of the year.