Judith Nwokocha, 38, struggled for eight years to get pregnant. After a successful IVF round, she was over the moon to be expecting twins. 
But the Nigerian-born photographer from Calgary has revealed her shock at first seeing them.
Nwokocha gave birth to one black and one albino twin. She was in such disbelief she initially believed she had been brought the wrong baby.
Her baby boy, Kamsi, is black, and her little girl Kachi, who is albino, are now three.
Albinism is an inherited condition and if both parents carry the faulty gene, then there is a one in four chance that their child will be born with the condition. According to the NHS website, albinism affects the pigment that colors the skin, hair and eyes. 
"Most people don't believe they're twins," Judith said. "It's also [Kachi's] hair texture that confuses them. Someone has asked me, "Where are her parents?"
"I can see the look of shock in their faces when I tell them I'm her mother."
But Judith says the twins don't even notice that they are different.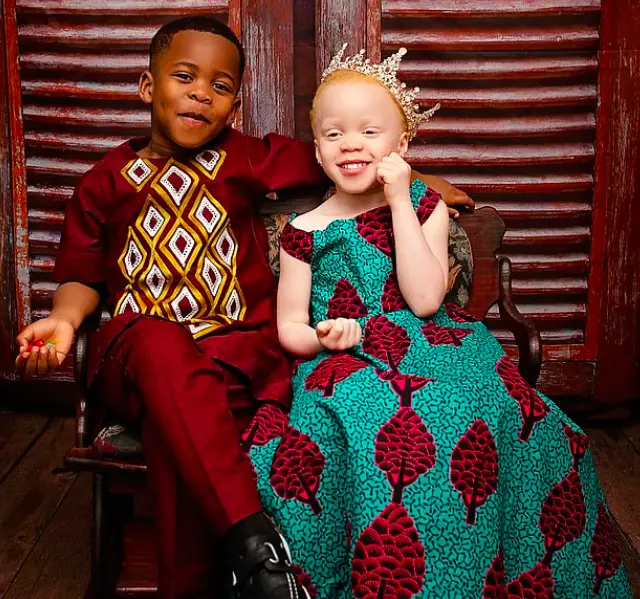 Shortly after discovering she was pregnant, Judith was told the twins might be born with Down syndrome. 
"I remember going for my first scan when they told me, 'You are having a baby', and I said, 'No, I'm having two.' I knew, without a doubt," she says.
"The second scan revealed we were having twins. I was told the twins might have Down Syndrome. At seven weeks, Kachi was always behind."
In a personal essay for Love What Matters, Judith explained that when the twins were born her daughter weighed just 3.5lbs – almost half the weight of her 6.1lb twin brother. 
But it was Kachi's appearance that shocked her the most.
"I was shocked,' Judith said of the moment she held Kamsi for the first time. "I thought they had handed me somebody else's baby, I didn't believe she was mine."
"It never crossed my mind I was going to have an albino baby, we don't have any in my family, nor my husband's family."
"And then I thought, 'Could it be I got somebody else's?' But I was just glad she was perfect. Both were healthy."
Judith added: "Other than the fact that she is different colour, she looks exactly like me."
Judith said she was initially concerned for Kachi and how people would react to her. But so far she has only received a positive response. 
"I loved my princess like every mother would love her baby, but worried about her condition."
"Gradually, worry turned to sadness and I started questioning God, wondering why He would put me in such a situation. I worried about her future, how society would treat her, how she'll be accepted…"
She admits at first she just wished her baby was born black and wondered what went wrong.
"I envied other black babies and thought, "Why me? Why was I the one to have an albino baby? How did I get black and white twins?"' 
Judith admits that her and her husband chose to go to counselling in order to get advice on how to cope with Kachi's albinism. 
"Gradually I began to see my daughter differently," Judith wrote. 
"I began to see the beauty in her condition. I began to admire her gold hair, her brown eyes, her pink lips and everything about her."
"I noticed how attractive she was to people whenever I took them out. People admired her a lot and she is usually the one who gets all the attention."
Thankfully although Kachi's eyes and skin are sensitive,  the little one is perfectly healthy. 
Judith said: "It took me a while to realise I'm going to be raising an albino. I was really concerned about what people were going to say, it's not a very usual thing to have an albino and a black baby."
"I was also sad, I was worried about how she's going to go through society, how people are going to treat her. It didn't affect my affection or love at all of course."
She added in her essay: "Today, my daughter is three years old [and] her personality amazes me."
"Most times I stare at her, knowing how long it took for her to come into my life, the odds she's been through and already conquered. She's so smart and has a strong personality. She knows what she wants and will always go for it."
"I always tell her how beautiful she is, because she really is."