It should be the happiest of times for Shane and Nicole Sifrit. Just 18 days ago they welcomed their baby girl Mariana –  their first child together. 
But the couple from Iowa have tragically announced their infant daughter has died. Her death is being linked to a herpes infection likely contracted through a kiss.
On July 7, the new parents happily exchanged wedding vows in front of friends and family. But just two hours later their six-day-old daughter was rushed to the hospital. 
Nicole Sifrit, 33, said that despite the best efforts from doctors at Blank Children's Hospital in Des Moines, baby Mariana lost her fight against the herpes virus. She passed away in her father's arms.
'She is now no longer suffering and is with the Lord,' Nicole wrote in a Facebook post.
'In her 18 days of life she made a huge impact on the world and we hope with Mariana's Story we save numerous newborns life. R.I.P. sweet angel' 
The married couple told the station WQAD that Mariana had become infected with meningitis HSV-1, which is caused by the herpes virus. 
Nicole and Shane both tested negative for the virus. This raises the possibility that their daughter caught herpes from someone who is not necessarily showing symptoms. The obvious one being cold sores around the mouth.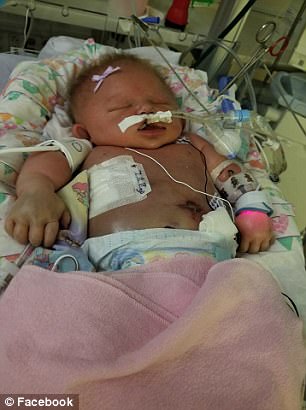 Nicole's friend from high school Rachel O'Toole explained in an interview that Nicole has another daughter and two sons from previous relationships.
With her older children, Nicole did not let anyone outside their immediate family hold them. But after Mariana's birth Nicole and Shane allowed visitors at the hospital.
'They are not pointing fingers,' O'Toole noted. 'It's not gonna change anything.'  
Mariana came into the world healthy on July 1. According to O'Toole, Nicole had complication-free pregnancy and a quick delivery. Then on July 7, Nicole and Shane got married.
But the wedding festivities were dramatically cut short. The newlyweds noticed that their baby girl was growing pale. She had also stopped eating and was slow to wake up.
They rushed her to Blank Children's Hospital to have her checked out. It was there doctors made the devastating diagnosis of meningitis HSV-1.
'It immediately went downhill from there. Within two hours she had quit breathing and all of her organs just started to fail,' Shane Sifrit told WHO-TV.
On July 10, baby Mariana was airlifted to the University of Iowa hospital, where teams of specialists worked hard to stop the deadly infection.
But Nicole later wrote on her Facebook page that she and Shane were told that if Mariana's liver does not repair itself, she will not be able to survive.  
'My heart is crushed, my baby is declining fast! She has no brain activity and her lungs and heart are failing along with her kidneys and liver. They are running out of options for her,' Nicole wrote. 
She followed up two hours later with another post, calling for a miracle: 'I am still holding onto Faith and Hope! I have to even though they are running out of options that is my only option I have.'  
But had Mariana pulled through her future would have been very bleak.
Nicole and Shane were told by doctors that Mariana would have had long-term health complications with her brain, kidneys and liver.  
Nicole's friend Rachel told DailyMail.com that the family, including Nicole's oldest daughter, are heartbroken.
'Her daughter was super excited to have a sister, so she's very sad it did not work out,' O'Toole said, adding that her friend is a good mom who always puts her kids first.
'Her life is her kids,' she said. 
A GoFundMe campaign has been created to help the Sifrit family with Mariana's medical and funeral expenses.
'They just want to give their little girl a burial and have closure,' Rachel O'Toole said of the grieving parents.