Halloween has been and gone for another year.
Your costume is probably tucked away at the back of your wardrobe and the sight of chocolate makes you hurl.
But for a group of Illinois parents with premature babies, the chance to dress up their child in a fun outfit has a much bigger sentiment. 
Advocate Children's Hospital in Illinois organizes a Halloween costume contest for its premature babies every year. 
Parents of nearly 40 beautiful babies in the neonatal ICU centers dress their tots in cute and creative costumes.
Some parents went all out by decorating the incubators for their little bundles of joy. 
It was also a rare moment for the parents of these precious babies to hold their little ones whilst dressing them up for their very first Halloween.
Advocate Children's Hospital participated in the competition with locations in Oak Lawn and Park Ridge, Illinois.
The hospitals throws the costume contest annually and took to Facebook to share their heartwarming photos.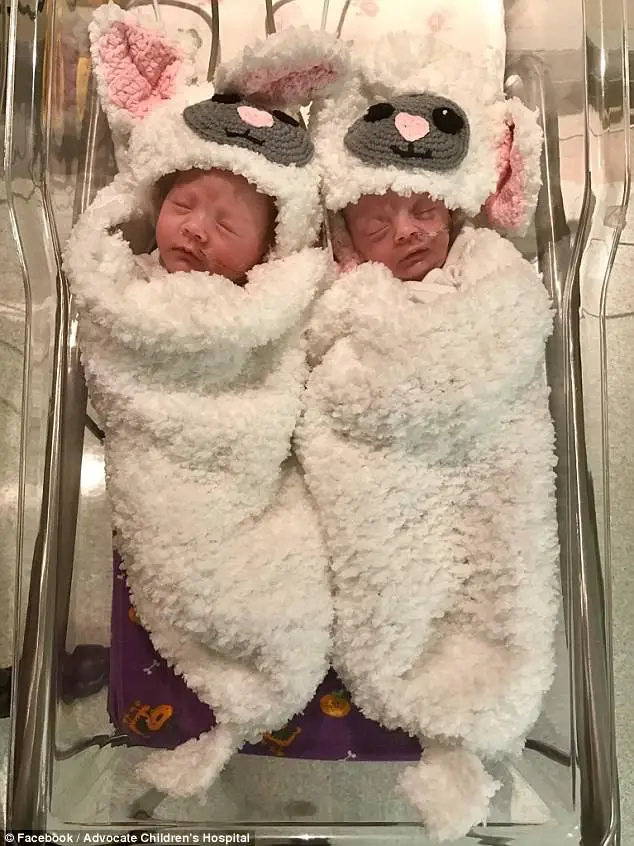 Facebook followers have been encouraged to vote for their favorite costumes.
The top winners take home Babies R Us gift cards plus the honor of being the Halloween king or queen.
Impressive entries saw the prem babies dressed up as boxers, minions, pumpkins and even McDonald's fries.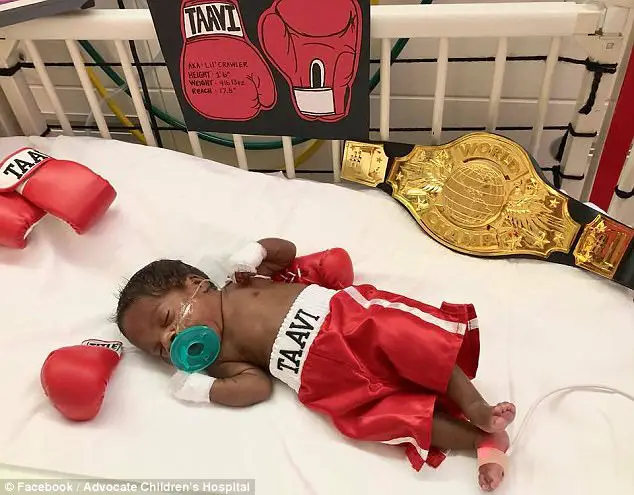 For the hospital, the cool competition is a fun way for parents to relax with their babies while they're in the ICU unit.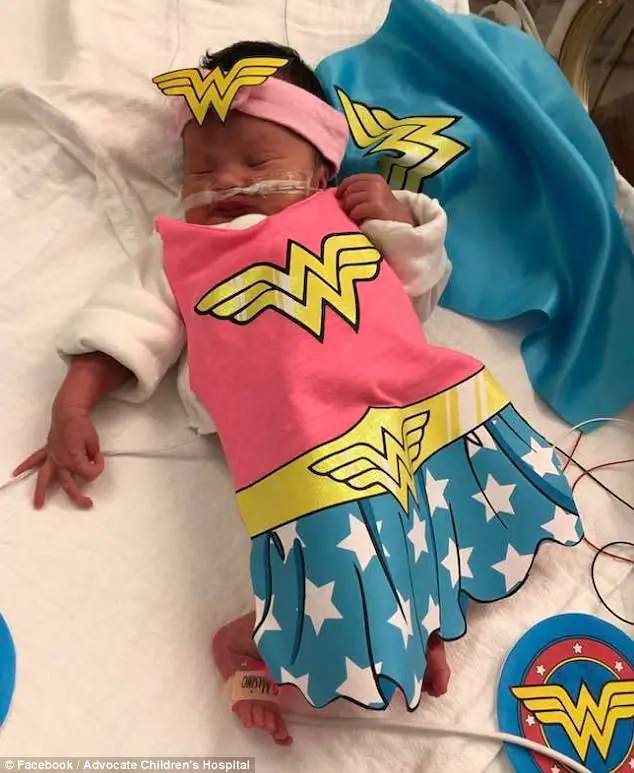 'We have a lot of little preemies at Advocate Children's Hospital that have been fighting for one, two, even three months, and this brings a little bit of normalcy into their parent's life,' contest organizer Deb Skopec said to ABC.
'They get to have a little fun, which they don't always have on a daily basis here,' she added. 
"Parents get to take their babies out of their cribs for a fun dress up session and play with their little ones."
According to Deb, year after year the contest is a hit. 
'[It] has been such a phenomenal thing. It allows parents to dress their babies, to plan a costume and to really bring out their baby's personalities,' she added.  
One mom Julie Kunik dressed her six-week-old daughter Sienna, who was born at 28 weeks, as an elaborate peacock for the contest.
'Most of the time you're in the NICU, you don't get to hold or touch the baby, so today was very special,' Julie shared to ABC. 
"You wait for the day your baby is going to be born and you take them home right away."
"And when that doesn't become a reality and they have to stay in the hospital for a long time, you miss those little moments," Julie said.
"Just being able to change Sienna and dress her brings a little normalcy and fun to the day," she added.
The photos online have won the hearts of thousands, with some snaps racking up over 5,000 like 'votes' for the uplifting festive images.