After having my daughter, I admit, I felt extremely self – conscious about my body.
I didn't want to go to the gym because I felt like a whale. And quite frankly I was too busy nursing my child.
Eventually, I began going for long strolls with my baby and eating more healthily. I soon saw the pounds drop off and I started to feel like my old self again.
I still have the odd stretch mark, but in the grand scheme of things it was well worth it.
I have my baby girl.
I wish that when after I had my child I had access to this incredible body positive website. Just to have that assurance that I was okay and still beautiful. Not just words, actual images of women who looked like me. 
Having been slim all her life, Whitney Dwyer, 33, from Oakland, California, struggled with how her body looked post pregnancy.
After two successive pregnancies, her stomach stuck out so much, people kept asking if she was pregnant.
But the mom to two boys was actually suffering from diastasis recti. This is a common result of two close-together pregnancies.
The abdominal muscles stretch and separate, causing a bulge at the point of separation.
Determined to find images of what other women's bodies looked like post-pregnancy, Whitney was left feeling frustrated.
All she could find was images of perfect-looking celebrities who had shrunk down to their pre-body weight effortlessly. 
Fed up with the lack of representation, Whitney decided to create her own website Mypostbabybody.org.
The site champions women's bodies as they shoot tasteful lingerie snaps. 
It also gives them the opportunity to share their own stories. Whitney posed as the first model. 
Whitney told Barcroft TV: 'I've yet to see a stomach like mine in a magazine.'
'If I'm wearing tight clothes and you can see my belly that's okay. Sometimes, I'm just like 'F' it. So I wear a bikini then I let it all out.'
'Most women do the project to re-claim their bodies. And really just own it. 'This is who I am. This is my body. This is the state it's in.'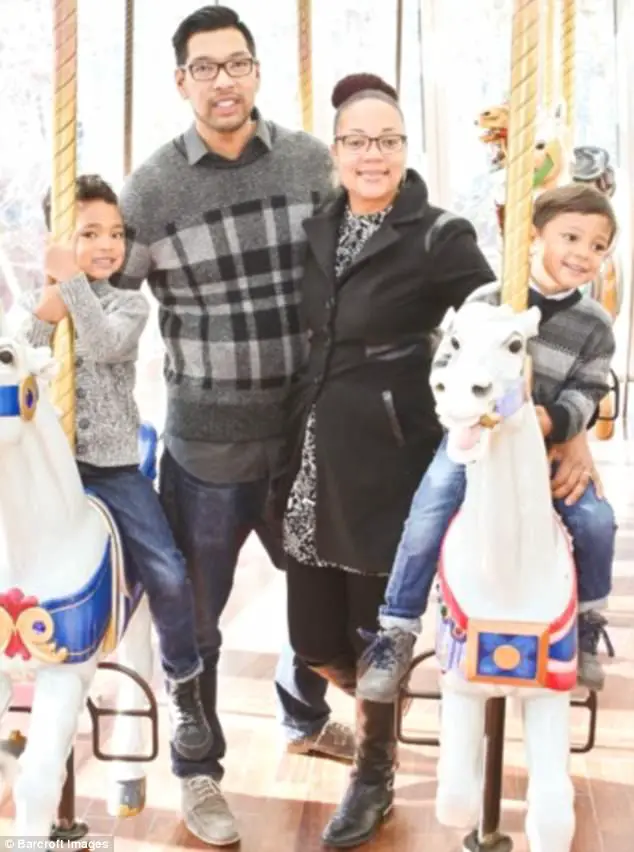 Whitney revealed: 'I thought I'm going to breast feed and then the baby is going to suck all the fat out of me.'
'I'm going to look the same way I did before I had him, and after a few months I noticed that that was not happening and my body.'
'Though I didn't weigh a lot; was shaped drastically different and my stomach popped out further than my boobs, which was something that I began really feeling self conscious about.'
'I was continually looking like I was pregnant, one to two years after having a child.'
She explained: 'I Googled post-baby bodies and all I found was workout tips and dieting tips and wraps.'
'All these things that women are expected to do to their bodies no one would ever ask a man to do, when was the last time someone asked a man to wrap themselves in anything?'
'And then I did find a site that had post-baby bodies but their heads were cut off, it was just their bodies and it's like: 'You can see my body but I don't want to be associated with it.'
For Whitney, coming to terms with her new shape was extra difficult because out of the few images of non-celebrity women post pregnancy, there were even less of women of color.
She said: 'That really inspired me to start this project.'
'I think we would love to say that we're not affected by the media and it doesn't impact us, but, it does! It does.' 
Whiteny works in the day as a high school teacher and arranges the photoshoots in her spare time.
Her website features women showcasing their post baby bodies as well as women who have gone through abortion and postpartum depression.
Whitney said: 'Studies show that just being around women raises your serotonin level. Women being around other women makes them happy.'
'And in our photoshoots women are talking about their babies. Talking about their experiences. They are meeting other women. It's great!'
'And that in itself made me want to do more in terms of postpartum depression. I was a first time mom. I was freaked out.' 
'And I basically cooked up a whole recipe for baby blues, I was never diagnosed postpartum depression. But now that I have done more research, I definitely had some symptoms of it.'
Admitting it was a case of 'fake it until you make it' – she had to look at the photos she took of herself in her underwear at least three times before posting them.
But eventually Whitney persuaded herself to wear a bikini again.
'After my second son, I didn't really know what to wear at the beach and then once I started doing [the blog], I was like I'm going to wear bikini,' she said.
'I was super nervous about it. I remember getting to the beach and I took my cover-up off and no one cared. No one was paying attention. No one cared about my stretch marks and my extra skin or my flab.'
As a skinny teenager, Whitney used to deliberately try and eat more in an attempt to gain a more womanly shape: 'Growing up as a thin person, being African American was sort of complex.'
'When I was a teenager I got asked to be a model: I knew that 'out there' I was considered attractive but I was teased at school for being too skinny and I was envious of the other girls and their curves.
'I wasn't really ever happy with myself. Wanting to gain weight, then wanting to lose weight, wanting this to be different, wanting that to be different.
'I have been everywhere between a size 0 and some places I am a size 12. Although, I really feel I am a size 10.
'And right now I just realized in the last years, it's really a mental thing. And now my mind is in a state of being happy and satisfied with my body and doing what I want to with it.'