Prince Harry may or may not be on his way to the altar to marry Megan Markle. 
But for now he's still the sexiest royal bachelor on the block.
The 33-year-old sixth-in-line to the throne captured quite a few hearts in Chicago earlier this week. 
The Prince and former First Lady Michelle Obama surprised students at Hyde Park Academy in the city's South Side on Tuesday.
Kensington Palace shared a fun video on Instagram where the Prince discussed the merits of deep dish versus thin crust pizza with a group of students. 
A number of the teenage girls surrounded the Prince, with one female student urging him to indulge in the city's famous Chicago-style pizza while he was in town.  
'When Prince Harry's here, he eats Chicago — make sure he has a pizza,' the teen girl says in the clip.  
'I had pizza last night. I don't even eat pizza anymore, but I had pizza last night,' he replies.
This prompted one of the girls to then ask if he had deep dish — Chicago's own famous style of pizza.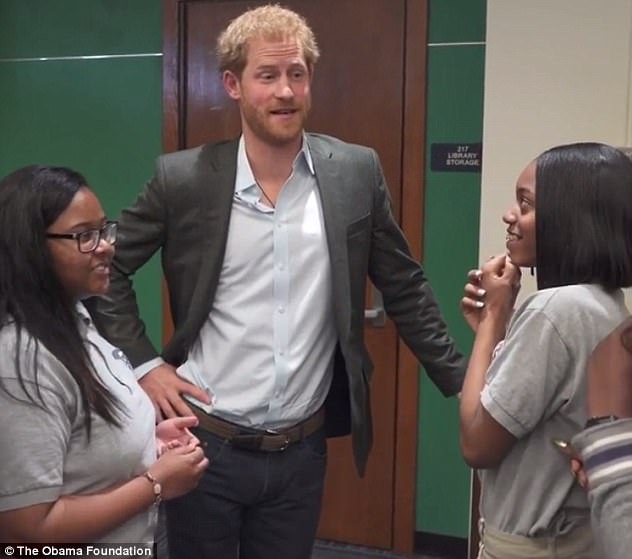 'We had deep dish, and we had thin crust,' he says. 'I promise you, I will make sure I eat Chicago.' 
Prince Harry's response to the great pizza debate saw the teen girls erupt in a fit of giggles. 
The Prince appeared to be at ease while chatting with the students. 
Meanwhile Mrs. Obama gave one female student a high-five before holding her hands.
She was also seen hugging students, and gave one young lady a particularly warm embrace.
When the Prince and First Lady first walked into the library, the students were sitting in a circle having a debate. 
Many of them threw their hands over their mouths in shock but the iconic pair made everyone feel comfortable.
Caroline Adler Morales, Mrs. Obama's communications director said in a statement: 'The warm and wide-ranging conversation, lasting over an hour and covered how the Obama Presidential Center will showcase the South Side of Chicago for a global audience.'
'The importance of young people staying inspired and hopeful, and the transformative power of students using their voices to change the world,' she added.
Later that day, Prince Harry sat in the audience at the first Obama Foundation Summit.
He joined businesswoman Mellody Hobson on stage to talk about ways young people can help drive community engagement. 
'We have to listen to the younger generation because they are the cure of some of the world's biggest problems,' Harry explained. 
Harry also spoke of his late mother, Princess Diana, and weighed in on why he thought she was referred to as the 'People's Princess.'
'I think she had a lot in common with everybody but also she certainly listened in a very, very short space of time,' he said. 
Former President Barack Obama and his wife also took the stage during the Obama Foundation Summit's first session. 
After addressing issues like climate change and food waste, Obama joked that, since the end of his term, he's been asked to take 'selfies every two steps' he walks when out in public.