A brain damaged seven-month-old baby boy is currently embroiled in a legal battle between his doctors and parents.
Medical experts at King's College Hospital in London wish to end Isaiah Thomas' life.
Specialists say further intensive care treatment for Isaiah is 'futile, unduly burdensome and not in his best interests'.
But his parents Takesha Thomas and father Lanre Haastrup say he deserves his chance to 'fight for his life' and want treatment to continue.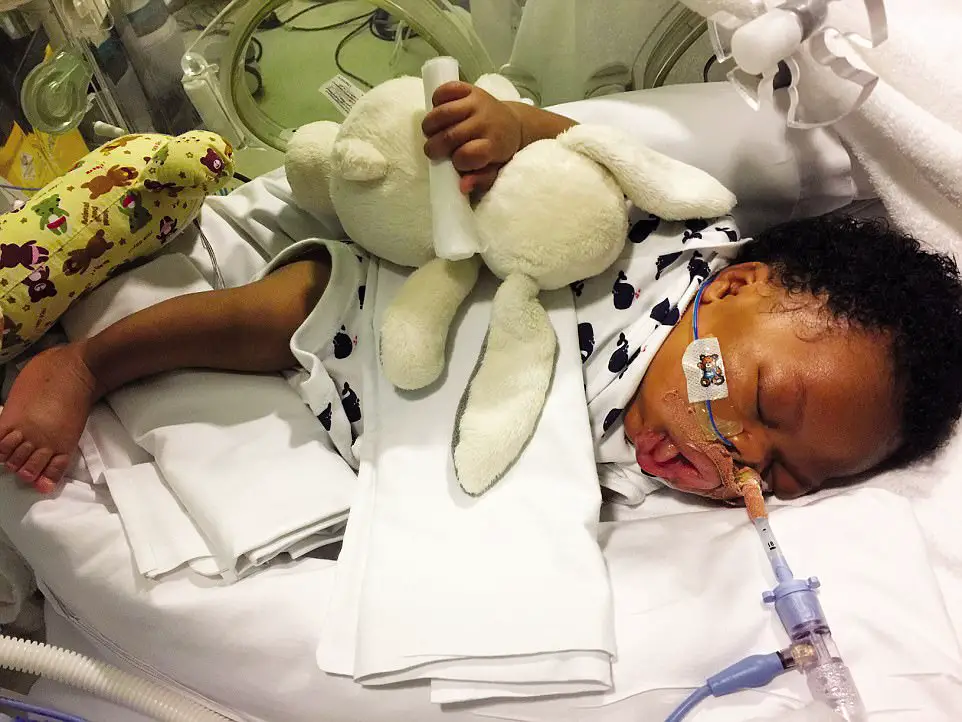 Miss Thomas said outside the High Court today: 'We believe that Isaiah deserves his chance to fight for his life and that there is still more that can be done for him.'
The case has drawn comparisons to that of baby Charlie Gard.
Charlie's parents Chris Gard and Connie Yates fought children's hospital Great Ormond Street through the courts to prevent doctors ending his life.
Charlie suffered from a rare genetic disorder which doctors believed he could not recover from. They sadly lost their battle and Charlie's life support was withdrawn in July. 
Isaiah's father Lanre has said previously: 'It's like the Charlie Gard case. They want to end my son's life'.
The couple say they have 'lost all trust' in the hospital, after Isaiah suffered brain damage, resulting from complications during labour on February 18 this year.
Isaiah's mother Takesha, 'almost died' herself and lost nearly half of her blood, leaving her in a coma for several days.
She said in August: 'I could feel the baby shaking inside of me. He was inhaling blood'.
Isaiah's 'respiratory drive' was damaged, which means although he is growing normally he has trouble breathing on his own. 
His doctors believe it would be better to let him die but his parents are refusing to accept that conclusion.
They are also determined to make sure little Isaiah is never alone in the hospital.
Lanre, a 38-year-old practising lawyer visits his son from 9pm to 1am after work. Takesha, a stylist, takes care of Isaiah from 11am and 4pm.