The disgusting violence in Charlottesville over the weekend has shocked the whole nation.
Not only did it take the life of brave 32-year-old Heather Heyer – killed after White nationalist James Alex Fields Jr, 20, drove at speed into a crowd of anti-fascist protesters – it left many more injured.
Deandre Harris, 20, was of the anti-fascist protesters at the white supremacist rally 'Unite The Right.' 
He was attacked by a group of racists who clubbed him with a pole – leaving him with devastating injuries.
In the photo of the attack, captured by photographer Zach D. Roberts, a man is shown gripping a pole in his hand as Deandre sits hunched on the ground. 
'Me and about five of my friends were out protesting. We thought (the racists) left, but at one point they came back,' Harris said in an interview with The Root. 
Deandre was left with eight stitches in his head, a broken wrist, lacerations and a chipped tooth from the onslaught.
Deandre maintains he and friends did not initiate physical violence towards the rioters.
'Everyone was exchanging words with the group, but then the KKK and white supremacists just rushed us,' he said.
The controversial rally took place right outside the Charlottesville Police Department.
'No police were there to help me at all,' Harris revealed, while adding he was shocked the catastrophic event was not shut down sooner. 
'I think for them to be allowed to come here and protest is really crazy. How do you expect the KKK to come to your city to protest, and them not be violent?' he said.
'I understand everyone is entitled to their freedom of speech, but the government and the mayor made a bad business move.
'It's only caused havoc in your own city. It's crazier that people have the hatred in their heart to want to kill black people.' 
Deandre only moved to the city of Charlottesville two years ago. He works as an instructor for a special education program. 
Harris said he and his family are seeking a possible lawsuit against the perpetrators of the vicious attack. 
Loved ones of the victim have since created a GoFundMe page to help aid Harris' medical expenses. 
When describing the event on the page, Harris said he was 'knocked unconscious repeatedly' and each time he tried to stand up, he 'was knocked back down' to the ground.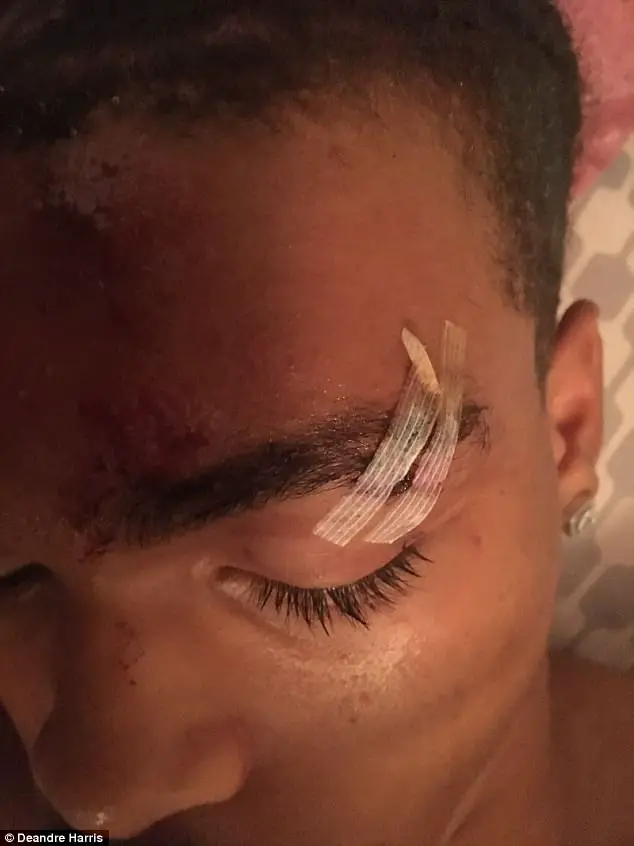 'If it was not for my friends that I came with I would have been beaten to a pulp… Once I was dragged off to some near by steps I was taken to the designated area for injured protesters & counter-protesters,' he wrote.
'My injuries were too extensive to be treated at the scene so I was taken to the ER at Martha Jefferson Hospital.'
'I was diagnosed with a concussion, an ulnar fracture, and had to receive eight staples in my head. I also have a laceration across my right eyebrow, abrasions on my knees & elbows, and a chipped tooth.'
'I'm so blessed to be alive to tell my story and to show the world that racism is very much still alive … I appreciate the support from my friends, family, and the news platforms that have reached out to check on me,' he added.
'We will not let this fade & disappear. People are carrying real hate in their hearts for the Black Community and I refuse to just let it happen. God Bless & thank you all again!'