For many we are only one check away from being homeless. For Elmer Alvarez this was his reality. He was living on the streets with no hope or future.
That is until he found a check for $10,000 dollars lying on the street.
Instead of cashing it in, the homeless man returned it to its owner because he wanted to 'do the right thing.' Mr. Alvarez selfless act has now been been rewarded with housing, a job interview and free real estate classes.
Mr. Alvarez found the check on a street in New Haven, Connecticut and contacted realtor Dr Roberta Hoskie before she realised it was lost.
Touched by his honesty, Dr Hoskie arranged for Mr. Alvarez to have a place to live. She has even lined up an interview for him with one of her business partners.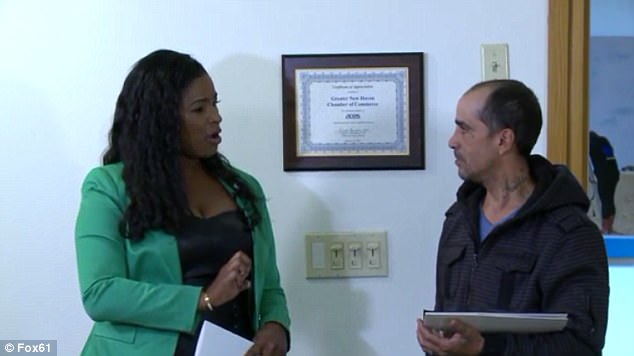 Dr Hoskie was so thankful that she even offered him a a place at her real estate school free of charge.
It's her hope that the skills he learns at her school will set him up in the long term.
Dr Hoskie said she was once homeless herself so understands the difficulty he was going through.
But her generosity has one condition: When Mr Alvarez is back on his feet, he must help another homeless individual.
Taking to Facebook Live, the successful realtor says she met the homeless man at the Greater New Haven Chamber of Commerce.
'He has absolutely no idea what's about to happen,' said Dr. Hoskie to Fox News 61.
'You don't have to worry about being in the cold,' she added. 'We have housing for you.'
Emotional and on the verge of tears, he said 'Thank God!' The honest man was handed a certificate of gratitude by Dr Hoskie. 
'There are always angels out here in heaven and earth,' Alvarez told the cameras.
Explaining why he chose to do the right thing and find the check's owner, he said: 'Honestly, I give it from the bottom of my heart and I expect nothing back in return.'