Obanye Francess Chizoba is a hugely brave and inspirational young lady. Chizoba survived a horrific burn attack when she was just nine years old. 
But this awful setback at such a young age has not held her back. In fact the teen girl is just beginning her National Youth Service in Nigeria.
The scheme is set up by the Nigerian government to involve the country's graduates in the development of the country. Graduates are posted to cities far from their homes for about a year.
They are expected to mix with people of other tribes, social and family backgrounds.
There is an "orientation" period of approximately three weeks spent in a military controlled boot "camp" away from family and friends.
Chizoba became a victim of domestic violence after she was attacked with acid by her uncle's wife.
The attack was allegedly intended for her brother but Chizoba was hit instead. 
The young lady shared photos of herself in the NYSC camp. Chizoba is seen smiling broadly in her uniform.
In the post she shared on Facebook, the Chizoba expressed that she wants to congratulate herself as a National Youth Service Corps member.
She wrote: "Let me crush on myself today My WCW. This is not an easy something."
Chizoba who recently began her one year youth service in Delta state.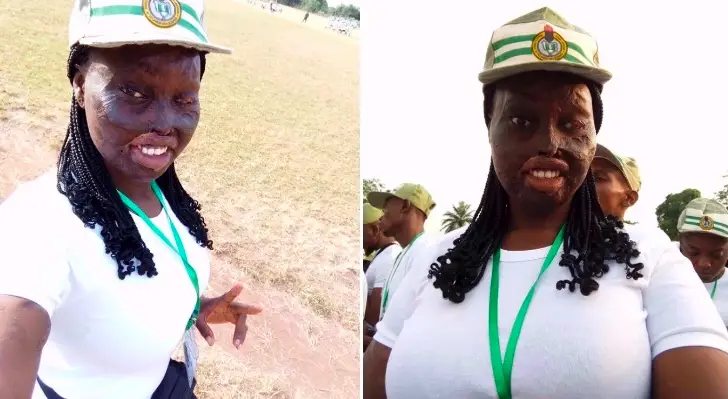 The courageous young woman graduated from Anambra State University, where she studied Biochemistry.