Eminem has more than earned his place within hip hop culture. 
Born Marshall Mathers on Oct 17, 1972, the Detroit rapper burst on to the scene in '99 with 'My Name Is.'
With his bleached blonde hair and blue eyes, Em made fun of the fact that he was a white rapper in a predominantly black industry.
The now 45-year-old has had a number of achievements throughout his long career. But here we offer you interesting insights about the man who has steadily become a hip hop icon.
1. Eminem Was Severely Bullied At Elementary School
Eminem was bullied so badly as a child his mother sued the Detroit school system for failing to protect him. On Oct. 15, 1981, 9-year-old Marshall Mathers was beaten up by a bully identified in the suit as DeAngelo Bailey.
Bailey tormented Marshall at Dort Elementary School, where he split his lip and knocked the wind out of him. According to documents received by the Smoking Gun website, Marshall suffered from "nightmares and anti-social behavior,"
Bailey mercilessly beat a young Marshall, including one incident in a restroom that left the youngster with "sustained injuries to his head, face, back and legs," the papers state.
On a snowy day in January 1982, Bailey threw a "snowball containing a heavy object or a piece of ice" while they were playing "King of the Hill." He then viciously attacked Marshall, the suit states. 
As a result of that beating, Em's mother, Debbie, claimed her son suffered a concussion and  temporary loss of vision in one eye.
Debbie sued for $10,000 in damages. But sadly, despite the continued violence against her son, Debbie Mathers Briggs' lawsuit was dismissed. 
The court docs stated this was on grounds of "governmental immunity." 
#2. Eminem's True Dream Was To Become A Comic Book Artist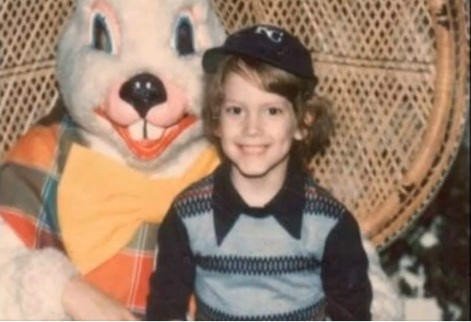 If he hadn't become an Oscar winning rapper, Eminem may have become a comic book artist.
His love for animation can be see throughout his career as seen in the Slim Shady Show series and the "Mosh" video.
3. When Eminem Was 20, He Was Arrested For A Drive-By Shooting
Eminem was a precocious child, as seen in his witty and comedic lyrics. Growing up in Detroit, the aspiring rapper did not always keep a good company. He had several brushes with the law.
He was caught by police when he and his friends shot at a police car with their paintball gun. He was arrested and charged – even though he didn't pull the trigger.
But the case was eventually dismissed when the alleged victim did not show up for the hearing.
#4. Eminem And The 'N Word' 
If you listen to any Eminem record today he never uses the 'n word.' Eminem voluntarily bleeped the word from his record 'Criminal' because he did not want the word in his song.
However in 2003, co-founder and editor of The Source magazine, Benzino, dug up a tape where the rapper used the word.
Benzino, who is also a rapper, denounced Eminem as "a rap David Duke, a rap Hitler," and a "culture-stealer." The Source unearthed two tracks Em did when he was a teen.
On one, Eminem refers to "that ni**r sh*t". He raps: "Blacks and whites they sometimes mix/But black girls only want your money 'cause they're dumb chicks/Don't date a black girl/If you do it once you won't do it twice/Black girls are dumb, and white girls are good chicks."
Em put out a statement explaining: "The tape … was something I made out of anger, stupidity and frustration when I was a teenager. I'd just broken up with my girlfriend, who was African American, and I reacted like the angry, stupid kid I was. I hope people will take it for the foolishness that it was, not for what somebody is trying to make it into today."
#5. Eminem Was Offered The Lead Role In The 2013 Sci-Fi Movie, Elysium. 
Director of the film Elysium, Neill Blomkamp, revealed Matt Damon was not his first choice for the lead role.
Blomkamp, approached Eminem for the role of Max Da Costa.
Em was interested, but wanted the movie to be shot in his hometown of Detroit. But the two studios (Media Rights Capital & Tristar Pictures) refused and the role went to Matt.
#6.  Eminem Sued Universal Music Group
Back in the early 2000s singers had not foreseen the boom in digital music sales. Many were cheated of their digital royalties by music companies.
Eminem through FBT Productions sued music giant Universal music for unpaid digital royalties.
#7. Eminem's Song 'Rap God' Is In The Guinness Book of World Records 
Rap God released in October 2013 holds the record for having most words in a song.
A particular verse of the song was sung in supersonic speed featuring a whopping 97 words in 15 seconds- an average of 6.5 words per second!
#8. Eminem The Gamer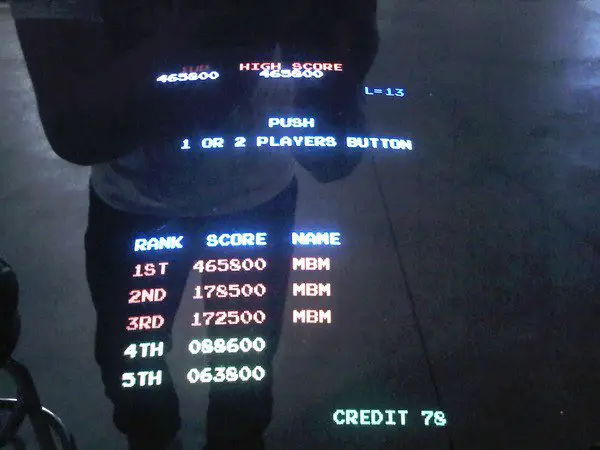 On December 3rd, 2009, Eminem surprised the gamer community when he proudly tweeted his highest Donkey Kong (a Nintendo game) score.
The scores were that of an above average player. Four months later on March 30th, 2010, he shocked everyone with a new score of 465,800 – close to the top 30 on twin galaxies leaderboard.
#9. Eminem Is Slim Shady
Eminem and his friends created D12 in the early ninenties.
They originally wanted to be named as "Dirty Dozen" but the name was already taken by a Jazz group.
They eventually settled on D12 and went about trying to find a band of 12 rappers. But only six rappers made the final cut.
So they decided to split their personalities and create six alter ego's. This is when Slim Shady was born.
#10. Who is Eminem?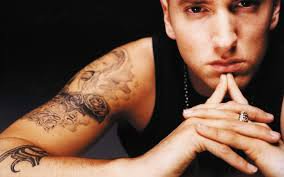 The rapper explained who his alter ego's were:  Eminem, is a best-selling artist who has 9 number one albums.
Marshall Mathers, a shy, introverted individual hidden inside Eminem. He sometimes makes an appearance to cast out some emotional demons.
Then there is Slim Shady the guy with an attitude, who is outrageous, and always on the offensive.
#11. Eminem Made One Unsigned Album Before "The Slim Shady LP"
In 1996, Eminem released his first studio album, Infinite.
The album sold only about 1000 copies. Later in 1999, Eminem wrote his commercial debut, Slim Shady LP that reached number two spot on the Billboard 200.
The album went on to get four platinum certificate in the USA from the RIAA. It catapulted Eminem to global success.
#12. Eminem Sleeps Through The Oscars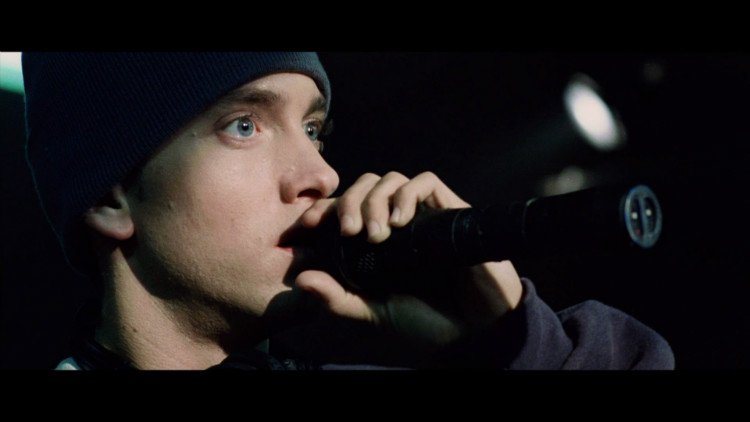 Eminem won the Academy Award for the Best Original Song for "Lose Yourself" in 2003.
He was the first rapper to win an Oscar for a rap song.
However, Eminem was convinced that he would not be winning the coveted statue.
He didn't even attend the event. He was sleeping at his home in Oakland Township, Michigan with the TV tuned to cartoons for his daughter, Hailie.
#13. Eminem Refused To Rap At The Oscars 
Eminem refused to do 'Lose Yourself' at the Oscars as producers wanted him to rap the radio friendly version of the song.
Eminem wanted to sing the song as it is and allow the editor to edit the language. They refused.
This made 'Lose Yourself' the first winning song not performed on the Oscars stage since the event was televised.
#14. Eminem Almost Died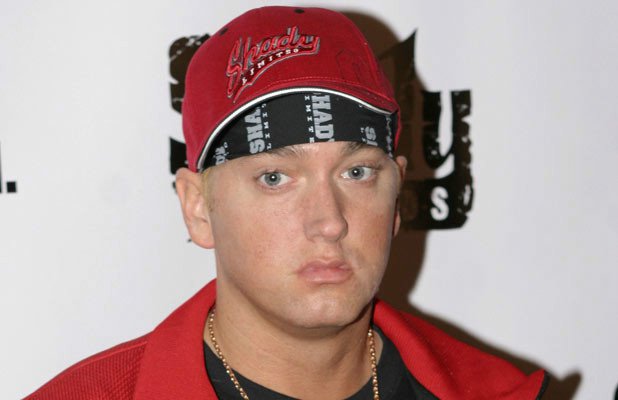 Em became addicted to prescription drugs consuming Valium, Vicodin, and Xanax.
His addiction led to stomach aches and he began to compensate for the pain by over eating. In 2007, he collapsed from an overdose of methadone. He was rushed to the hospital where the doctors told him that his organs were beginning to shut down.
They did not expect him to survive but Eminem.
But thankfully he pulled through. After a brief relapse, Eminem has managed to stay clean since 2008.
#15. Eminem Was Sued By His Own Mother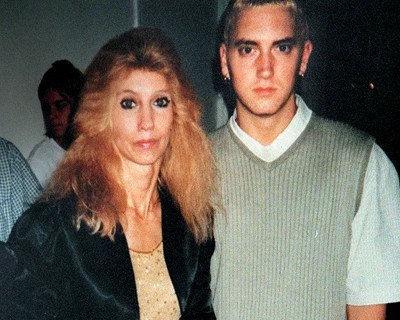 Debbie Mathers sued her son for about $10 million.
Debbie claimed her son defamed her on the Slim Shady LP (he famously rapped that his mother smoked more dope than him). 
She received a paltry 1,600 USD from the lawsuit.
#16. Eminem's Bully Gets His Just Desserts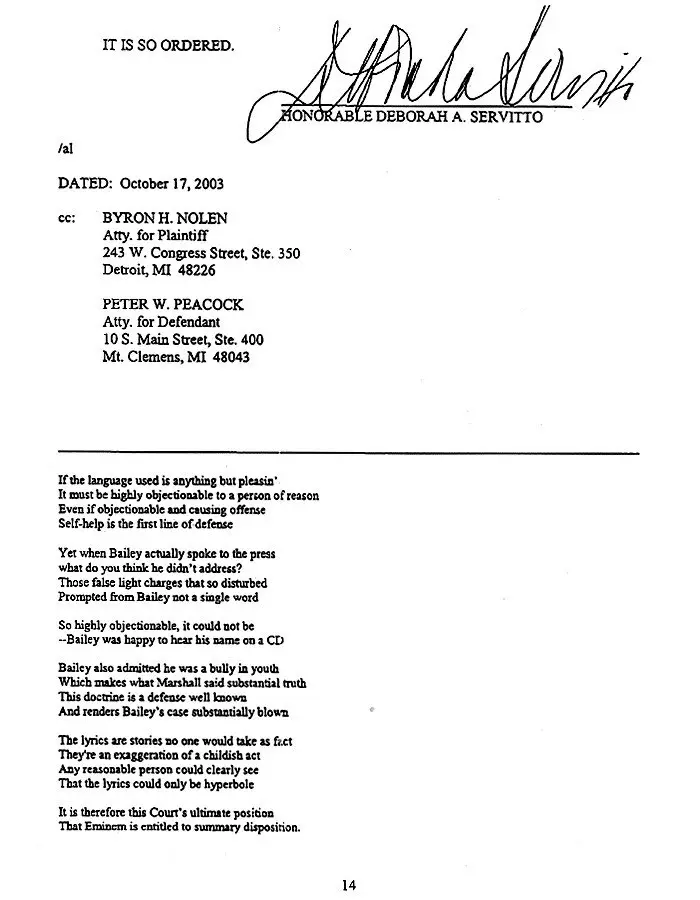 In the song "Brain Damage" Eminem raps about his school bully DeAngelo Bailey.
Some of the lyrics went: "He banged my head against the urinal till he broke my nose/ Soaked my clothes in blood, grabbed me and choked my throat."
In 2001, Bailey promptly filed a $1 million lawsuit against Em claiming intrusion of privacy and slander.
But DeAngelo had previously given interviews where he outed himself for bullying the future rap star.
The judge Deborah Servitto was not amused by the frivolous claim and dismissed the case by writing a rap verse of her own:
"Bailey thinks he's entitled to some monetary gain/Because Eminem used his name in vain."