For the past few months, the world has been kept in a perpetual state of tizzy due to the speculation surrounding Kylie Jenner.
Back in September, rumors started spreading that the youngest member of the Kardashian-Jenner clan was pregnant.
However, the twenty-year-old flat out refused to deny or confirm the rumors, instead dramatically choosing to drop out of the spotlight.
Well, up until now.
Kylie Jenner managed to draw attention away from the Superbowl on Sunday when she tweeted she had given birth on February 1, 2018.
Her tweets were followed by a nine-minute video on YouTube that detailed her pregnancy.
This proved indeed that the Kardashians had been filming the pregnancy journey and we cannot begin to imagine the logistics of keeping the evidence hidden until now.
According to Mirror, everyone, from her employees, friends, family, and boyfriend Travis Scott, was involved in keeping it a secret.
A source close to the family said,
'Keeping Kylie's pregnancy under wraps for an entire nine months was ridiculously difficult for her friends. It was definitely a relief when they could finally congratulate her. It was the hardest secret to keep'.
One of the main cogs in the 'secret' machine was Kylie's assistant Victoria Villarroel who was the first to know about the pregnancy.
Victoria Villarroel was the one tasked with limiting Kylie's social media appearances and helping her arrange her schedule.
No mean feat, when you consider the fact that Kylie Jenner used to post pictures of herself in her underwear all the time.
Victoria was also behind Kylie's Calvin Klein photo shoot in which she managed to hide her pregnancy with a duvet.
Also for the first time ever, Kylie was also allowed to skip the Kardashian Christmas family card.
While all of her family members were posing in skinny jeans and white tees, Kylie was nowhere to be found and her secret was safe.
Khloe Kardashian also managed to keep the pregnancy a secret during an appearance on The Ellen Show despite the best efforts of host Ellen DeGeneres.
When asked if Kylie Jenner was having cravings, Khloe denied saying, 'What do you mean? I don't know what you're talking about. C'mon, Ellen'.
Another surprising thing about their pregnancy was the fact that Kylie Jenner had a baby shower and the news still didn't come out.
The baby shower was a lavish party with cakes, resplendent decorations and an attendee list of thirty family and friends.
The YouTube video showed that guests were even allowed to take pictures with their phones at the event, yet no picture made its way to the media.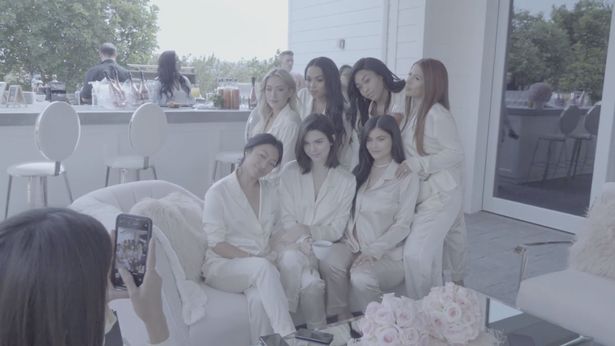 In an age where nothing is hidden from the internet, the mere logistics of keeping Kylie's baby shower out of the media are mind-boggling.
Remember that Malia Obama couldn't smoke a cigarette without one of her friends posting it and the feat is all the more commendable.
One person did almost let the cat out of the bag in the person of close family friend Chrissy Teigen.
Asked about Kylie's pregnancy on Watch What Happens Live With Andy Cohen, she did her best first, insisting, 'I won't say anything about Kylie'
Before she sort of caved with a shrug when Andy Cohen replied that the pregnancy was a pretty obvious thing.
Well, Kylie gave birth in secret and she tweeted a message of appreciation to all of those who contributed in ensuring her privacy.
She wrote,
'I appreciate my friends and especially my family for helping me make this special moment as private as we could'.