What I love about Selena Gomez is despite her immense beauty, fame and talent she's always honest with her fans.
She doesn't paint a perfect image of her life and conveys that to the millions who look up to her.
Although I'm shocked that the 'Same Old Love' singer had a kidney transplant operation this summer linked to her lupus. I'm not surprised by her bravery and fearlessness in sharing her remarkable story. 
In an Instagram post, the singer says that her selfless friend Francia Raisa donated her kidney to her.
Selena explained to her whopping 126 million Instagram followers that it was the reason she hadn't been promoting her new music.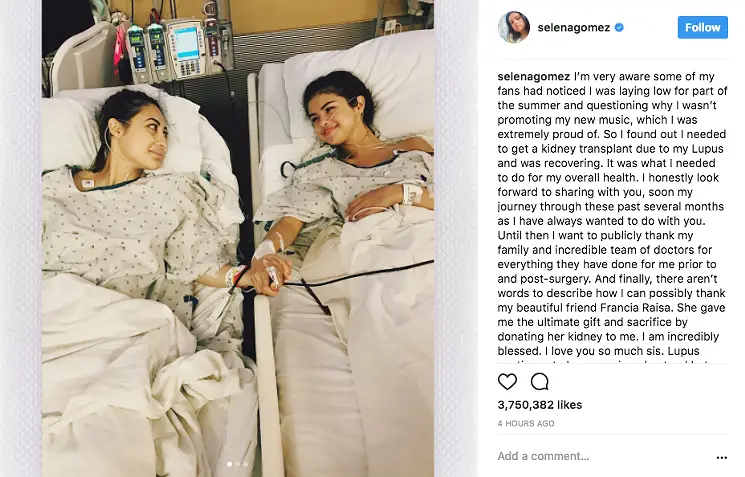 "So I found out I needed to get a kidney transplant due to my Lupus and was recovering," she writes.
"It was what I needed to do for my overall health."
Selena Gomez also thanked her best friend, The Secret Life of the American Teenager actress Francia Raisa, in her Instagram post.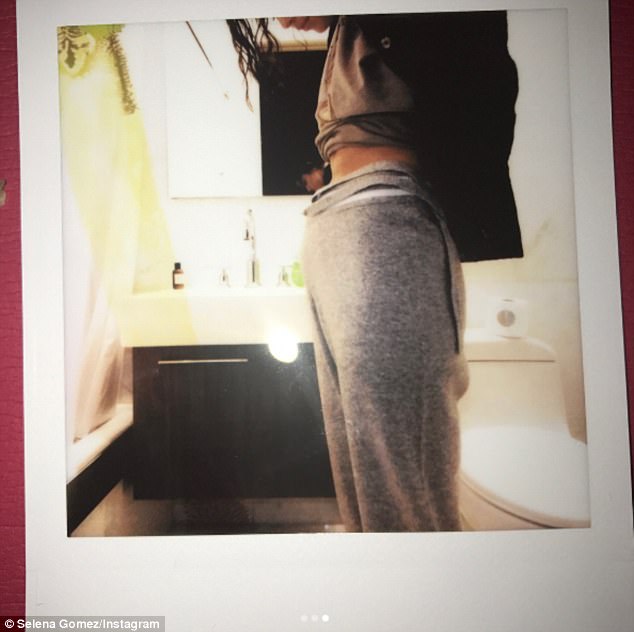 "There aren't words to describe how I can possibly thank my beautiful friend Francia Raisa," she writes.
"She gave me the ultimate gift and sacrifice by donating her kidney to me. I am incredibly blessed. I love you so much sis."
Francia Raisa also posted on Instagram.
"I am beyond grateful that God would trust me with something that not only saved a life, but changed mine in the process.
"This was part of our story, and we will share it soon, but what is important now is that this is not the only story."
Selena Gomez released the first single from her new untitled album, "It Ain't Me" featuring Kygo, in March.
Since then two new tracks "Bad Liar" and "Fetish" ave appeared on the airwaves – but she hasn't been out publicly promoting them. 
Her first public appearance after recovering from the surgery was in New York with boyfriend The Weeknd last Friday night.
Last year she quit social media and went to rehab to deal with her panic attacks, anxiety and depression.
The 25-year-old says her ongoing mental health problems are a side-effect of her lupus diagnosis last year.
Lupus is an incurable illness that affects the body's immune system. The body's defense system turns against the body and produces too many antibodies. It causes harm to organs and tissues, principally the kidneys and skin.
Organs are often damaged irreversibly, meaning many lupus sufferers have transplants.
The symptoms can range from mild to life-threatening. But even mild symptoms can have a serious impact on the sufferer's life.
In her post, she says not enough is known about the condition.
"Lupus continues to be very misunderstood but progress is being made."
After her announcement on Instagram, the 25-year-old was spotted on the set of her next project, an untitled Woody Allen film, alongside co-star Timothee Chalamet.