When I look at Serena Williams I see a beautiful, accomplished black women.
In September last year she gave birth to her adorable daughter Alexis Olympia.
But the tennis ace is is revealing for the first time how she was forced to endured a truly difficult labour.
'It was an amazing feeling, and then everything went bad,' said Williams.
The 36-year-old told Vogue that the problems began after her daughter's heart rate started to drop during her delivery.
Doctors informed her that it was the best option to undergo an emergency c-section. But after Olympia was born, complications ensued.
The day after she experienced the joy of having her baby girl, Serena started experiencing  shortness of breath.
The four-time Olympic gold medalist told the staff that she was concerned that she had developed blood clots.
The new mom had to stop taking her anticoagulant medications leading up the delivery.
It turned out that she was right, and had indeed developed several clots on her lungs.
She was immediately given a drip, but was constantly coughing from her pulmonary embolism opened up the scar from the c-section.
Her abdomen quickly filled with her now-thinned blood from the same drugs which were saving her life.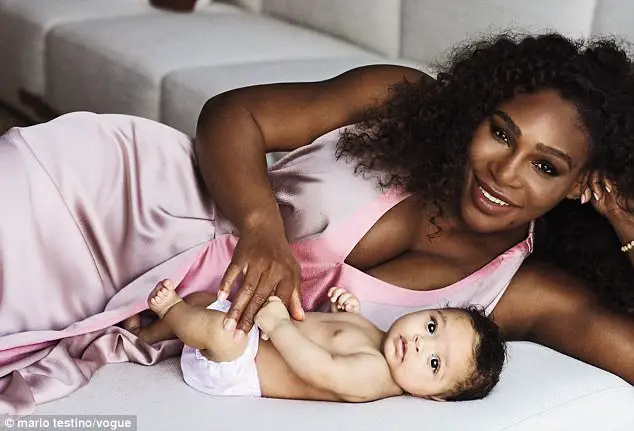 In the end, Williams had to have a filter inserted into a major vein to prevent any possible clots from entering her lungs.
The hard worker was forced to go on bed rest for the next six weeks.
'I was happy to change diapers, but on top of everything she was going through, the feeling of not being able to help made it even harder,' said Serena's now-husband Alexis Ohanian.
Vogue
By the grace of God, Alexis and Serena walked down the aisle in a star-studded ceremony attended by Beyonce, Ciara, Eva Longoria, and Kim Kardashian.
But in the interview, she was quick to admit that being a mother has been a challenge for her.
'Sometimes I get really down and feel like, Man, I can't do this. It's that same negative attitude I have on the court sometimes. I guess that's just who I am,' said Serena.
'No one talks about the low moments – the pressure you feel, the incredible letdown every time you hear the baby cry.'
She then added: 'I've broken down I don't know how many times. Or I'll get angry about the crying, then sad about being angry, and then guilty, like, Why do I feel so sad when I have a beautiful baby? The emotions are insane.'
Vogue
Serena and Alexis decided to open an Instagram account for their daughter.
She currently has 212,000 followers on Instagram. 
Serena had been planning to make her big return this month at the Australian Open, but announced just last week that the comeback would have to wait.
Vogue
Serena noted that it was easier for male tennis players to get back to work, since they don't have to carry and then deliver the child.
'It's so unfair,' she said at one point while speaking about Roger Federer.
'He produced four babies and barely missed a tournament. I can't even imagine where I'd be with twins right now. Probably at the bottom of the pool.'