Okay, I'm not gonna completely drag my girl Fergie.
You see I get what she was trying to do with her lacklustre National Anthem performance.
She was trying to be all Nina Simone/jazzy/swing with her take.
But it just didn't work.
It's the National Anthem Fergy-Ferg – not your next hit single!
The Grammy winner was relentlessly mocked for her rendition at the NBA All-Star-Game.
The 42-year-old sang at Sunday's game at the Los Angeles' Staples Center.
Late-night host Jimmy Kimmel, Chance The Rapper and others in the stadium could be seen snickering while Fergie put her spin on the song.
Even athletes were seen getting in a few laughs.
One user noticed: 'Not only is Steph Curry on twitter during the #NBAAllStar game, but he's liking tweets about how bad Fergie was (crying face emojis).'
'The American national anthem was based off a 1770s drinking song,' said actor Robert Wuhl.
'I'm assuming @Fergie was taking it back to its drunken roots with her performance at tonight's #NBAAllStar game.'
Author Daniel Jose-Older shared a gif of someone jingling a set of keys and added: 'pick one fergie #NBAAllStar.'
'Fergie's Natl Anthem was an alternative fact,' said actress Amanda Seales.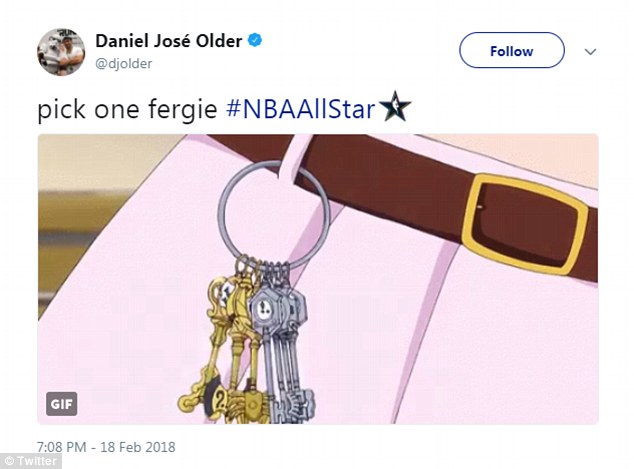 Bob Saget joked: 'Fergie's rendition of the National Anthem was originally written by Francis Scott Out of Key.'
Another user who posted that Fergie singing made Colin Kaepernick stand.
Britni Danielle added a gif of President Donald Trump and chimed: 'Let's be real, #Fergie gave the U.S. the anthem it deserves right now.'
'I mean you see who the president is, right?'

'Who saw Fergie's national anthem performance at the NBA All Star Game?'
'I think mine was better lowkey,' said Roseanne Barr who in 1990 gave her own equally divisive version.
Meanwhile Team LeBron scored a 148-145 victory against Team Stephen, the closest margin since 2012.