Graduating from high school is a rite of passage for many hardworking teens. 
Unfortunately, for many students, their parents can't be there to attend that very special day. This was the case for high school senior Steven Turner Jr.
Steven's mom, U.S. Petty Officer 2nd Class Vera Turner had been deployed in Guantanamo Bay, Cuba.
Petty Officer 2nd Class Vera Turner has served in the US Navy for 16 years.
She told her family that she wouldn't be able to attend her son Steven Turner Jr's graduation from Paul W. Bryant High School.
But in reality she had arrived early to the Coleman Coliseum in Tuscaloosa, Alabama. She then remained hidden until her son walked out on stage.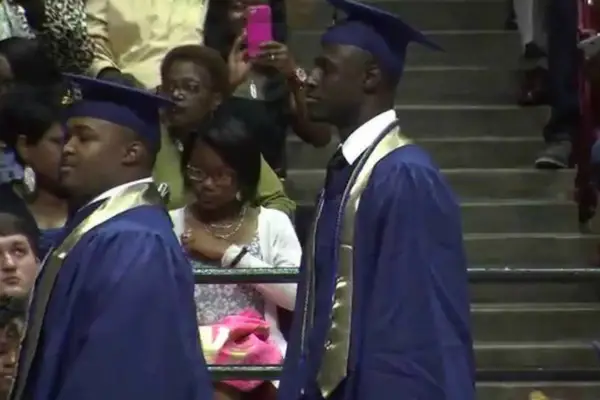 'I was bursting, overjoyed with feeling,' Mrs Turner told AL.com of the moment before she surprised her son Steven.
'This is a moment I'd been waiting for. The anticipation of him seeing me was just overwhelming.'
Mrs Turner managed to keep her arrival a secret from everyone in her family – even her husband.
Her whole family believed she was going to fly in later on Saturday after the ceremony was over.
Mr Turner was even prepared to video call her when Steven went on stage so she wouldn't miss the big moment.
Tuscaloosa City School officials helped Mrs Turner pull off her amazing surprise by sneaking her into the building.
They had Steven moved to the back of the line as they didn't want to interrupt the other students' graduation. 
Steven told AL.com that he started to worry that they had forgotten to put his name on the graduation list when he was taken from his spot in line.
Steven was even more confused when his name was called and the superintendent and principal moved away from him instead of shaking his hand.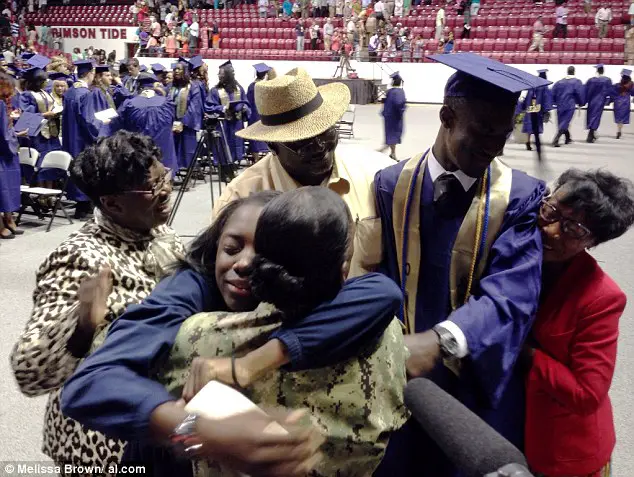 Finally the moment arrived, and Steven saw his mom come out to greet him. 
'It means so much to me, the whole world,' Steven said of the special moment.
Mrs Turner and her son shared a warm embrace before they walked off the stage with their arms around each other and met their extended family.
Mrs Turner explained she was especially proud of Steven because he used to settle for Cs until he reached high school and made the honor roll.
From that moment on, he didn't want to get anything but an A.
Now he has a scholarship to attend Alabama A&M in the fall. Steven, who plays the double bass, says he wants to major in electrical engineering with a minor in musical performance.
Congratulations Steven!