If you're a fan of This Is Us it comes as no surprise Sterling K. Brown won Best Actor in a TV Drama at this Sunday's Golden Globes.
What is a surprise is that he has become the first black actor ever to win won.
The 41-year-old spoke truly moving and powerful words both onstage and backstage as he claimed the coveted gong for his role on the hit NBC show.
'I've never been the first brother to do anything,' Brown told press backstage.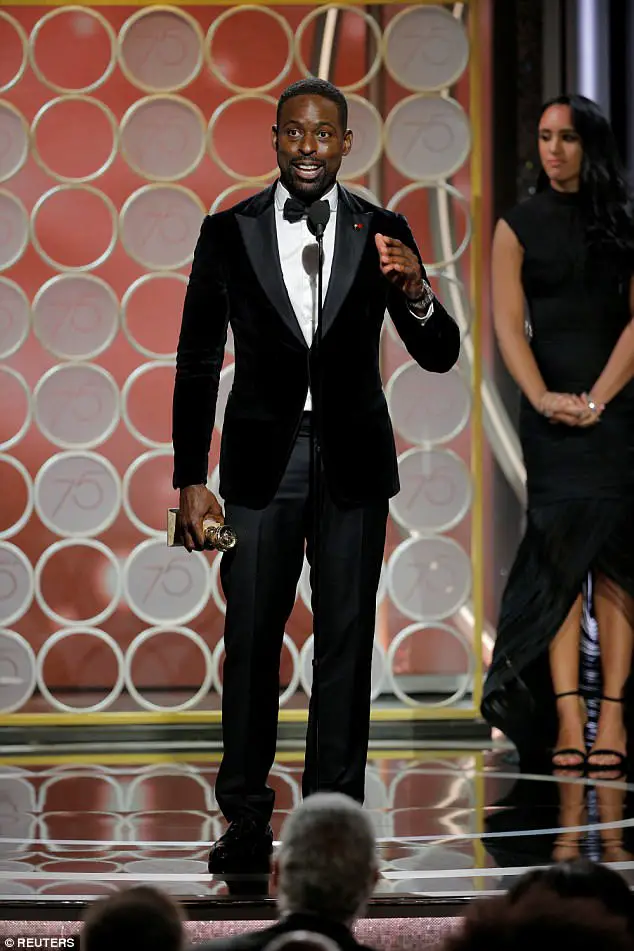 Looking back at his past achievements he joked, 'I was the fourth black student council president, was the fourth JV captain to my basketball team.'
'Finally, to be the first of something is really interesting because I never considered myself to be a trailblazer. I just try to stay in my truth all the time. If I come from a place of truth, that's all I can do.'
He added that he was 'shocked' to be the first black man to win a Golden Globe.
The People vs OJ Simpson star that hopes his triumph can 'inspire' other young black men who want to follow in his footsteps.
He said: 'It's been 75 years and I was the first. I was shocked. I did not know this was the case.'
He continued: 'Hopefully it won't be another 75 years until somebody else does, but if my presence can open doors and can inspire someone 'cause it take – you have to see something sometimes first before you can envision for yourself.'
'So if they can see me walk across that stage allows them to see themselves walking across that stage, happy to be a part of it, man.'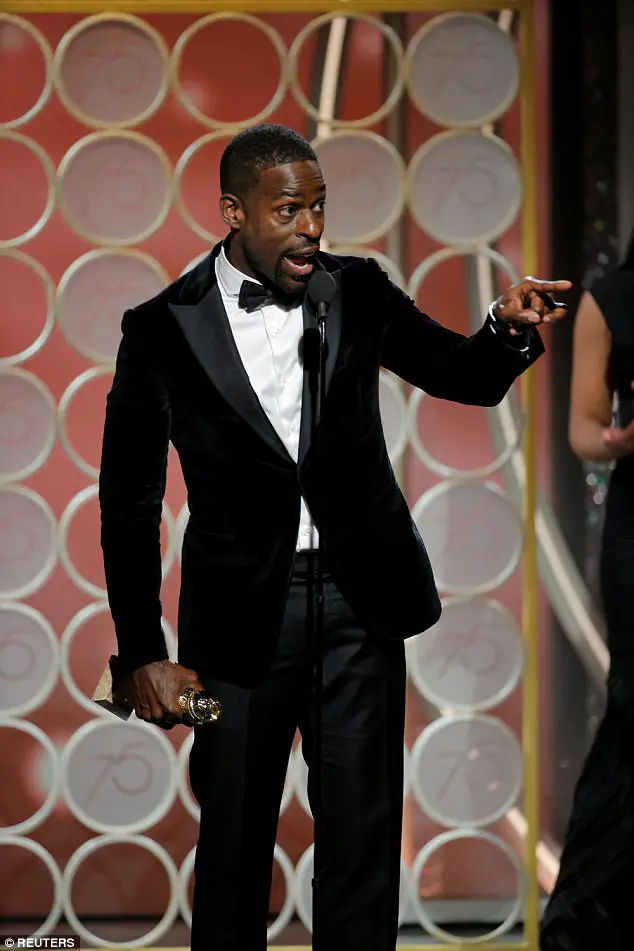 Sterling, who looked super sexy in a black tuxedo by Isaia,
He told the Hollywood Foreign Press Association he was 'honored' to be recognized for his work as Randall Pearson on the NBC hit.
In his onstage speech, he thanked the show's creator Dan Fogelman for writing the show in a culturally-conscious way.
'Now, Dan Fogelman, throughout the majority of my career, I've benefited from colorblind casting, which means, "Hey, let's throw a brother in there. That's always really cool."'
'But Dan Fogelman, you wrote a role for a black man that can only be played by a black man,' Brown said.
'So what I appreciate so much about this is that I'm being seen for who I am and being appreciated for who I am, and it makes it that much more difficult to dismiss me or dismiss anybody who looks like me.'