As Deserae Turner walked onto her high school field, she was greeted by cheers from thousands of people.
The 17-year-old had just been crowned homecoming queen.
But the newly crowned queen is lucky to be alive. Two years ago two classmates shot her in the back of the head and left her in a ditch to die. 
When the horrific incident took place in February 2017, the chances of Deserae ever having a normal life was slim. 
She has since had 10 brain surgeries and had to learn how to walk again.
Deserae was only 14 years old when she was lured into a creek by two of her classmates. Colter D. Peterson and Jayzon Decker, 17 plotted to kill her for "being annoying."
Peterson claimed she was contacting him "too often" on Snapchat. Decker then responded via text, "It would be pretty easy to get rid of her."
She was shot once in the back of the head, and left for dead at the creek in Smithfield, about 90 miles north of Salt Lake City.  
They originally intended to slit Deserae's throat, but decided it would be quieter to just shoot her. 
After the shooting, the boys stole her backpack with her cellphone and iPod. 
When Deserae failed to return home from school that day, her parents reported her missing.
An overnight search party was launched and the young girl was found lying in the dry creek bed with a bullet wound to her head.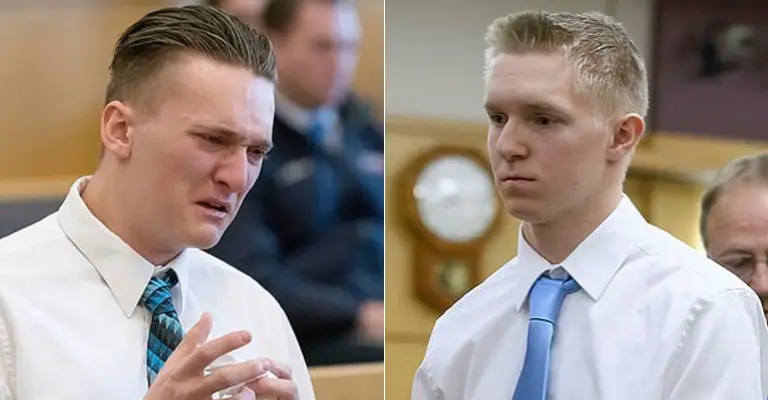 The teens were were later charged with attempted murder, aggravated robbery and obstructing justice. 
In 2018, Peterson and Decker the teenagers were sentenced to 15 years to life in prison.
At the sentencing for the two teenage boys, Deserae told a judge she considered Peterson a friend before the shooting.
She has had more than 10 operations since the shooting and needs another two more. 
But last Friday night, Deserae was a beautiful walking miracle. 
She wore a silver knee-length dress with a royal blue bolero. The teen beamed as she was escorted onto football field at Green Canyon High School in North Logan by her father, Matt.
She was then joined by Case Gehring, who was elected as the school's homecoming king. 
Deserae has struggled to concentrate after the shooting and is only able to attend school part time, for three hours a day. She also does online classes. 
Deserae had no idea nearly 1,400 students had voted her as homecoming queen until she was crowned. The inspirational teenager is now on track to graduate with her classmates. 
"It is definitely hard. There are times when I just want to go out and ride (horses)," Deserae said. 
"I just want to be normal again. I just want to be me. But this is me now, and I just have to embrace it."