I'm scared. Like, really scared.
Sahar Tabar, 22, is an Angelina Jolie superfan. So much so that she has undergone extreme surgery to look like the Hollywood star.
But instead of opting to emulate the superstar's full lips or perfect cheekbones – she opted for how Jolie would look if she died and came back to life.
Sahar from Tehran, Iran, has an Instagram account filled with snaps that show her with her Angelina-esque transformation. 
Belgian media has reported that Sahar has undergone 50 procedures to look like her idol. But her fans claim she creates her scary look by using make-up and prosthetics. 
Since Sahar's photos have gone viral, her Instagram followers have blossomed to over half a million.
While some comments have been positive, most are likening Sahar to a 'zombie' or a 'corpse'.
Belgian website Sud Info, says Sahar's life goal is to look like Angelina.  
It reported that she has lost 40kg and undergone dozens of procedures in the space of just a few months to look like the mom-of-six.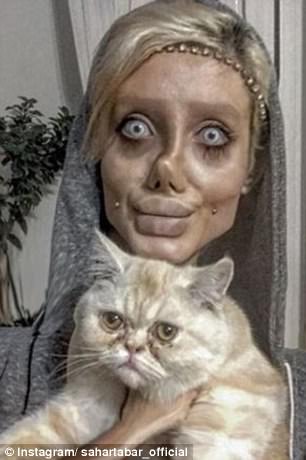 Sahar's followers have commented to say she looks like a 'zombie' and her pictures make them 'feel sick'.
However in some pics, Sahar's nose and cheekbones appear to be in different places. 
In one video she can be seen without her unique nose and cheek bones, though this may be a clip from before her transformation. 
Check out more photos below: