It certainly wasn't a merry Christmas for a lot of families, as their Christmas family dinner parade, got rained on by Tesco's 'rancid and gone off' turkeys.
Twitter and Facebook have been filled with vents from affected families about how their Christmas got ruined by Tesco, and we can't help but sympathize with them.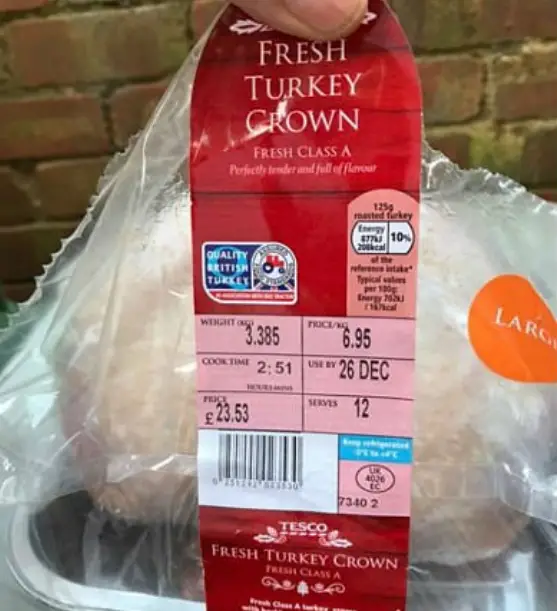 Tesco PLC, is a British multinational grocery and general merchandise retailer, with headquarters in Garden city, Hertfordshire, England, U.K.
It is the third largest retailer in the world, by profits and night largest by revenues and they have branches in 12 states across Asia and Europe.
With their impeccable record of quality goods and services, we can't help but wonder what could have possibly gone wrong with this year's Christmas and even more alarming, is the fact that this happened last year too.
There have been numerous complaints from various customers about the 'rotten, rancid, gone off' Christmas turkeys they got from Tesco, and things aren't looking good for the company, as Food Standard Agency is set to look into the complaints.
As customers recount their sad experiences of ruined Christmases, we can't help but empathize with them, and we wonder just how many more were affected by the bad Christmas chickens.
Some of the posts we gathered include
@KarenCarter
|Thanks @Tesco for ruining our Christmas with disgusting turkey I had delivered Fri, stinking and rotten just had to throw away #Tesco|
@RonnieBarnes
|Tesco, Turkey crown is rancid. Christmas dinner ruined. Haven't got receipt or packaging. Didn't expect to be sold bad meat. Furious|
Thanks @Tesco for ruining our Christmas discgusting turkey I had delivered Fri stinking and rotten just had to throw away #tesco

— Karen Carter (@karen_cb_) December 25, 2017
Carl Barber, from Clanton-on-sea, Essex, was obviously in a pretty foul mood as he shared his own experience on Facebook, uploading pictures of the visibly terribly looking chicken.
He had captioned the pictures 'out of date', showing the tag and best before date which was 26-12-2017, and when friends had pointed out that its expiry date wasn't till 26, he explained that the turkey smelt like 'a dead body' and had gone 'mandy green'.
He also complained bitterly about the money wasted, and how he had bought the turkey only a few days ago.
@Sappnin Bitton at around 8 p.m, also tweeted
|We're sitting waiting on Chinese coming after @Tesco ruined #Christmasdinner|
He further shared that he had gotten refunded and was lucky that he had noticed before cooking or eating, describing the turkey as 'unhealthy'.
We're sitting waiting on a Chinese coming after @Tesco ruined #ChristmasDinner. Thank the lord for @JustEatUK. Think this is the first time I've ever spent money on christmas day. What else you gonna do with 8 hungry mouths and a rotten turkey. Think I'll send Tesco the bill…

— Jase (@SappninBitton) December 25, 2017
Allison Kendall was all sarcastic as she thanked Tesco for the 'finest turkey' with a sale date of 26-12 that had gone off a day before.
Kristen Shore and Kelly Greaves seemed to have had it worse as it wasn't just that turkey that had been ruined, but the entire Christmas dinner, as they had made gravy from the juice and even sprinkled on vegetables.
Thanks @Tesco for selling me a gone off turkey & wrecking my 1st xmas day cooked at my home! £250 wasted, an awful meal and 8sick people!

— Kirsten Shore (@Kirsten_Shore) December 26, 2017
Jane Plant had a rather interesting story as she shared how she had blamed her husband's feet for the foul odor in the house only to find out at about 7:30 p.m on Christmas Eve, that the culprit was none other than the turkey seated in her refrigerator, courtesy of Tesco.
Her husband had gone back that evening to return it but had been told nothing could be done about it, and they had to change the whole dinner plan, settling for two points beef and of course, an apology to her husband's innocent feet.
We can vividly recall, that a similar situation happened last year, where the complaints were about the turkeys being green inside.
Reports had it that, it was caused by a condition known as 'Green muscle disease', where the inner breast develops in a way that prevents blood from circulating, hence the green coloration.
Thanks for ruining Christmas dinner @Tesco In date fresh turkey roast in tin breast gone off. No Christmas dinner for us this year. Raiding freezer for turkey replacement, @BirdsEye chicken chargrill currently in pole position. #HouseStinksOfRottenTurkey #ChristmasDinnerRuined pic.twitter.com/L3cykKAl4l

— Craig Spooner (@CraigSpooneruk) December 25, 2017
Tesco had released an official apology, stating that they were concerned to have heard the complaints, as there is nothing more important than the quality of the food they sell.
They had also promised to refund customers, to compensate for their loses.
This year, they have come out with an official release that this is just a small number of concerns, compared to the 'hundreds of thousands great quality British turkeys', with exceptionally 'high standards', which they sell and promised to look into the issue.
Apologising to Mr. Barber, Tesco also promised to get in touch with customers.
But it looks like Tesco won't be getting off this easy, as the Food Standard Agency, gives their word to look into things.
'We are aware of the incidents, reported to social media and we are considering our next step'.
While we wait to see how this will go, we empathize with the families affected and hope they have a merrier Christmas next year.