Rumors are swirling that fan favorite Tommie from Love And Hip Hop got into an altercation with a a local rapper named Akbar.
Akbar claims she brutally beat Tommie inside an Oakland recording studio after she was "disrespectful."
According to an insider, Tommie and Akbar (who works with Young Thug) were both recording in neighboring booths.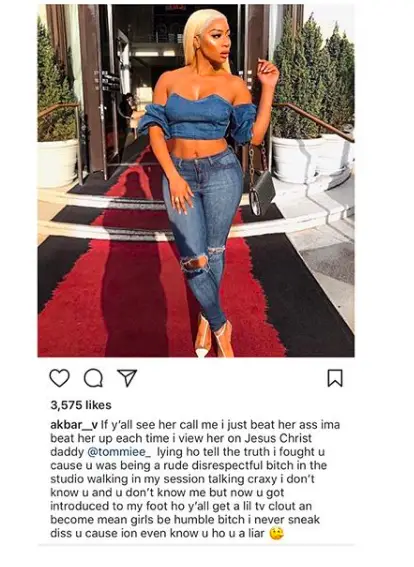 Instagram
Tommie walked into the room where Akbar was recording and went off at the recording engineer.

Instagram
Akbar – who is a known gangsta and weights 230 pounds – allegedly put her hands and feet on Tommie.
Tommie laughed off the rumors on social media, but Akbah shared a screengrab of Tommie.

Instagram
The picture appears to show Tommie covering her bruises with makeup.
A snitch told us, "Tommie left a lot of her blood and weave in that studio when she left."


Instagram
This comes just hours after the newest episode of Love & Hip Hop Atlanta.
On the show, viewers were horrified when Tommie's own mother referred to her as "ugly" after a family bust up.
"Tommie's mama calling her ugly and a b*tch is probably 80% of the reason that she is the way she is. That verbal abuse will f*ck you up for life. #LHHATL" on follower said.
"Tommie mom really called her ugly, well ma'am ain't that your daughter #LHHATL" another viewer of the show tweeted out.