If you have a penchant for fine art and modern décor, choosing a simple ping pong table doesn't make much sense for you. You're eyeing for luxury, something which looks stunning first, and performance isn't the major criteria.
If that's you, we've got you covered. I found the top ten Luxury ping pong tables that will blow your mind. Whether you are looking for something modern, classy, or something traditional, we've rounded up the very best.
Keep a note that most of these tables run above 2k$ or even more. In contrast, you can get a decent ping pong table under $400 (source) and a professional one at around $1k mark – Something to keep in mind.
I will add that this posting is in no way sponsored or paid, I am just giving some ideas that I love and you will too in the below mention ping pong table buyers guide. So, let's get to it!
1. Hand crafted all-wooden table with Storage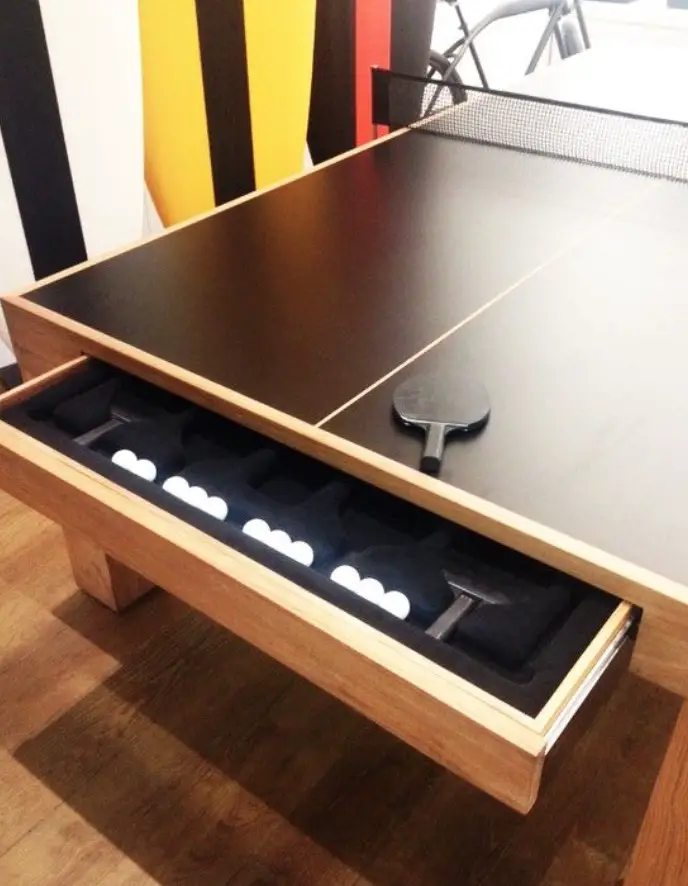 For this design, you have a slide-out drawer that has molds specifically for your paddles and balls. This design is awesome because the drawer is padded, so nothing clinks together or gets scratched. Having this custom design is great for those who want to keep your paddles in better condition and need a place of storage.
2. Table with a Retro touch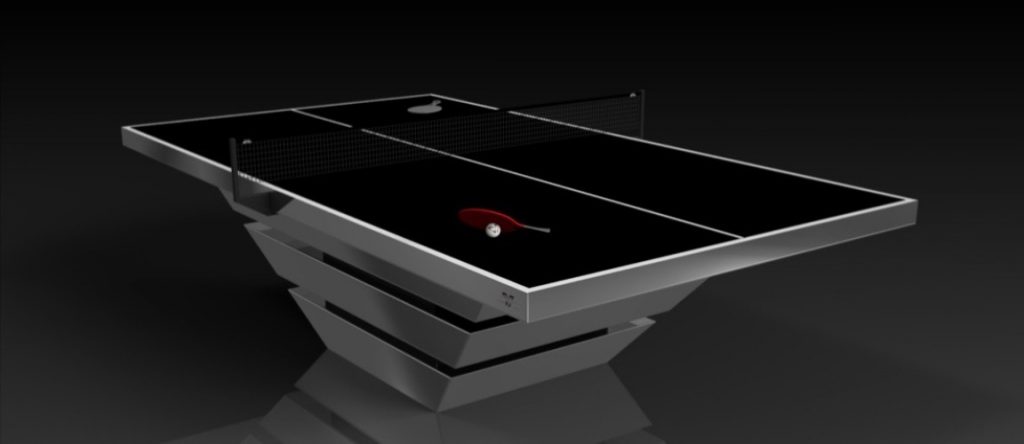 Designed by Elevate customs, this custom ping pong table has a sleek retro feel to it. The design is well thought out and would look amazing in any unique styled home. The blacktop with the chrome base is a perfect combo that is luxurious but simple. So, if you are looking for something simple but stands out, this is the table for you!

3. Modern with sleek design

Designed by 11ravens, this exquisite ping pong table is no less than a piece of art.
If you are looking for a modern table but with a little pop of color to go with your home décor, this table is for you. This table is designed in a modern way that is sure to add elegance to the home and a great addition for anyone looking to keep the color scheme. There is also room to customize the color pop of the table to a color that works for you.

Beyond the modern look of the table, it has a fun and young vibe, as well. It is a great statement piece for any home to welcome in.
4. Edgy with blood red border
Another 11ravens table makes it into the list, but this one is sleek and modern!
Do you have an edgy taste in home décor? This custom table brings on the edge with a fun pop of color. The sculpting of the base is great for those looking to wow their guests. I love the pop of color that spices it up in a way that isn't too flashy. The color on this table can also be customized as well to suit your taste.

5. Traditional wood design

This design is a play on a classic table. It is a mid-century design that is the perfect idea for anyone looking for a semi-classic table with a little kick. I like the look of the wood which you can customize to any finish that you desire. The natural wood tone finish with angled legs looks minimal yet elegant. If you're looking for a contemporary piece, this is a solid choice.

6. Classic all black design

Another simple table, this is a great find for anyone looking for something different. I like that the base of this table has wood slates, giving off a western vibe that would look great in any home.
7. Symmetrical base

This table design has a great symmetrical base and a black top. The design in the wood makes it really nice and is a great find. The colors in the top can be changed, and the wood can have any finish you would like.
8. Simple and minimal with glass top
I like the idea of this see-through tabletop. This classy look is great for any modern style home and is sure to impress your guest. The tabletop is very unique, and that's the beauty of it, there aren't many out there that have this look!
This table is ideal for modern offices – the see-through tabletop adds a whole new dimension to the design adding an upscale touch to the décor.
9. Solid and Sturdy
This ping pong table is another play on the classic. The wood base with the steel legs it's a very beautiful look that gives off a somewhat edgy vibe. The top can be customized by color, which will help if you are looking to match it with the rest of your home décor.
10. Semi-Circular Base

The last ping pong custom table is very modern. The look of the base is created in a way that gives it a fun vibe. The semi-circular base with maple wood finish is unique and sure to attract a lot of eyeballs. A perfect fit for anyone looking for a luxurious yet simple looking ping pong table.
If you are looking for something different and fun, this table is definitely for you!
Whether you are looking for a classy, elegant, modern, or edgy luxury custom design in a ping pong table, there are many options above that will help you obtain your vision!
Let me know which one do you think is best.