Rapper T.I. has made a truly shocking admission. 
The father of six admits that he accompanies his 18-year-old daughter to the gynecologist every year. The reason? To ensure that she is still a virgin.
T.I – real name Clifford Joseph Harris Jr – appeared on Ladies Like Us podcast.
He claimed it was important for him to know that his teenage daughter, Deyjah Harris, had not had sex yet.
'"I will say as of her 18th birthday, her hymen is still intact," the Live Your Life artist stated.
"Deyjah's just graduated high school now and she's attending her first year of college, figuring it out for herself," the star, who also has a three-year-old named Heiress.
"And yes, not only have we had the conversation [about sex], we have yearly trips to the gynecologist to check her hymen."
Astonished podcast hosts Nazanin Mandi and Nadia Moham initially thought the Grammy winning artist was joking. But a candid T.I. went into more detail about his doctor visits with his daughter.
"So it's this one time we go, I think this might have been after her 16th birthday. This is what we do. Right after the birthday we celebrate," he said.
"Usually like the day after the party, she's enjoying her gifts. I put a sticky note on the door: "Gyno. Tomorrow. 9:30." 
Even though a doctor must practice strict confidence with their patient, T.I. admits he cajoles his daughter into sharing. 
"So we'll go and sit down and the doctor will come and talk and the doctor's maintaining a high level of professionalism," T.I. explained. 
"He's like, 'Well, you know sir, I have to, in order to share information' — I'm like, 'Deyjah, they want you to sign this … so we can share information. Is there anything you would not want me to know 'See doc? No problem.'"
Even though the doctor explained to T.I  there are many other ways for a hymen to break besides sex, T.I. admitted that he doesn't care. 
"So then they come and say, 'Well, I just want you to know that there are other ways besides sex that the hymen can be broken, like bike riding, athletics, horseback riding, and just other forms of athletic physical activity.'" 
"So I say, 'Look doc, she don't ride no horses, she don't ride no bike, she don't play no sports. Just check the hymen please and give me back my results expeditiously."'  
"I think that most kids in hindsight, looking back, they always thank their parents for not allowing them to damage themselves as much as they could have," he said. 
He also went further, claiming that guys don't want to make an effort with a virgin. 
"They're no fun. Who wants a virgin?" he asked. "Like, really? All that work."
Although the podcast host laughed at T.I's brazen approach, they also called Deyjah a "prisoner" and told the rapper he was encouraging men to be "vultures."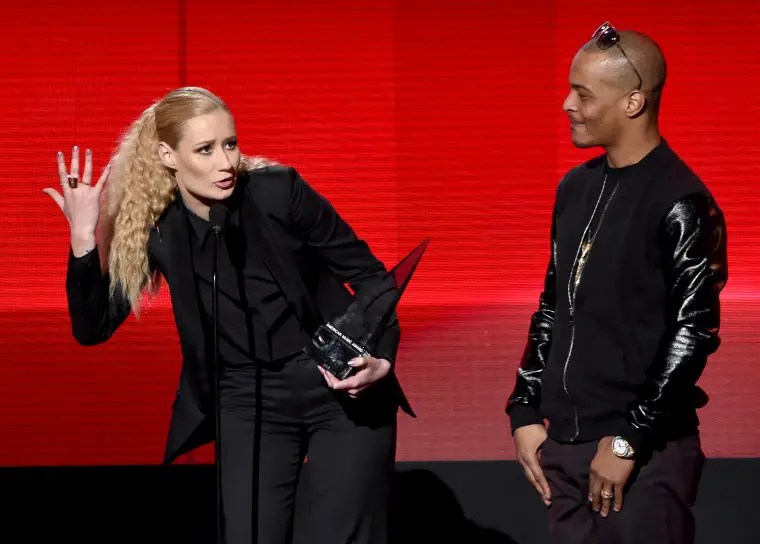 However T.I. is not nearly as worried about the sexual activities of his 15-year-old son, King.
The teenager admitted in June 2019 episode of the family's VH1 reality show that he is already having sex. But T.I., while clearly not totally thrilled, laughed it off.
Meanwhile Deyjah has been liking comments from fans who are against T.I's form of sex policing. 
T.I's one time collaborator Iggy Azalea also tweeted out her disgust for his antics.
"Unfortunately, he is dead serious," tweeted Iggy Azalea, 29.
"Really I wish the women who interviewed him would have said something to him," Iggy said in another tweet that has since been deleted. "He has serious control issues with women in all aspects of his life & needs therapy."