Serenity Dunham, 19, and Tiffany Nurse, 27, have been charged with beating up and robbing a pregnant Bronx teen.
But despite being charged with such a vicious crime, the girls' family came out in force to support them.
Court officers arrested D'angelo Davis and Lakea Varner for their "unruly behavior" in the court room.

(ANDREW SAVULICH / NEW YORK DAILY NEWS)
"I love you, cousin!" Varner yelled at the end of the court hearing.
This triggered more yelling from relatives in the room.
Some family members were escorted out while Davis and Varner were arrested.
Serenity's bail was set at $30,000, with Tiffany's bail set at $40,000.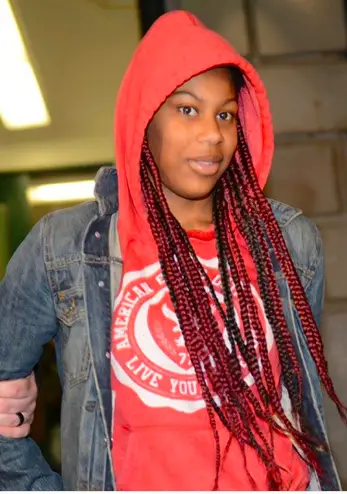 (ANDREW SAVULICH / NEW YORK DAILY NEWS)
"At the conclusion of the arraignment, two family members became loud and belligerent and refused several lawful orders to vacate the (courtroom) vestibule," said a spokesman for the Office of Court Administration.
Davis and Varner were given three summonses for making noise, obscene language and blocking the exit to the courtroom.
Davis was also given a summons for marijuana possession.
They're due back in court on April 10.

(JAMES KEIVOM/NEW YORK DAILY NEWS)
Dunham and Nurse were arrested Monday and charged with the Feb. 1 beating and robbery of 19-year-old Tylesha Mohammed.
The attack happened at the bottom of a stairwell in a building on St. Ann's Ave. near E. 159th St. in Woodstock.
Police charge the women with repeatedly kicked the pregnant teen and slamming a heavy door against her body.
Mohammed, who was seven months pregnant, survived the assault, as did her unborn daughter.
The two women took off after allegedly stealing the teen's mobile.
They have both been charged with second-degree robbery.