In a new low for reality television, a Ukrainian schoolgirl is to find out on a live primetime TV show, whether she was impregnated aged 11 by her stepfather or one of her two brothers.
The alleged victim, Tanya Luchishin, has already faced the ordeal of a live studio audience. 
She mistakenly claimed her five-week old daughter Diana had been fathered by her 18-year-old neighbor. 
The man named Andriy, admitted having sex with Tanya when he was 17. Although DNA testing proved he was not the father, he could be jailed for up to ten years for sleeping with the underage girl.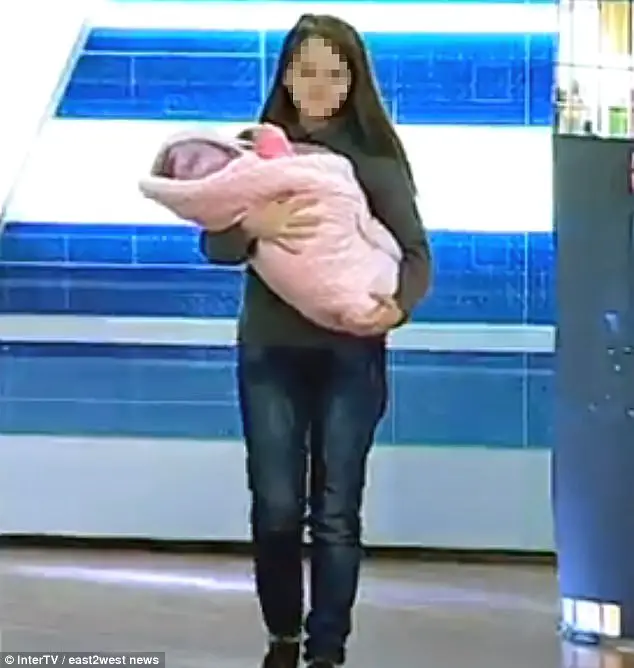 After it emerged that Andriy was not the father, a distressed Tanya, now 12, reluctantly shared she had been also forced to have sex around the time she conceived.
That person, she claims, was a member of her own family.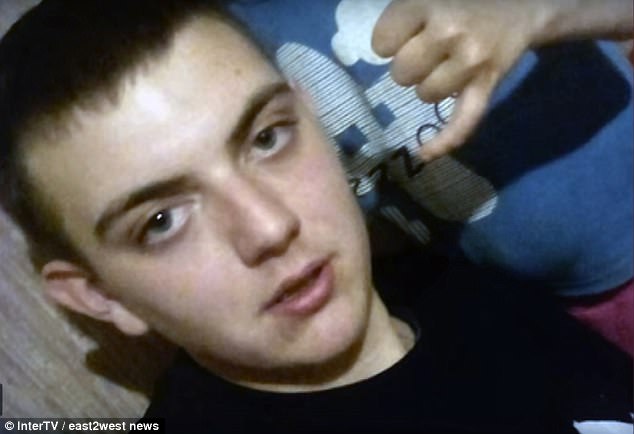 'I won't talk because this person is in this studio,' Tanya, from Borislav in the Lviv region, said tearfully. 
The sensationalist show is now DNA testing her stepfather Ivan Eremin, in his 30s, her brother Volodya, 15, and her half-brother Viktor, 17.
They all strenuously deny paternity.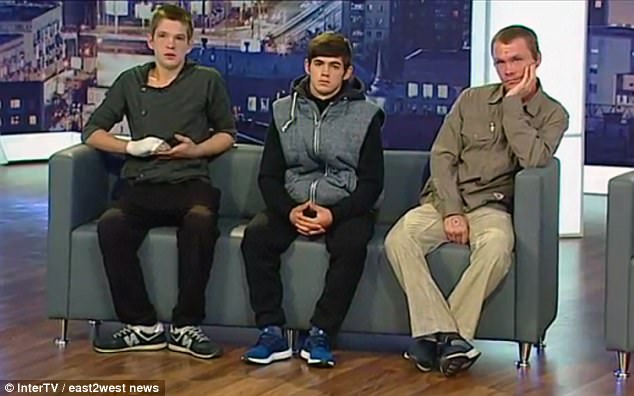 The results of the DNA test will be revealed on Ukrainian television show 'It Concerns Everybody.'
When confronted about whether he is the father of his stepdaughter's baby, Eremin said: 'No, absolutely not. I would not have come here if I had anything to do with the pregnancy of my step-daughter.'
He told the audience: 'I am ready to undertake a DNA test and to prove that I am not the father of this child.
'I am afraid of nothing. I don't want to live when people are pointing their figures at me, at my wife. I never had any relations with Tanya, I could not even think about it. '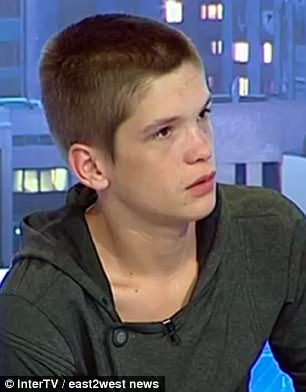 Meanwhile psychologists have expressed shock that a child victim of multiple rapes is being made to appear on a television show for the entertainment of others. 
Vlada Berezyanskaya, a psychologist who examined Tanya for the programme, said: 'This girl… is simply afraid. She is depressed now.'
'Tanya is a child, she is guilty of nothing,' she said. But the psychologist did not seek to put a stop to the controversial show.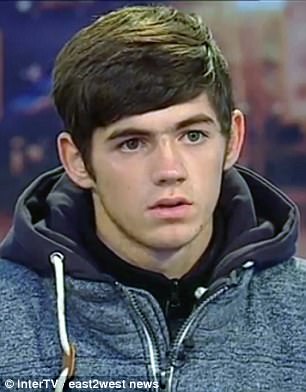 Tanya's 31-year-old mother Anna Luchishin has been heavily criticized for allowing her vulnerable daughter to appear on the show.
The mom of six is rumored to be making money from a criminal act that took place upon her own daughter. 
She was even seen encouraging her daughter to answer intimate questions when she plainly did not want to.
'Please, tell them everything,' said her mother.
Tanya whispered back: 'I can't.'
She is now helping Tanya raise the child, Diana, born weighing 5lbs 5oz by Caesarean on September 17.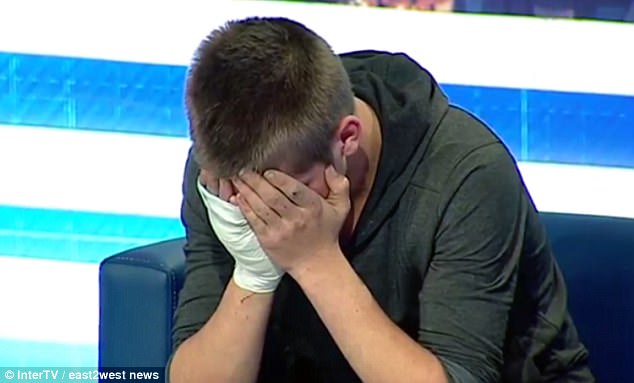 During the show Tanya is seen crying constantly. 
The youngster began to cry when she was questioned about having sex with her neighbour. 
She was asked personal and demeaning questions about if she 'liked' the neighbour who came to her house. And if she enjoyed it when 'no-one else was home to demand sex.' 
Tanya strongly: 'No.'
The presenter went on: 'So nobody was at home and he knew it, right?'
'Nobody', she said.
The presenter again asked' 'What did he do?'
Tanya paused with tears rolling down her cheeks. She then was asked: 'Did he beat you?'
'No, he did not beat,' she responded.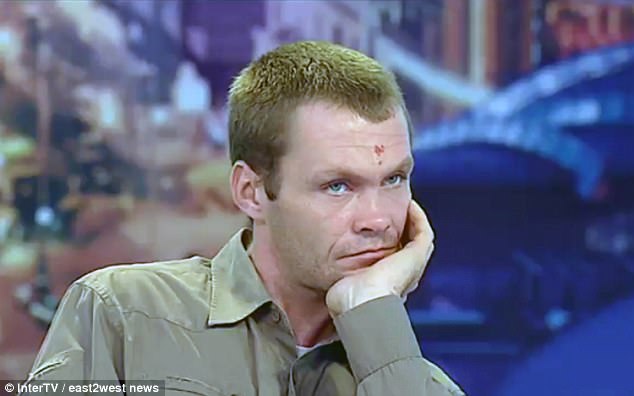 An audience member asked: 'Did he push you?'
She said no and added that she did not realise she could become a mother.
She sighed with extreme discomfort when she was asked: 'Did he explain his actions in any way?'
Tanya was asked: 'Maybe you cried for help?'
She replied: 'No, (I was) silent.'
Under the questioning she said her neighbor returned for sex on two more occasions.
Police say they are taking an interest in the show but have failed to stop it.
This week will viewers will see the third episode on the saga. The family member who fathered the child is due to be named based on the DNA tests.
Presenter Andrey Danilevich, from Inter TV, claimed he was simply seeking to uncover the truth.
'The girl, who got pregnant at the age of 11, is in any case is the victim of adult irresponsibility and manipulations,' he said.
'Now almost all the men in Borislav town who visited the Luchishin family are under suspicion, including the girl's stepfather and brothers.'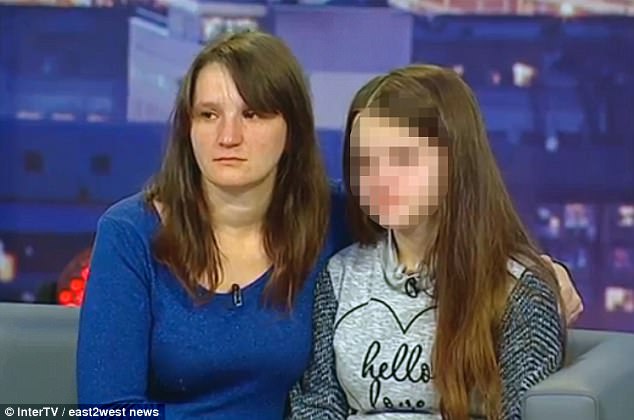 'We all know how cruel the people's tongues can be. It is important to find out who is the father of Tanya's child in order to stop the speculation.'
Anna, Tanya's mother, told viewers her daughter had initially named who she believed to be the father.
'But our neighbour Andriy is not the father of my granddaughter Diana,' she said. 'I received a call from the laboratory in Lviv and they said it was not him.'
'Andriy's father Oleg had paid for this DNA test in Lviv. I was shocked. I told Tanya about the test and asked her – so who was it then?'
'And she told me there was one more person. I asked her to tell me the truth. It happened in February when I was in hospital with my newborn daughter Viktoria.'
'I don't want to give the name. It is a person from our family. But it may not be him.'
Tanya has also given the same name to police.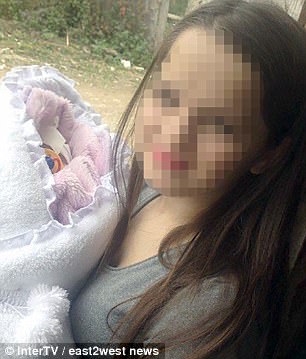 Anna said: 'I should not say this but I don't know now if I can trust my daughter. She says one thing, then another thing, as if she doesn't know herself.
'She pointed at Andriy before and I attacked him. I don't know what to do now. Maybe she is wrong again? Tanya is upset now, she does not want to say more.'
Tanya said she did not realise she was pregnant until a doctor noticed when she accompanied her mother to a check-up for her baby sister.
'Tanya was sent to a scan and within a minute the doctor said: 'You're pregnant?'
Anna admitted: 'Now my husband Ivan and my son Volodya are under suspicion. I have spoken to Volodya. He said: "Mum, don't mock me.' I spoke to my husband.
'He was really upset, and he told me he wanted to do a DNA test, because he could not live like this. He wants to prove to the whole of Ukraine that it was not him.
'When we came back home from the police that day, he got drunk. His mother called me in tears, saying everyone at her work blames him.'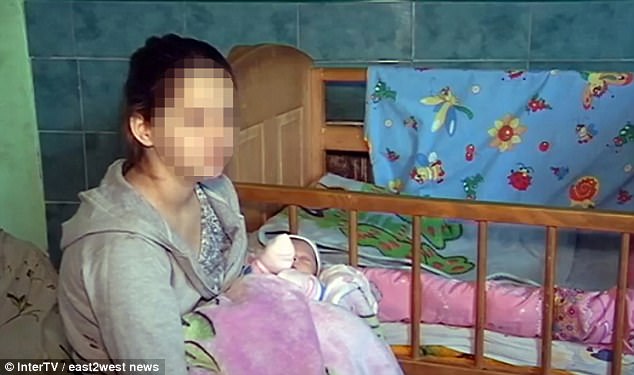 A body language specialist has also suspected that Volodya is the father.
And neighbor Alexandra Virt claimed: 'All of us could see that Tanya was pregnant.
'We told her mother many times about it, I told her, other our women told her. She did not take any action. I even told Ivan: 'Your Tanya is pregnant.'
'He said: 'What are you talking about? She had just had her period.' I remember I said to my husband then: 'How could the man know when Tanya had her period?"
Volodya Luchishin, Tanya's brother, his arm bandaged after a playground fight over the matter, said he had been mocked by his classmates over the TV programme. 
He said: 'When I came to school, other students said: 'Oh, you're a TV celebrity now, so you are the father?'. Or: 'Your step-father is the father?' So I had to fight. She is my sister, how could I sleep with her? I know who is suspected but I don't want to talk about it.'
Half brother Viktor Dimiyon said: 'I am not guilty and I don't know who is the father of her child.'
Baby Diana was recently baptised in an Orthodox church when Ivan Eremin held the baby with his wife.
Reports say Tanya, from Borislav in Lviv region, 'was allowed to wear lipstick' for the occasion.
She has proudly posted pictures of her baby on her social media, but has received some cruel comments from trolls.