Global superstar Beyonce made a surprise appearance Tuesday night to present Colin Kaepernick with a special award. 
The mom-of-three presented the athlete with the Sports Illustrated Muhammad Ali Legacy Award. 
The 'Flawless' singer was brought out as a surprise presenter by Daily Show host and comedian Trevor Noah. 
Kaepernick promised that 'with or without the NFL's platform, I will continue to work for the people.'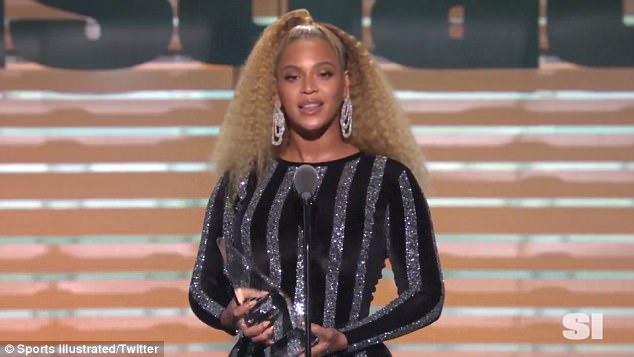 Queen Bey said she was 'proud and humbled' to present the award to Kaepernick for his courage to open what she called an 'important conversation about race in the country.'
'Thank you, Colin Kaepernick,' the 22-time Grammy winner said. 'Thank you for your selfless heart. And your conviction. 
'Thank you for your personal sacrifice. Colin took action with no fear of consequences or repercussions, only hope to change the world for the better.' 
Beyonce looked stunning in a black and silver short dress. Half of her golden curls were slicked up into a side pony, as the other sat loosely around her shoulders. 
'Ladies and gentlemen, I'm so proud and humbled to present the Muhammad Ali Legacy Award to Colin Kaepernick,' Beyonce said.
The athlete walked up to the stage to a rousing ovation and said: 'I accept this award not for myself, but on behalf of the people.'
'Because if it was not for my love of the people, I would not have protested. And if it was not for the support of the people, I would not be on this stage today.'
'With or without the NFL's platform, I will continue to work for the people, because my platform is the people.' 
Last year's Ali Award winner, Kareem Abdul-Jabbar, called Kaepernick a 'worthy recipient' during a video tribute.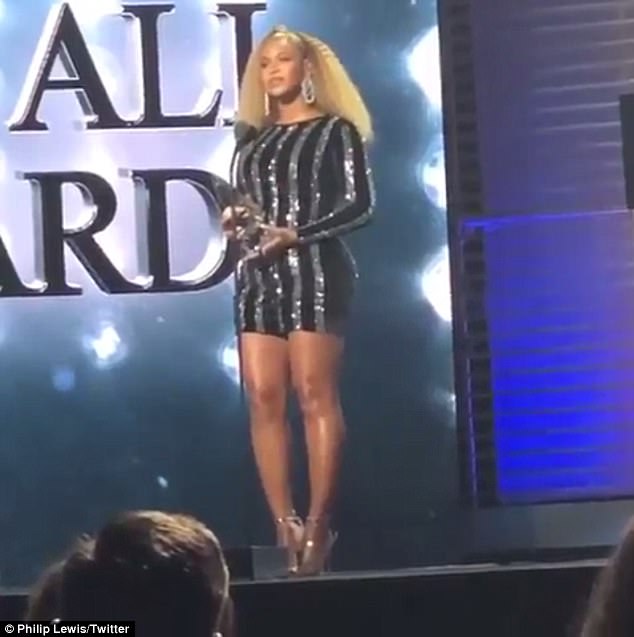 'He fully embraced the risk to his career in order to remind Americans of the systemic racism that was denying African Americans their opportunities to equal education, jobs, health and even their lives,' Abdul-Jabbar said.
Kaepernick began kneeling during the national anthem last season to protest racial inequality and police brutality. 
The demonstration sparked a wave of protests by NFL players during the anthem. However is has repeatedly been denounced by President Donald Trump.
Kaepernick parted ways with the San Francisco 49ers in March and hasn't been signed by another team.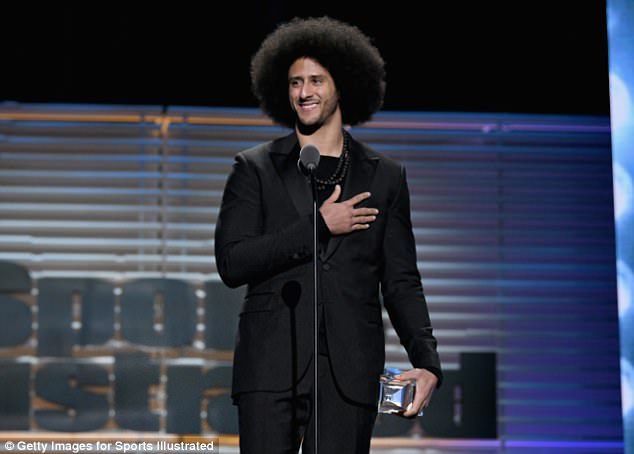 Meanwhile Kaepernick filed a grievance against the NFL in October.
He alleged that he remains unsigned as a result of collusion by owners following his protests.
On Tuesday he spoke about continuing Ali's legacy for fighting social injustice, saying the boxing great 'mentored me without ever meeting me.'
'The footprints he leaves are large,' Kaepernick said, 'and his life is and has been a multi-textured tapestry that is rich in love, wisdom, life lessons and human kindness.'
'I can only hope that I'm taking steps toward walking on the footsteps that he has left behind for the world to follow.'
Back in 2015, Sports Illustrated renamed the award as a tribute to Ali.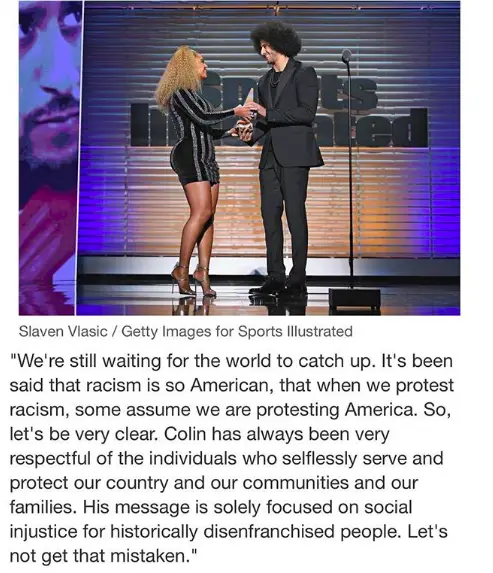 Beyonce's mom Tina Lawson took to Instagram beaming with pride after her daughter presented NFL star-turned-social activist Colin Kaepernick with the award.
Uploading an image of Bey handing Kaepernick his trophy, Lawson wrote, 'Thank you Beyonce for being brave enough to say what many of us are thinking.'
'Translates to me as: when you protest injustice and racism & put a spotlight on it that means you are being "Un American" or disrespectful to our country! What does that say about this Country?'
Lawson continued, 'Our current administration would have you believe that the protest was protesting the flag and the nation anthem… Wrong!!!'
'There is no mention of the purpose of his protest which was the killing of innocent unarmed black men and racism in this country.'
'The constant smokescreens and deflecting that's done every day is laughable! That is the game that they play with us every day about everything.'