In 2017, I never thought I would be writing a story about slavery.
But this is the sad truth of what is going on in Libya. But for some reason it is not making headline news.
Libya has said it will launch an investigation into slave trading in their country. A video has gone viral appearing to show migrants being sold at auction for as little as $400.
The nation of Libya has been savaged by war and has become a hub for desperate migrants hoping to reach Europe.
But sadly those looking to the West to have a better life have fallen into the hands of traffickers.
Truly chilling video captured by CNN undercover reporters, show black men being presented to North African buyers as potential farmhands.
Now, Libya's internationally recognised government has announced it would investigate the allegations.
In a statement posted to Facebook on Sunday, Deputy Prime Minister Ahmed Metig said his UN-backed Government of National Accord would launch an investigation.
Metig said he would instruct the formation of a 'commission to investigate these reports in order to apprehend and bring those responsible to justice', the statement added.
The foreign ministry in a statement added: 'If these allegations are confirmed, all implicated persons will be punished.'
The CNN report apparently shows migrants being auctioned off in Libya has been shared widely on social media. 
The grainy footage shot on a mobile telephone shows a man CNN said was Nigerian and in his 20s being offered up for sale as part of a group of 'big strong boys for farm work'.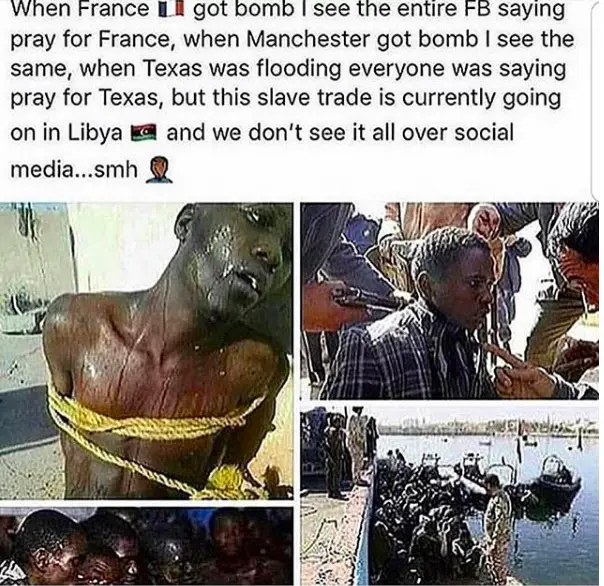 In the CNN report, a person identified as an auctioneer can be heard saying '800… 900… 1,000… 1,100…' before two men are sold for 1,200 Libyan dinars ($875).
Around 1,000 people took to the streets of Paris on Saturday to protest against slavery in Libya, according to French police. The gathering led to clashes between demonstrators and security forces.
Meanwhile, a former Nigerian government minister has claimed that migrants from his country are having their organs harvested after being sold into slavery in Libya.
Femi Fani-Kayode, a onetime aviation minister in Nigeria, claimed that 75 per cent of slaves who have their organs harvested are Nigerian. 
The Cambridge University-educated lawyer added that the victims have their 'bodies mutilated' and are 'roasted like suya [shish kebabs]'.
He went on: 'Roasted alive! This is what Libyans do to sub-Saharan Africans who are looking for a transit point to Europe.
'They sell them into slavery and either murder, mutilate, torture or work them to death.'