Is Kim Kardashian plotting her way to a Nobel Peace Prize? Or just in the Christmas sprit?
The reality star, 37, has enlisted her legal team to help in the case of Alice Marie Johnson, now 62. 
The grandmother was sentenced to life in federal prison 20 years ago for her involvement in a cocaine ring. 
Kardashian received a letter of thanks from Johnson who was given no chance of parole – even though it was a non-violent first offence.
In the letter, obtained by TMZ, Johnson wrote: 'Dear Ms. Kardashian, I am so humbled by what you are doing and have already done on my behalf.'
She continued: 'When I spoke with Attorney Shawn Holley and she disclosed the name of my benefactor, I had to take time to process and digest the news that you were the one she had been alluding to.'
'There are no words to strong enough to express my deep and heartfelt gratitude. Ms. Kardashian you are literally helping to save my life and restore me to my family.'
'I was drowning and you have thrown me a life jacket and given me hope that this Life Jacket I'm serving may one day be taken off.'
'There are defining moments in history that have shaped the destiny of this nation. I believe that we are part of a defining moment.'
'When Rosa Parks refused to give up her seat on that bus (the same year that I was born – 1955)… that was a defining moment.'
'She was an ordinary woman whose courage ignited and united the heart of America to stand together against a very present evil that could no longer be tolerated.'
'This is so much bigger than either one of us.'
'I believe that history will record that Kim Kardashian had the courage to take a stand against human warehousing and was a key figure in meaningful criminal justice reform becoming a reality.'
'A million trillion thanks!! May God's blessing rest upon you and yours. THE BATTLE IS ON!' 
In 1993, Johnson was a single mother struggling to provide for her five children.
She acted as a go-between and relayed messages to drug dealers. But she maintains she never sold narcotics during her involvement with the group who sold cocaine in Tennessee.
Johnson, along with 14 others were arrested on drug and money laundering charges. During the trial, 10 of the defendants testified against Johnson in exchange for reduced or dropped charges.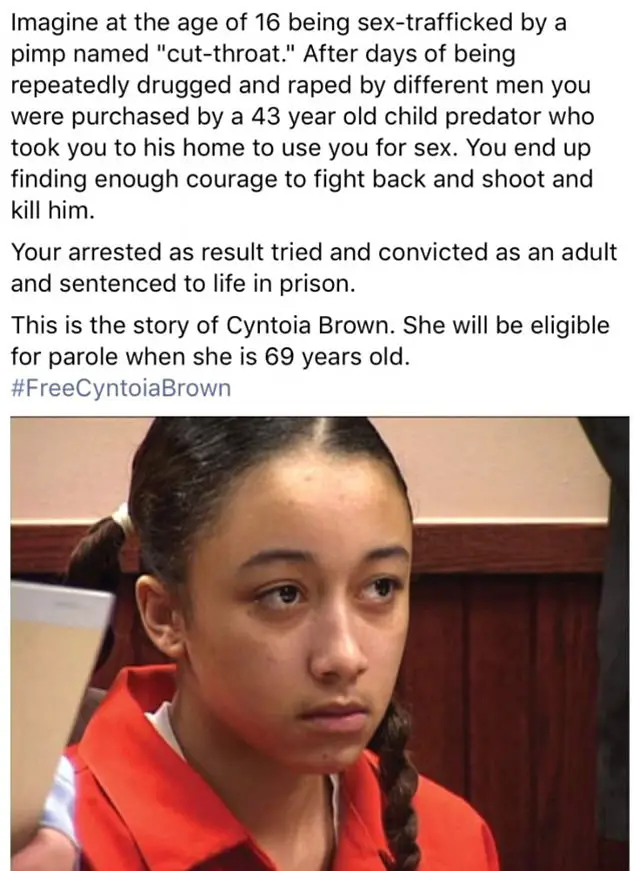 Kardashian has also enlisted her legal team to help in the case of Cyntoia Brown.
Brown is a former child sex slave who killed her abuser when she was 16.
'Kim asked me several weeks ago how she could help Alice Johnson in her fight for justice. We then began corresponding with Alice and her team of lawyers,' Kardashian's lawyer Shawn Holley told the Daily News.
'Since then, Kim has championed the cause of Cyntoia Brown and asked me to help her get involved in that effort as well,' Holley said on Thursday.
Brown's case went viral when it emerged she had already served 13 years of a life sentence.
She is now a 29-year-old graduate – having secured an associates degree in prison.
The then 16-year-old was sex trafficked by a pimp named Kutthroat who physically, sexually and verbally abused her.
He eventually sold her to 43-year-old Nashville realtor Johnny Allen, a court heard during her trial in 2004.
Brown, who feared that former Army sharp shooter Allen planned to kill her, eventually grabbed one of her captor's guns and killed him, Fox 17 reports. 
But when the case came to court, she was sentenced to life in prison, after prosecutors successfully argued her motive for the killing was money. 
Brown won't be eligible for parole for at least 51 years.