While the world produces enough food to feed over 7.5 billion people, there are still hundreds, if not thousands, who go hungry in every corner of the world. While there is no viable method for you to help every person, there are some ways you can reduce this suffering. By coming up and hosting the right events and activities, you can help starving populations without exerting much effort. Even a small donation can go a long way in helping those individuals, no matter how small or insignificant it might be to you. Here are some of the most common methods to prevent world hunger.
Local Food
If someone has to travel a very long distance just to eat their first meal of the day, they're not following sustainable solutions when it comes to food. This is why it is highly advised that you shop at local markets for vegetables and consumables or even grow your own herbs and vegetables instead of buying them. Going out of your way, or out of your neighborhood, to get your food might cause food shortages in other parts of the country on a fractional level, but it can still be quite noticeable in the long run.
Donations
There is no better way to show your support than with donations. There are several services and organizations that allow people to support their causes, like the FAO, for instance, which provides the donated money for those who're in need in several third-world countries. If you want to start with donations, the folks at www.c4i.ca/ recommend that you start following up movements on social media and on news to know where you can make donations, monetary or otherwise, to reduce global hunger. In 2015, the Food for All organization accumulated over $60 million to fight world hunger, due to people's contributions. So no matter how small your contribution is, it will surely help in the long run.
Social Media
There are several ways with which you can show your support on social media platforms. As we mentioned earlier, by simply keeping up to date with discussions and news about world hunger, you are passively helping by understanding the different media on which you can provide support. You can retweet, repost, or become a follower of anti-world hunger organizations all over the world with simple clicks and that might pique the interest of people from our circle to do the same. You can find popular organizations like FAO or Alliance to End Hunger on social media platforms, so using social media to reduce global hunger won't be much of a hassle.
Packaging Events
Another good, more practical method of fighting global hunger is through organized packaging events. If you're the type of person who likes to take the lead, then you might want to organize a meal packaging event on your own. Meal packaging events can be done in conjunction with another group or business, such as a school, a faith organization, or a civic club. Whichever it is, you must get support with meal packaging, preparations, and delivering the food for the people who need it. Events like these can actually have a substantial ripple effect on people in your society, and soon enough, you'll find more people trying to aid global starvation prevention activities in the future.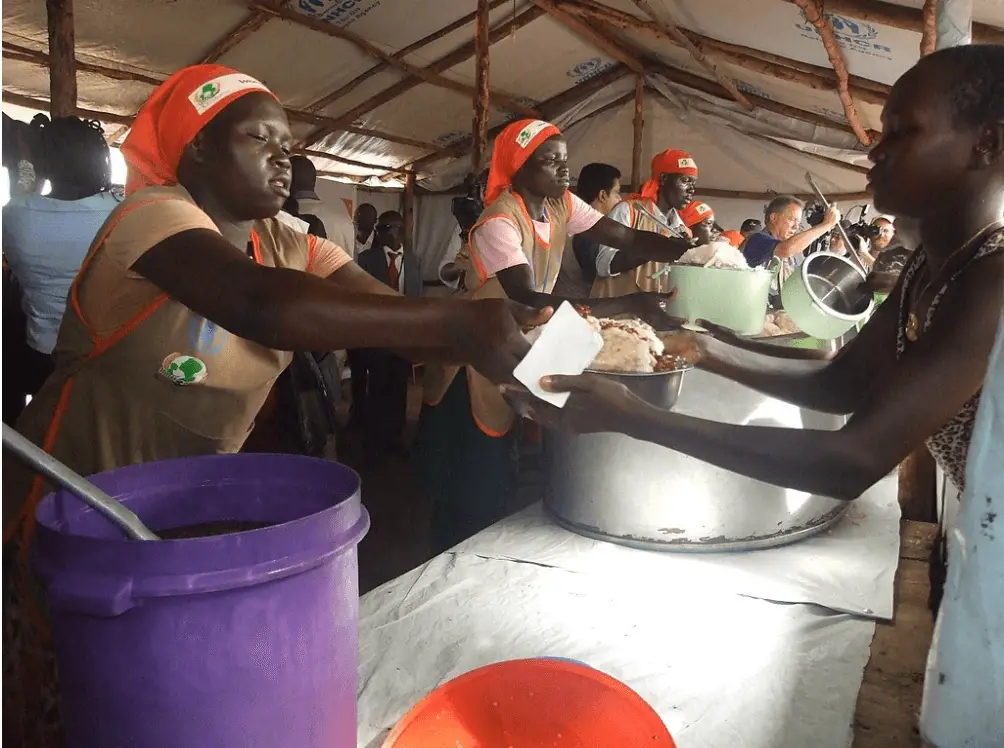 Advocating for World Hunger Prevention
Social media can be a means of showing support to a person, an organization, or an idea, but it can also be the grounds on which you create your own voice that calls for ending global hunger. If you're enthusiastic about this cause, learning how to become an anti-world hunger figure on social media and in real life should be your way to go. Make sure that you have supporters backing you up to ensure that your voice reaches more people across the country and, ultimately, around the world.
Reducing Food Waste
About one-third of the food produced worldwide is being wasted, which means that we're actively wasting large quantities of natural resources that could help reduce world hunger by miles. If you want to take part in reducing food waste, you must take into consideration sharing meals with people or composting leftovers.
It might take a handful of years before we can eliminate world hunger entirely, but to do so, we must start with simple, tentative steps at the earliest chance. Make sure to encourage other people in your community to participate in world hunger prevention events and use the internet to raise awareness regarding this matter. If possible, you can also try to ask representatives in your community to adhere to international food waste policies to prevent hunger on a larger scale.