Talk show queen Wendy Williams has been serving the tea for more than twenty years.
In all the years Miss Wendy has given her take on the latest hot topics, she's rarely taken off a sick day.
But on Wednesday the 53-year-old was taking times off due to her battle with Graves' disease.
The host of "The Wendy Williams Show" made the announcement during her syndicated show, saying she will take three weeks off starting on Thursday to focus on her health.
"My doctor has prescribed … are you ready? As of today, three weeks of vacation," she told the audience. "What? Who are you? I was pissed."
Graves' disease is an autoimmune disorder that causes overstimulation of the thyroid.
It can lead to puffy eyes, anxiety, fatigue, insomnia and elevated blood pressure, according to endocrineweb.com.
On February 12 cameras caught Williams stumbling into audience members.
Footage shows the host shaking hands with one of her guests while walking down the stairs of her set.
She then momentarily lost her balance and then latched on to an audience member for support.
Williams looked startled as she appeared to have become woozy during the segment.
She admitted on her show that her condition has left her wobbly on her feet.
Williams has previously spoken about her battle with the disease, telling People in July that she has suffered thinning hair as a result.
The star has a range of wigs that she wears daily.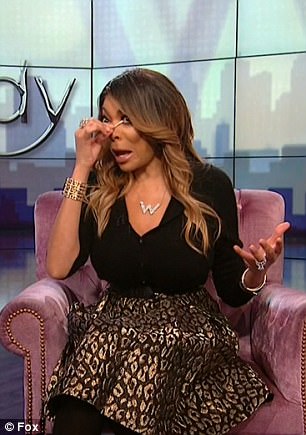 Williams canceled several shows last week after announcing on social media that she was experiencing flu-like symptoms.
Her health has made headlines in recent months after she fainted on-air during an October 31 episode of her show.
At the time, she told viewers that she collapsed as a result of being "overheated."
"I'll be back in two [weeks]," Williams joked during her show on Wednesday.
"I'm not an heiress. Who is going to pay my bills? Are you serious? I'm just saying, I come from working class."
Wendy confirmed that rerun episodes or what she calls 'encore performances' during her absence.