As a certified 'Wendy Watcher' I am beyond excited for Wendy Williams to return to my screen on Monday.
It feels like she's been away forever – I'm in desperate need of my hot topics!
The 53-year-old chat show host was spotted enjoying her final week of freedom, as she cavorted in her bikini on the beach in Barbados.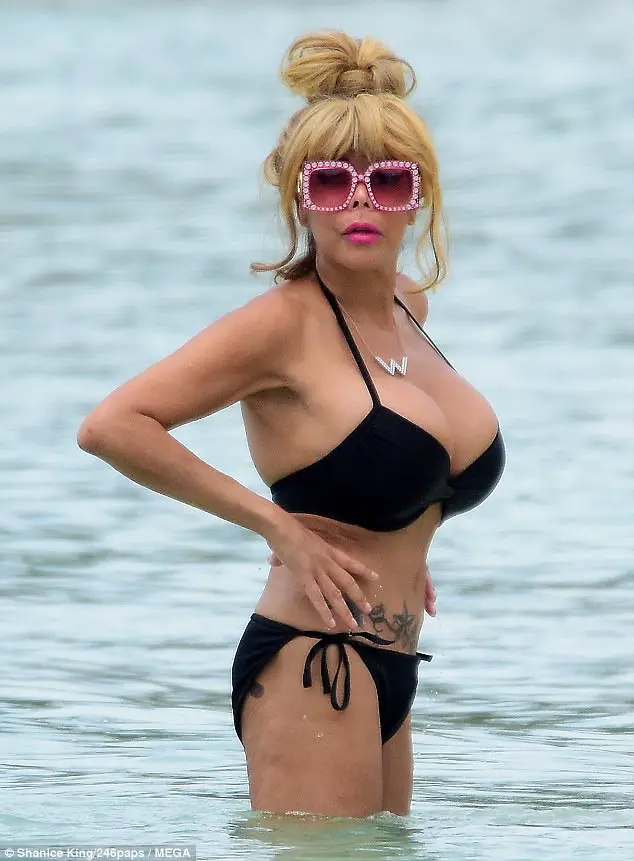 Wendy was seen having a blast with her blonde wig piled on top of her head and a touch of baby pink lipstick on her lips.
Since becoming a vegan and cutting out meat, refined sugars and dairy from her diet, the mom-of-one has lost over 50 pounds.
Rocking her newly slim figure, Wendy wore a pair of pink jewel encrusted oversized $965 Gucci glasses.
She also accessorized with bedazzled 'W' necklace – which she got from her show bosses on her birthday.
Her husband of 20 years, Kevin Hunter, joined Wendy on the luscious white sands, as they enjoyed some alone time without their 17-year-old son, Kevin Jr.
Wendy has always been open and honest about her use of plastic surgery.
She once called herself the 'poster child for plastic surgery'.
The clothes designer sports a large tattoo spanning the width of her stomach.
She got the exotic star and vine inking to cover up her scar following a tummy tuck six months after giving birth to son Kevin Jr in 1999.
She has also admitted to having liposuction, breast augmentation and implants, a face lift and Botox and laser treatment to reduce scarring.
But she maintains that given the financial opportunity, many woman would opt for surgery.
She once told Essence.com: 'If I gave you $10,000 and said you can use my doctor, you'd do it. If you say you wouldn't, I venture to say, 'Somebody's lying, and it ain't me.'"
But she admits to being a surgery junky, Wendy also relies upon a clean-living lifestyle to keep her body looking good. 
She enjoys pilates and now has a strict diet.
Williams told E! News in an interview last year: "I did it on my own and I love it because I no longer have to do that fight with clothing. 'Wah, wah, wah, I don't wanna wear sleeveless…does this make my butt look big?'" she said.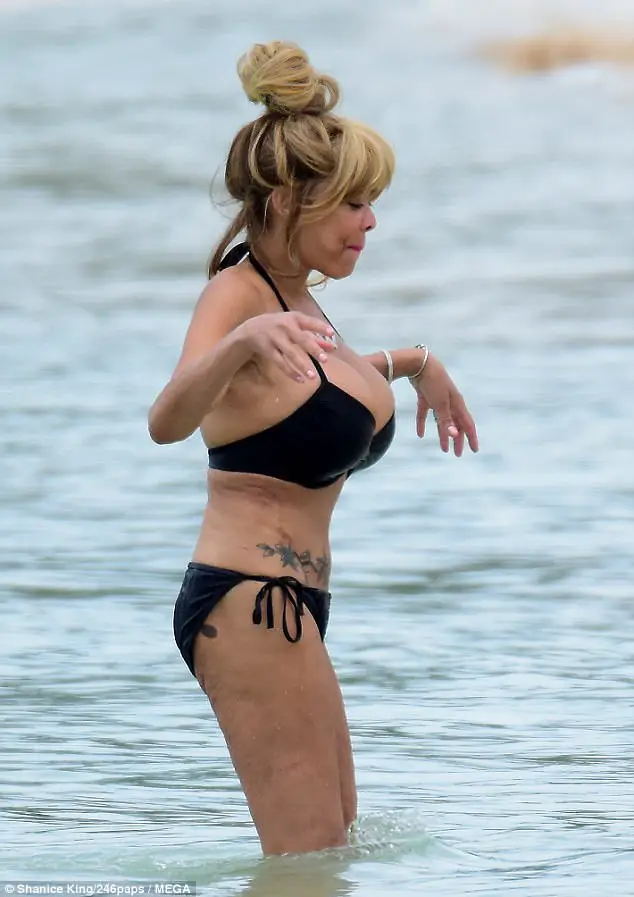 "Those things get in the way of being a good host for the people."
"This is as good as it's going to get," she added. "I'm not gonna fight my body anymore, I've lost the weight, I feel fantastic."
For the past decade, she has filmed The Wendy Williams Show in front of a live studio audience four days a week.
Wendy has also penned a best-selling autobiography and six other books, and has a fashion line, jewelry line and wig collection.