In a bizarre twist of events, a woman who has been missing for days has been discovered next to a sports pitch in Finsbury Park.
Luliana Tudors had been reported missing since Christmas Eve by concerned friends whom she was supposed to meet up with at a house in Enfield.
Ms. Tudos, of Russian and Greek origin, was last seen at 8 pm on December 24  leaving her house with the intent of going to meet some friends for a Christmas get together.
She  has been discovered to be a barmaid and was murdered as she walked through a park in North London on Christmas Eve.
Luliana Tudos
The original police report released to the media say that she died as a result of stab wounds to the stomach and a head injury.
Ms. Tudos was finally found three days after she was last seen by a stranger walking in the park.
Ms. Tudos was last been seen by friends at around 8 pm on December 24 when she headed for a bus home from Camden.
She lived on Upper Tollington Park, just hundreds of yards from Finsbury Park and was due to meet with friends  at a friend's home in Enfield, north-east London, later that evening before spending Christmas Day there, but never arrived.
Luliana Tudos
Reports from police say that her next of kin who are said to reside outside the country have been informed of her death and are on their way to the country.
A post-mortem examination is being carried out at Haringey Mortuary, with a result expected by Friday.
Investigations have also begun into her death and an area of the north-east corner of the park, close to a baseball pitch, was cordoned off as forensic officers combed for material.
Forensics officers marked out what appeared to be clothing scattered on the grass while her home in nearby Upper Tollington Park was also searched by police.
Ms. Tudos was actually liked by those who lived with her as they have described her as young and beautiful.
A neighbour named Sebastian Jonathan was quoted as saying about the deceased,
'She was a very nice person, young and gorgeous. I met her twice when she came over for beers when we had barbecues last summer. The police refused to give me any information, I had to Google it to see that she was the one found in the park.'
Ms. Tudos, who also called herself 'Julie', worked at the World's End pub in Camden, according to her Facebook page and neighbors.
The late barmaid  was 5ft 1in tall and was wearing a black and red hooded top with 'Agnostic Front' – the name of an American punk band – on it, with light jeans and black and white Vans shoes.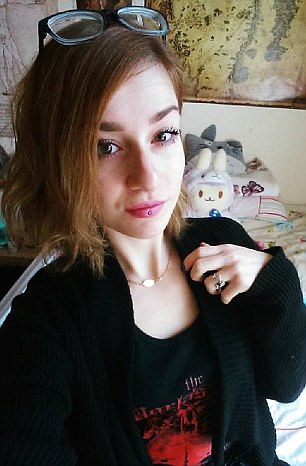 Police said she was wearing glasses and was carrying a black and white fabric bag with 'Fighting against Animal Testing' written on it.
Detective Chief Inspector Nicola Wall, from the Homicide and Major Crime Command, is leading the investigation.
She said,
'Luliana's body was discovered in an outbuilding next to a sports pitch.

'We believe that she may have been attacked on Saturday, December 24 – Christmas Eve – but we want to hear from anyone who saw anything suspicious in that part of Finsbury Park over the Christmas period. We are still trying to piece together a timeline of events and are pursuing a number of lines of inquiry as regards to a motive.'
So far, no arrests have been made and no suspects have been identified.