Fatherhood is an extremely sacred emotion involving responsibility, maturity, and a sense of protection. But how do you cope with being a father when you are a child? Media representation of some of the youngest fathers in the world comes with a sense of burden.
Becoming a father is one of the most crucial turning points in a person's life, so how does one cope with taking care of another life that's part of them? Surprisingly, these young fathers haven't disappointed and stood up to the responsibility.
This article explores more about the youngest fathers in the world and narrates their story and a sudden twist of fate.
#1. 11 Years Old Sean and 15 Year Old Emma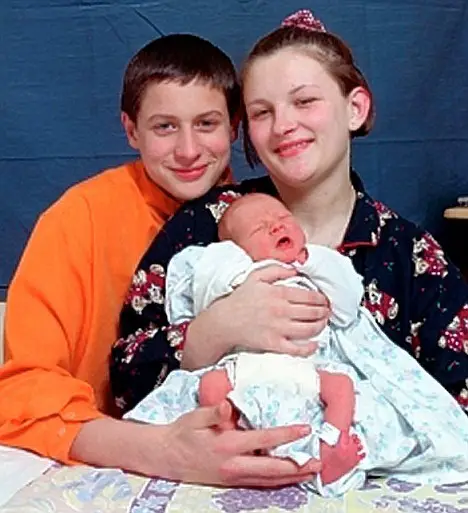 The young boy in this picture is Sean Stewart – the UK's youngest dad. The school boy from Sharnbrook, Bedforshire, was only eleven years old when he had sex with his 15-year-old next-door neighbour Emma Webster.
Sean's mommy let him take the day off school when Emma was due to give birth. Emma, her parents, Ray and Shirley, and Sean's mother, Theresa were all in attendance when Emma gave birth to Ben Louis on January 20, 1998
Sean and Emma became an official couple and he vowed to stand by her and his son saying at the time: "I was shocked at first when I was told Emma was pregnant but I am all right about it now."
15-year-old Emma claimed she didn't know that Sean was only eleven-years-old when she slept with him. Luckily for her social media wasn't invented in 1998, so instead of being called a sick baby snatcher on Facebook, the 'sweet' story of how Sean would climb across a roof to meet with Emma made headlines all over the world.
After the birth Sean told the Daily Mail: 'I hope to stay close with Emma for as long as possible. She comes round to my house every morning before school and meets me off the bus every afternoon. Things are OK at the moment and nothing has gone wrong.'
But unfortunately things did go wrong and Sean and Emma are no longer in contact. When asked three years ago about Sean, Emma said: 'I have not seen Sean for three or four years and he has not seen Ben since then. I am married now and have a nice family. Ben is doing well at school. We just want to get on with our lives. I don't know where Sean is or what he is doing.'
Last December Sean was sentenced to a seven-month jail term for theft. He is serving time at HMP Lewes.
#2. 12 Years Old James And 16 Years Old Sarah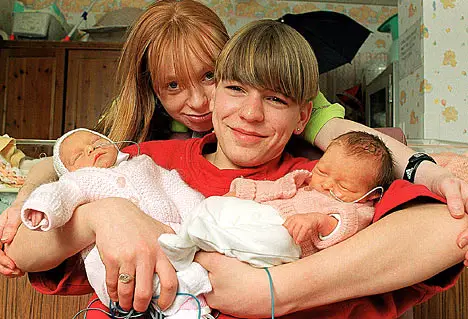 James Sutton was just 12-years-old when he got his 16-year-old girlfriend Sarah Drinkwater pregnant – with twins! Most thought James and Sarah would be unable to cope due to their young ages.
But eight years later he and Sarah are still together and own their own home. As well as the twin girls the couple had when they were teens, they also have a two-year-old daughter.
While James regrets having the title of being 'Britain's Youngest Father Of Twins', he is proud and delighted to have proved the doubters wrong. The couple don't take state handouts and James, now 21, has spent the last five years working full-time for a construction company.
Sarah is busy studying for a university degree and works as a pharmaceutical researcher. Between them the couple earn a decent living and have bought a £100,000 house in Manchester, to give their children a secure home.
The twins, Leah and Louise, seven, are settled in school and the arrival of two-year-old Ellie has brought the couple even closer together. They are even thinking of getting married. Sarah, who is studying for a degree in human biology and health sciences at Salford University, said she too was pleased their relationship had survived despite their unexpected arrivals.
"Nobody thought James and I could ever achieve what we have done," said the 24-year-old.
#3. 14 Years old Shem And 14 Years Old Tia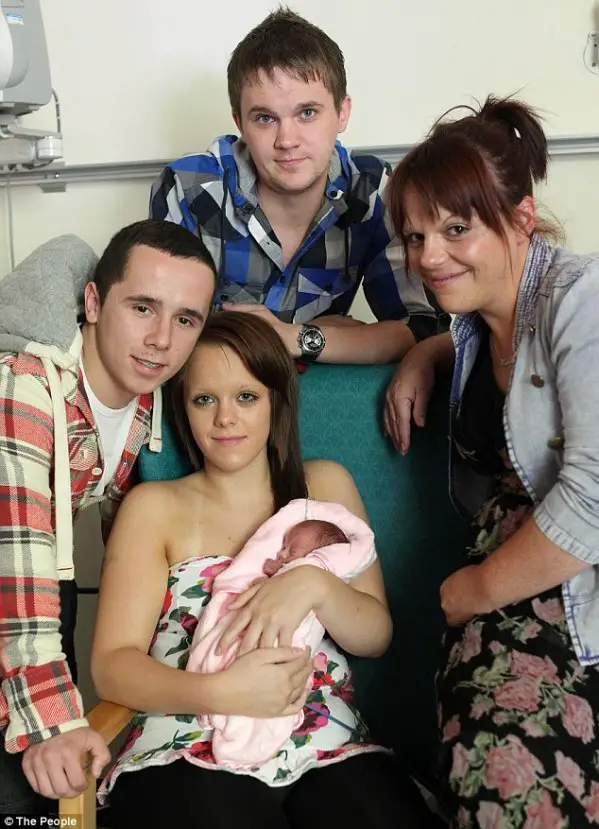 Shem Davies was just 14 when he became a father for the first time. Now his 14 year old daughter Tia has repeated history after having a baby girl just a week before her 15th birthday.
At 29, Shem is now Britain's youngest granddad. Unemployed Shem, who split up from Tia's mum just three months after Tia was born, said he was "absolutely delighted" at the news he was to be a grandad.
But sadly when his granddaughter Ava Grace came into the world she was placed in an incubator as she was born ten weeks early — weighing less than 2lb. Thankfully Ava is "doing remarkably well" after having specialist care at a baby unit in Bridgend, South Wales.
Although Shem was shocked when Tia told him she was pregnant by her 15-year-old boyfriend Jordan Williams. He didn't think there was any point in disciplining her.
"I could have yelled at her, but what's the point? I know how hard it's going to be for them because I was in their shoes at the same age. I didn't handle it very well when I became a dad at 14. I wasn't able to cope with it and I ran away."
The new grandad, who has a nine-month-old son with new girlfriend Robyn Thomas added: "One minute Tia's a baby, the next she's pregnant.'
Tia's cafe worker mum Kelly, 30, said: "My worst nightmare has always been that Tia would repeat my mistake and get pregnant young. I always lectured her about contraception."
#4. 13 Years Old Alfie And 15 Years Old Chantelle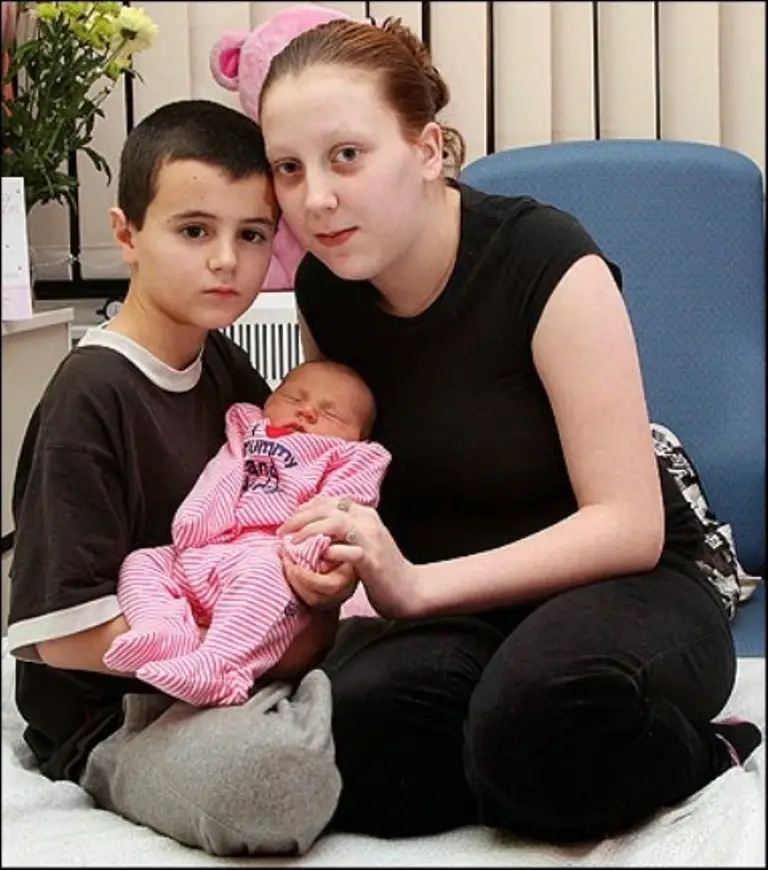 Baby-faced Alfie Patten, 13 made headlines around the world when he became a father to his 15-year-old girlfriend Chantelle Steadman baby.
Their daughter Maisie Roxanne who weighed 7lb 3oz. Chantelle, decided against an abortion after discovering she was pregnant as she didn't believe in it. Alfie was so naive of his impending fatherhood he admitted he did not know how much diapers cost.
The four foot four boy whose voice had not yet broken, said: "I thought it would be good to have a baby. I didn't think about how we would afford it. I don't really get pocket money. My dad sometimes gives me £10."
But DNA results proved that Alfie was not the father to Maisie Roxanne. Rather than rejoice over the news, little Alfie was heartbroken. Nicola, Alfie's mother, talked about how the 13 year old father reacted to the DNA results.
'He did cry after we found out he wasn't the dad. When we told Alfie the baby wasn't his he was absolutely hysterical. He burst out crying and then he ran out of the room.'
The real father of Maisie Roxanne was another schoolboy named Tyler Barker, 15.
#5. 15 Years Old Catherine Moore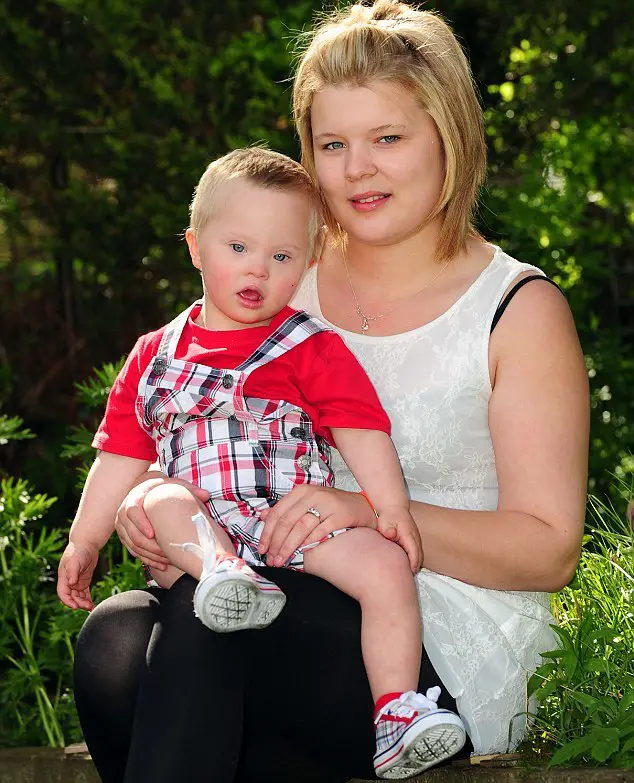 Catherine Moore became one of the youngest mothers in Britain to have a Down's Syndrome baby after falling pregnant aged 15.
Despite being just a child herself, single teen mother Catherine Moore, now 19, refused to give her baby up after learning he had Down's Syndrome, vowing to raise him and prove the naysayers wrong.
'I was going off the rails but he saved me. We are a team and I am so very proud of him. When he came along I was just a child myself and suddenly I had a child of my own with special needs. But I never once thought of giving him up.'
'He needed me and I needed him, it was as simple as that. I could never be without him and he is quite simply the most wonderful thing ever to happen to me, he really is. I hate it when people say they are sorry he has Down's because I am not. It's who Tyler is and I would not change him for the world. I'm so glad I had a Down's baby.'
#6. 11 Years Old Kordeza And 19 Years Old Jeliazko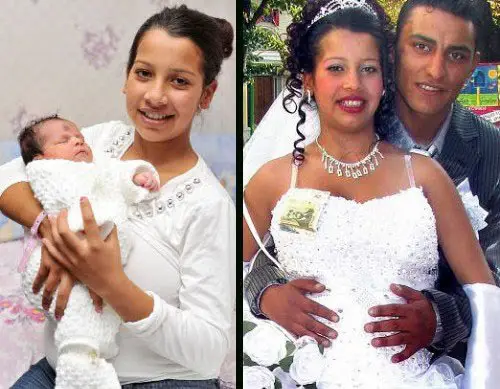 Kordeza Zhelyazkova, was just eleven when she gave birth to her daughter, Violeta, during her own wedding! Kordeza from Bulgaria was playing at her local playground when she was harassed by a group of bullies.
When 19-year-old Jeliazko Dimitrov saw what was going on he quickly rushed to her rescue. The pair began to talk and fell in love. Jeliazko thought she was 15 and Kordeza was scared to tell him her real age.
The age of consent in Bulgaria is 14, and in Kordeza's home town of Sliven, girls get married as early as 13-years-old.
However Kordeza was shocked to discover she was pregnant. Her family was ecstatic and put together a Roma wedding, so the baby would be born in a "real family." But Kordeza pre -wedding jitters caused her to go and into early labour.
On the second day of her wedding party and she was rushed to the hospital dressed in her wedding dress. She gave birth with 19-year-old husband Jeliazko Dimitrov at her side,
"I'm not going to play with toys any more – I have a new toy now," Kordeza says.
"She is so beautiful, I love her. Violeta is the child and I must grow up. I am not going back to school – I am a mother now." 
#7. 13 Years Old April And Nathan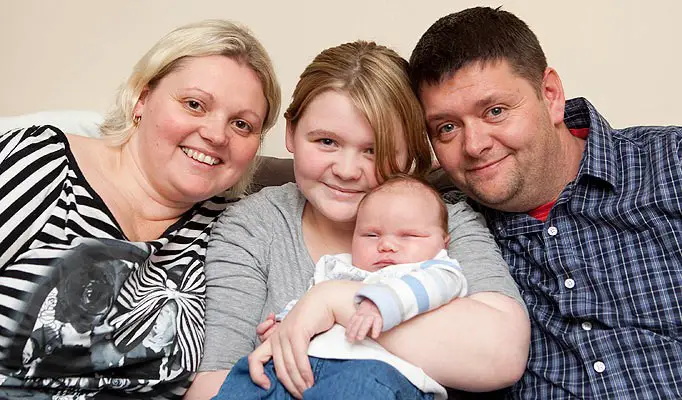 April Webster gave birth to a son called Jamie after having unprotected sex with her boyfriend, Nathan Fishbourne when they were just 13.
April and her boyfriend from Caerphilly, South Wales said: 'Jamie wasn't planned, but I'm going to be a great mum for him. He's perfect and I'm going to give him everything he ever wants.'
April discovered she was expecting a baby the day before her 14th birthday and her son was born via Caesarean section weighing 8lb 14 oz on November 15, 2010.
After a few months of dating April and Nathan began to have sex but were 'too embarrassed' to tell their parents or to ask for advice.
Nathan said that he tried to use a condom once, but did not like it. He has vowed to stand by April and his baby son. Four-week old Jamie is currently living at the home of April and her parents, Maria, 36, and Jeff, 38, while the April continues her schooling.
#8. 21 Years Old Tressa Middleton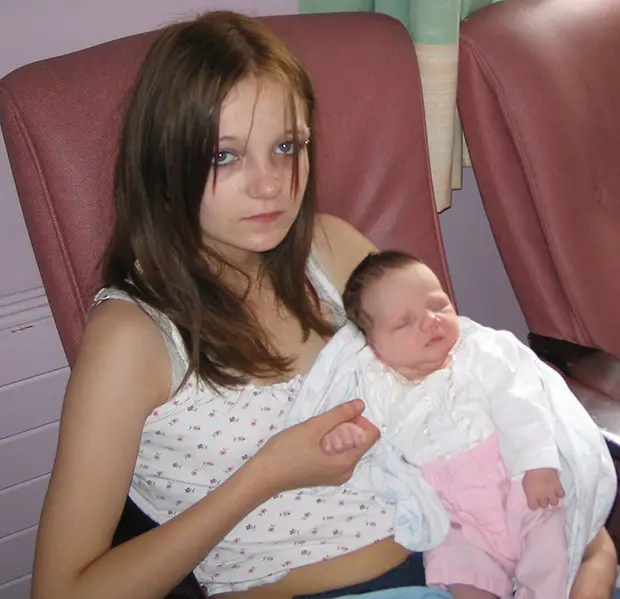 Tressa Middleton, now 21, was widely condemned when she gave birth to a daughter at the tender age of 12. She spent much of her early years in care and became addicted to drugs and alcohol.
As soon as her baby girl Annie was born she was then taken into care. But Tressa was keeping a tragic secret – she had been raped by her older brother and he was the father of her baby.
Tressa has written a detailed account of her experiences in her book, Tressa: The 12-Year-Old Mum', which she dedicated to Annie.
Tressa said: 'I just hope one day she does forgive me. I know it's going to be hard for her when she finds out her uncle is actually her dad.'
She added: 'I hope she doesn't blame me for not telling people what actually happened when it happened and for drinking and going off the rails.'
#9. 5 Years Old Lina Medina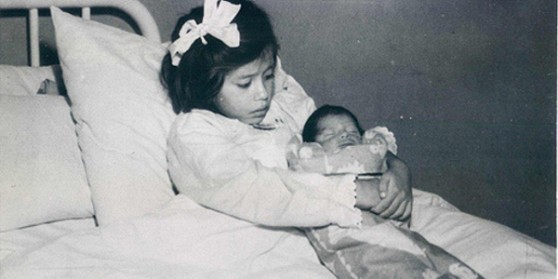 Back in 1939, a FIVE year old girl named Lina Medina gave birth to a healthy baby boy. The story was truly a medical mystery that turned out to be tragically true. Little Lina lived in a small Peruvian village located 7,400 feet up in the mountains.
Lina's parents feared their daughter was suffering from a massive abdominal tumor, but after being examined by doctors in Pisco, Peru, they discovered she was eight-months pregnant. Lina's doctor, Gerardo Lozada discovered that Lina's sexual organs were fully developed.
When her parents were questioned about their infant daughter's pregnancy, Lina's mother informed the doctor that she had been having a period since the age of three. However, upon further examination, Dr. Lozada realized her period actually began at just eight months.
Lina gave birth to her son who weighed 2.7 kg (6.0 lb; 0.43 st) at birth and was named Gerardo after her doctor. Baby Gerardo was raised believing that Lina was his sister, but found out at aged 10 that she was actually his mother.
Lina's father was suspected of being the father of his daughter's baby and was arrested, but later released because of lack of evidence. Lina never revealed who the real father of her son was. Her son grew up healthy and died in 1979 at the age of 40. Lina is now 83 and still alive but refuses to talk to the press.
#10. 9-Year-Old Youngest Father of the World in India
Considered to be the "youngest" father, the incident reportedly dates back to 1910. The 9-year-old was rumored to have gotten an 8-year-old girl from China pregnant in the early 1900s, making them one of the world's youngest couples.
Since the story is from such a long time ago, there is no photographic evidence to the claim. However, reports suggest that the youngest couple went on to have four children – two boys and two girls.
#11. 11-year-Old Father from Auckland, New Zealand
Instances about young parents might seem fascinating from an outside perspective, but they come with a lot of underlying darkness. An 11-year-old boy fell victim to a 36-year-old woman from Auckland, New Zealand. The woman was the boy's friend's mother, who allegedly sexually assaulted the 11-year-old.
News outlets reported that the woman repeatedly forced the 11-year-old to engage in sexual relations with her for months until the boy confessed the heinous crimes to his school's principal, who immediately reported the woman. The incident happened in April 2012, but there are no reports about the alleged pregnancy.
More information about the case can be found here.