Tupac Shakur's poignant lyrics have got me through some tough times.
But his bad boy image consisting of tattoos, bandanas and that infamous nose ring made him ridiculously sexy!
The 'Hit 'Em Up' rapper had a great sense of style and could rock different looks from street to preppy to casual.
Many of his looks are still relevant today, proving he was ahead of his time in Hip Hop and fashion.
Let's take a look at some of his standout looks within his brief time on earth.
#1. Tupac In Camouflage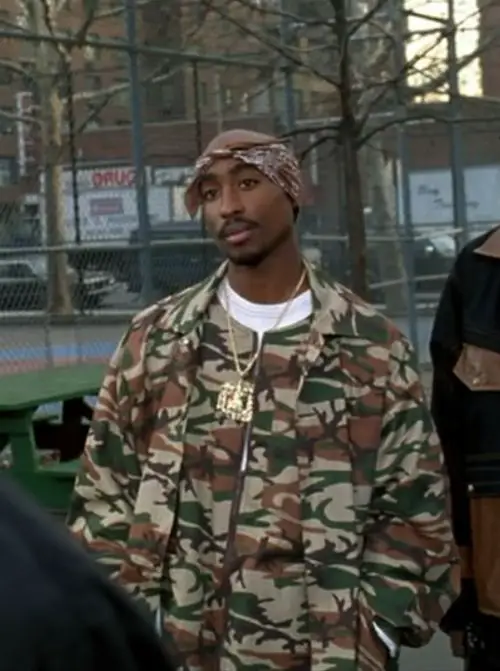 In 1994, for the movie Above The Rim, Tupac rocked a camouflage two-piece with a brown bandana and a gold chain. 
#2. Tupac Angry In Red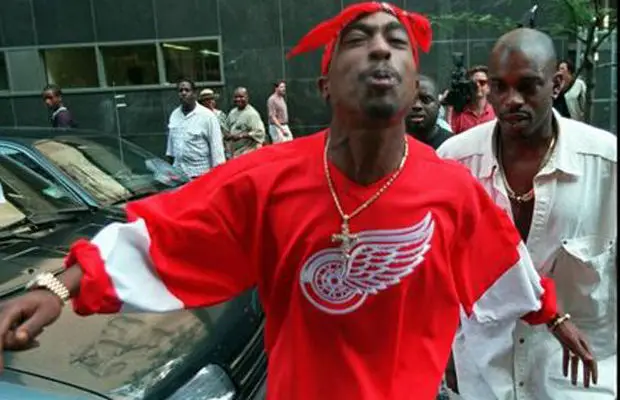 On July 5, 1994, Tupac spat at reporters, cameras and reporters as he left the state Supreme Court in New York.
The rapper wore a Red Wings jersey and a gold cross chain. The image became one of the most iconic images of Pac.
#3. Tupac At The MTV Awards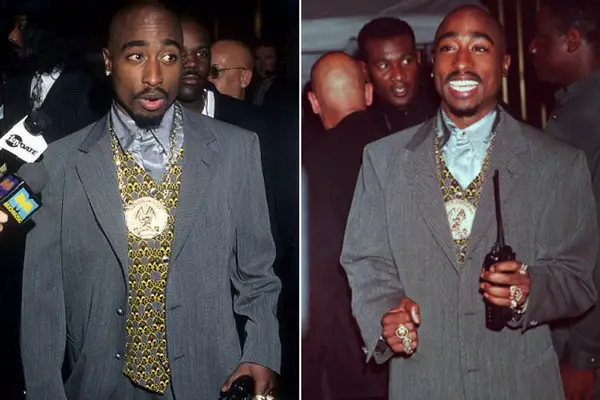 Pac was all smiles as he attended the MTV Video Music Awards in 1996.
He attended the ceremony at Radio Music City Hall alongside Snoop Dogg.
He made bold fashion statement in a grey suit laced with Versace Jewelry. He added a huge gold beaded medallion around his neck.
#3. Tupac In Velour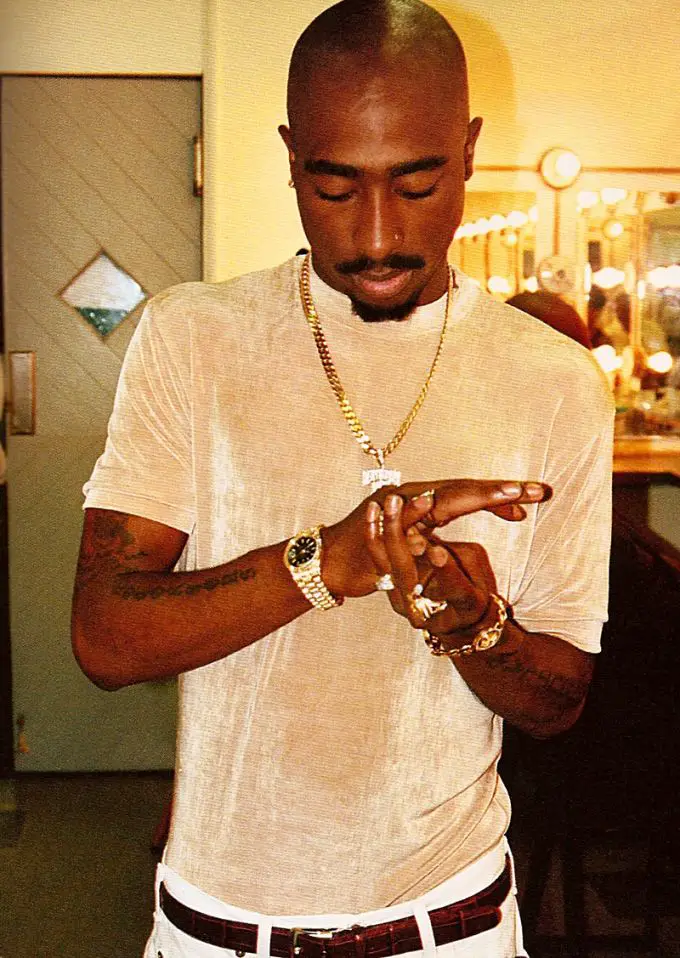 Tupac looks like a snack in this beige velour shirt!
This photo was taken backstage during concert rehearsals in 1995. He's seen wearing the "Death Row Chain" with a Versace bracelet.
Always the trendsetter, after he started to rock the velour look other rappers followed suit.
#4. Tupac Is A Preppy Prince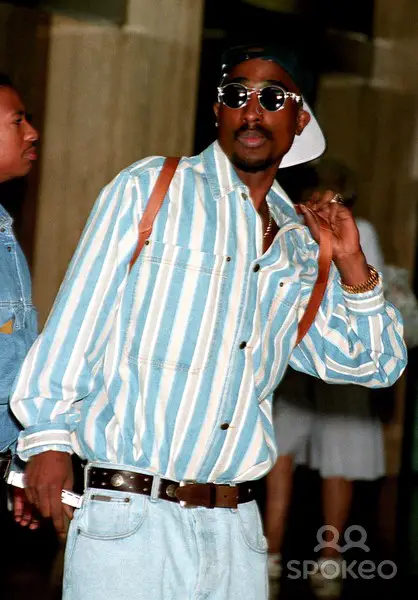 Pac loved to pull off a smart intellectual look with a gangsta edge.
He was a huge fan of button-up shirts and round frames, specifically Cartier frames.
In this look, Pac rocks a blue and white striped shirt and brown braces.
#5. Tupac In A Dressing Gown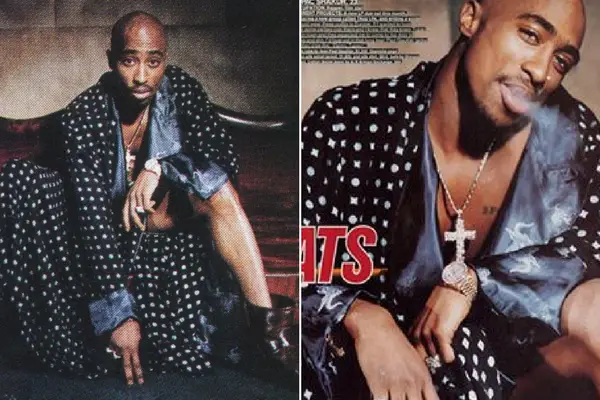 In April '94, Tupac gave females everywhere all types of life when he did a photoshoot in a J.P.G dressing gown.
Giving off Hugh Hefner vibes, Pac played up to his sexy bad boy image. He rocked a gold/sterling silver diamond encrusted cross chain around his neck.
#6. Tupac In Dungarees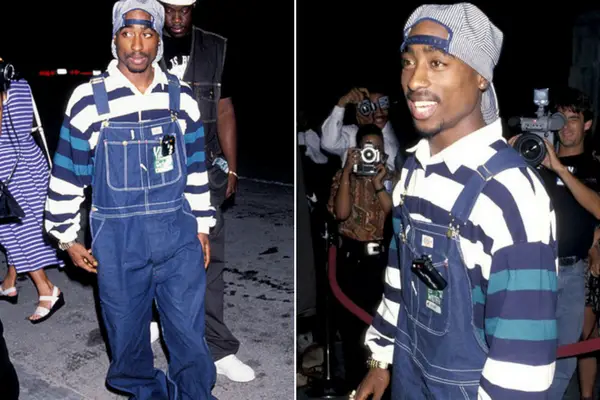 Tupac frequently wore overalls, which became one of his favorite looks of the 90s.
This snap was taken at the First Annual Minority Motion Picture Awards in Los Angeles.
Pac went street and casual in a stripe long-sleeve shirt with baggy denim overalls.
He completed the look with a stripe hat. And of course the must have accessory of the 90's – the beeper. Pac hung it on the front overall pocket on the left side.
#7. Tupac in Versace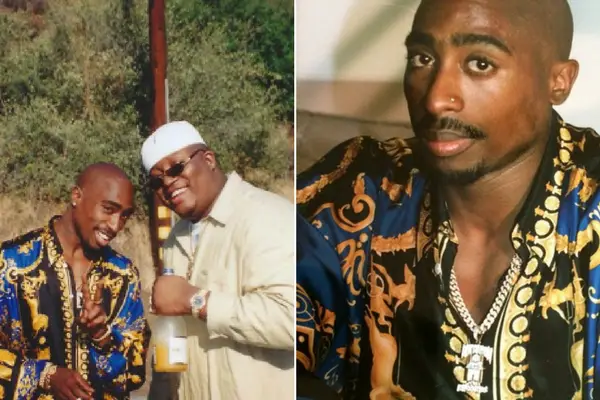 Tupac rocked the classic Versace look in 1996 for an official video for "Rappers Ball" with E-40, Too Short & K-Ci.
#8. Tupac In White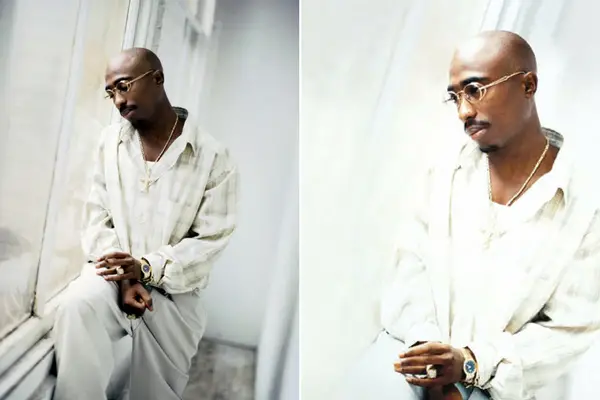 Pac had a deep soul and a brilliant mind. 
Here we see the rapper pictured looking spiritual and mindful.
The snap was taken by Reising & Taylor in 1994. Here he wears a button-up white shirt. Here he accesorized with gold jewels and his trademark Cartier frames.
#9. Tupac And Biggie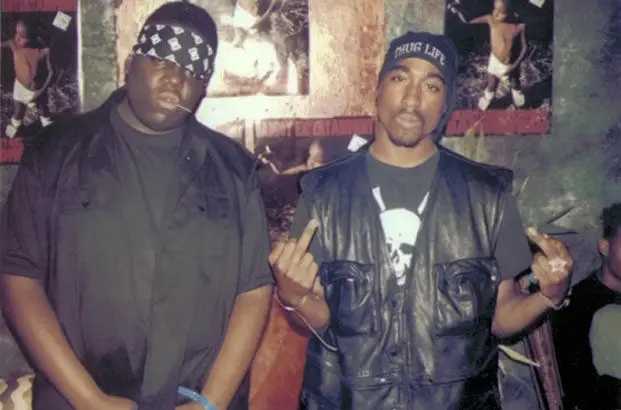 Pac is seen here with his one time rival Notorious B.I.G. 
In one of the most legendary hip hop photos ever taken, Tupac wears a "Thug Life" beanie, a skull tee and a leather vest.
#10. Tupac Death Row Look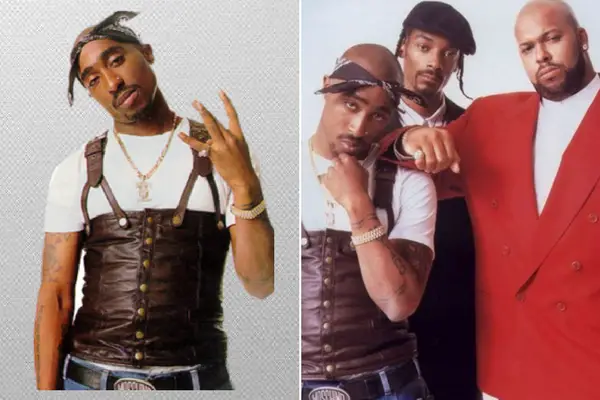 Tupac and his bullet proof vest became a signature look for him in the 90s.
It was reported that the night the rapper got shot and killed he refused to wear his bullet proof vest because it was "too hot."
Pac is seen in this image with his Death Row Record team – Snoop Dogg and boss Suge Knight.
Here he wears a brown bullet proof vest, black bandana and designer Moschino belt.
#11. Tupac Air Jordans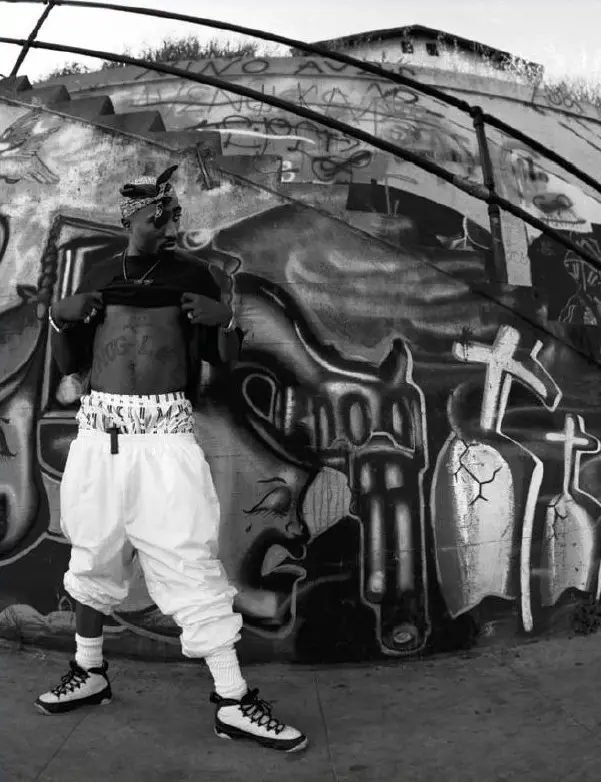 Tupac rocks a pair of Air Jordan IX (White/Black-True Red) in a promo ad in 1993 .
He wore an all-white track suit and his signature black bandana.
#12. Tupac In Sweats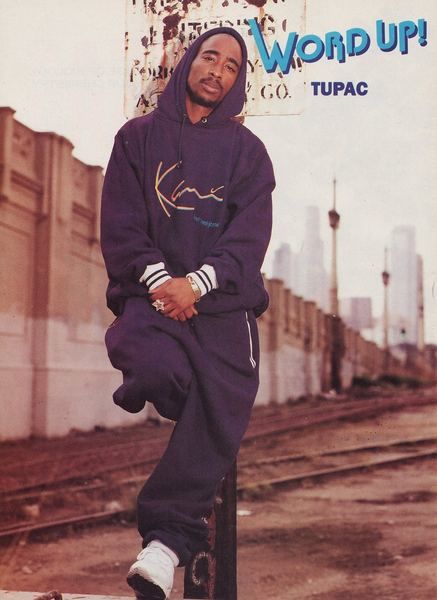 Tupac wore a Karl Kani sweatsuit for an interview on the movie set of Juice.
The interview was for popular hip hop magazineWord Up (with photography by Dorothy Low) in 1993.
#13. Tupac: Thug LIFE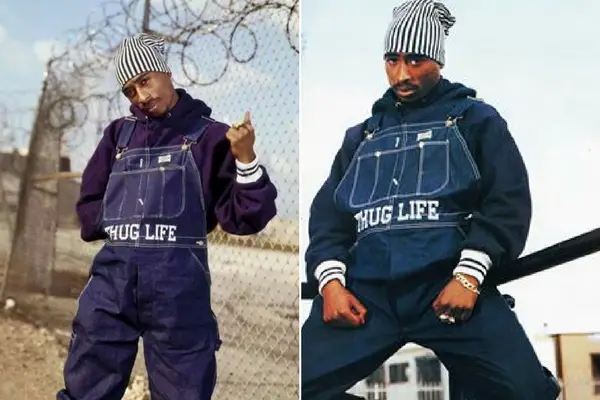 Tupac created his own original denim piece with the slogan "THUG LIFE."
He also famously had 'THUG LIFE' tattooed on his stomach. He's seen here wearing the denim ensemble with a stripe beanie and hoodie underneath.
#14. Tupac In Milan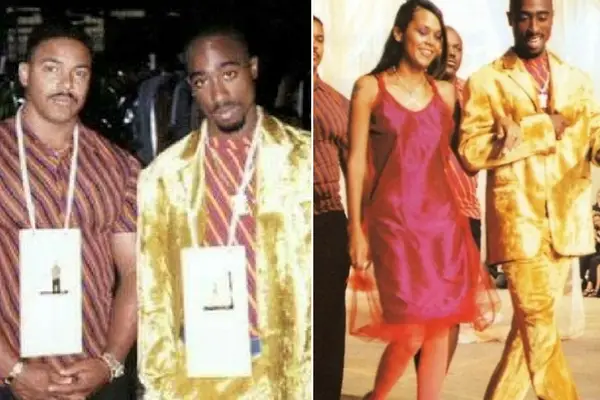 Tupac was photographed in Milan, Italy at the height of his career.
He attended a Versace fashion show and also walked in one. He performed "California Love" for the crowds in 1996. He wore a velvet gold Versace suit for the show.
#15. Tupac In Timberlands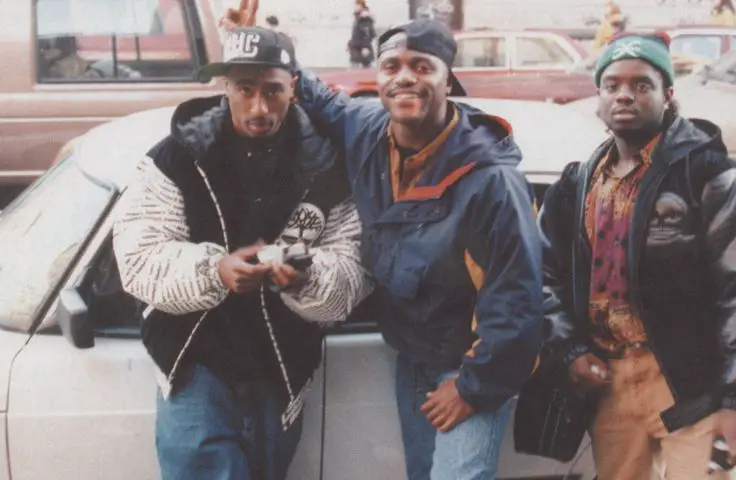 In 1992, Pac wore a stylish Timberland jacket – as seen in the "Brenda's Got A Baby" video.
#16. Tupac In A Tuxedo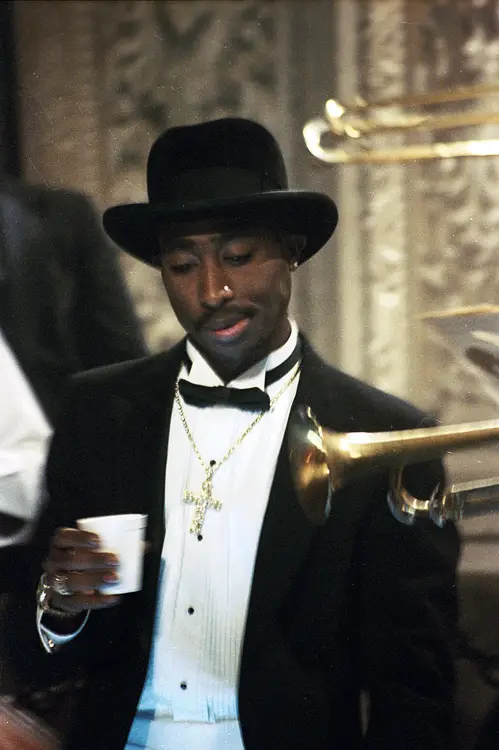 Tupac could turn out when he wanted to! Here he is in a tuxedo with Fedora and gold cross chain.
#17. Tupac Goes Casual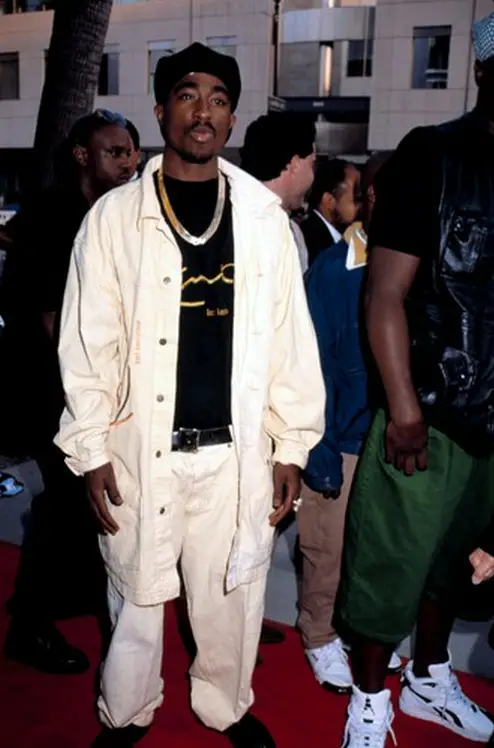 Here Tupac is at the Poetic Justice premiere in 1993. He's wearing a white Karl Kani outfit with a black beret. He also added a gold chain.