When Louise Warneford looks at her baby boy she is humbled by his very presence. 
In her quest to be a mom, Louise and her husband Mark spent over $100,000 on gruelling rounds of IVF.
The 49-year-old suffered a devastating 18 miscarriages over a 16-year period.
But after years of bitter disappointment, her son William is the miracle baby she always prayed for.
'He means the world to us,' Louise says.
'I'd reached the point where I thought I'd never become a mother, but finally, all my hopes and dreams have come true and I couldn't be happier.'
Louise and Mark live in Swindon, U.K. 
When they met in 1999, they were both in the Royal Air Force, working as cabin crew at Brize Norton in Oxfordshire. Divorcee Mark had daughters, May and Evie, now 25 and 22.
Louise says she knew instantly she wanted to marry him.
But unfortunately, Mark underwent a vasectomy procedure long before meeting Louise.
Louise says: 'I knew he was the man I wanted to have a family with, but I also knew we'd have to find an alternative way to make it happen. I had to persuade him, but once we started treatment he was very supportive.'
A fertility specialist suggested insemination with donor sperm. Louise became pregnant after a couple of attempts.
But she was always bitterly heartbroken when she suffered a miscarriage.
Her 18th and final miscarriage was in 2010, when she was 42. By that point the toll of the treatments had become all too much. 
It was then the couple finally agreed to stop trying.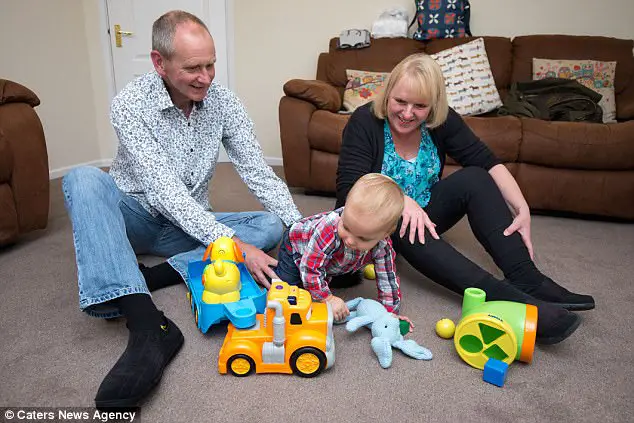 But a specialist suggested the couple try IVF.
This is where Louise's eggs would be harvested and fertilised with a donor sperm. This was far more expensive and the couple had to pool the last of their savings in order to fund it.
Yet, sadly they faced the same disappointment. 'I got pregnant every time with IVF, but miscarried every time,' she says.
Then one day Louise read a book called 'Your Body Baby-Friendly'. The book by fertility specialist Dr Alan Beer describes how some women's own immune systems can be responsible for failed pregnancies.
Dr. Beer argues that natural killer cells, or NK cells usually destroy cancer cells and viruses. But these cells can get out of control and target the pregnancy.
'Effectively, women become serial killers of their own babies,' he wrote.
Convinced that this was what she was suffering from, Louise got a second opinion. 
This led her and Mark to the Gynem Clinic in Prague. 
At the Gynem Clinic, the couple selected eggs and sperm from a list of donors with similar physical characteristics to them.
The embryo was then implanted into Louise's womb. After years of failed IVF procedures, Louise could hardly let herself enjoy her pregnancy or even think about delivering a baby.
'I tried not to get attached to the pregnancy. I couldn't enjoy being pregnant at all, even after passing the 12-week milestone. I was petrified something would go wrong.'
'I didn't buy anything for the baby until three weeks before he was born,' Louise said.
During her pregnancy, Louise suffered from high blood pressure and problems with blood flow to her placenta.
This caused William to be born early, via caesarean section, at 37 weeks. When she and Mark saw their healthy baby boy for the first time, they were overwhelmed. 'I was euphoric, crying and so excited,' she says.
Louise wants her family's story to be one of hope for other women struggling to become mothers.  'I think if we talked more about our experiences, women would feel less alone when it happens to them,' she says.
'It doesn't matter at all to us that William is a donor baby – I carried him inside my body and he feels 100 per cent ours. I believe nurture is what's most important – I've already noticing him doing things I do, like play with his ear when he's tired or unsure about something.'
'He's our gift and I'm just so thankful he finally arrived.'