It's every parent's worse nightmare.
You switch on the TV and see your child's school is in the midst of an active shooting.
In the wake of the senseless tragedy in Parkland, Florida, where 17 students were murdered at Marjory Stoneman Douglas High School – serious questions have been raised.
As a teacher, Tanai Benard thought it would be appropriate to make sure her son Dez, 10, takes safety drills.
But she was shocked when the selfless fifth-grader from Houston informed her he volunteered to risk his life.
Dez offered to block the door of his classroom in the event of an active shooter.
In a now-viral Facebook post, Tanai recounts how Dez told her his school held an active shooter drill.
'The teacher is suppose to shut and lock the door, put the black paper over the window on the door,' he said.
'Then myself and three other boys are suppose to push the table against the door.'
Tanai was immediately alarmed by her son's words.
She initially thought the decision to have him protect his class may have something to do with the color of his skin.
'I internally went from 0 to 100 real quick.'
'My child is one of only 2 black children in a class of 23.'
'Being transparent, I immediately went to the "why is my black son being put on the front line?" (Just being real) So I asked before I verbally stated my thoughts,' the mom shared on Facebook.
But Dez told Tanai the reason he was picked to stand in front was because he himself volunteered to protect his friends.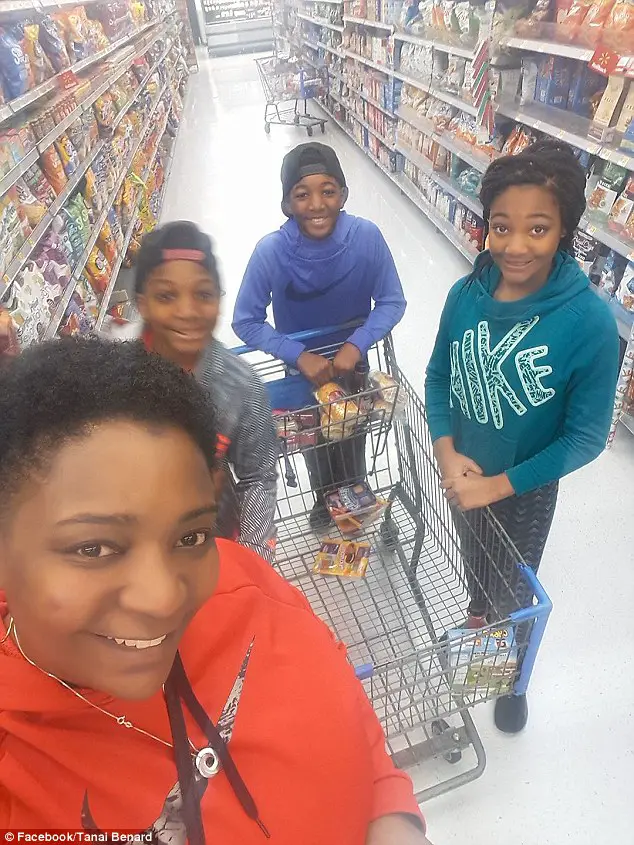 'If it came down to it I would rather be the one that died protecting my friends then have an entire class die and I be the only one that lived,' said the boy.
While moved by her son's selflessness, Tanai lamented the fact her son even had to prepare for something so dreadful.
Tanai wrote: 'It took everything out of me not to breakdown. I still have a lump in my throat. 10 damn years old and this has to be our babies thought process in America.'
Her Facebook post moved thousands of people and has gathered more than 150,000 shares.
'What an amazing young man you have! It breaks my heart that our children have to think like this but your son is something special!' one comment read.