Earlier this week we reported the tragic death of high school student Courtlin Arrington.
Michael Jerome Barber, 17, has now been charged with her manslaughter.
He has also been charged with possessing a firearm illegally after he allegedly shot to death the 17-year-old at his high school on Wednesday.
The Alabama teen was later released on bond and was seen posing with his sister for a picture posted to social media.
Barber and his sister, Makiya, posed for the picture shortly after his release from custody on Thursday.
'Out the Big Ole Gate!!!!!,' Barber captioned the photo uploaded to Facebook-  'Gate' referring to the Jefferson County District Jail.
'Y'all can stop the fake friend request now. God still gotta plan for the Kid!,' she added.
Makiya Barber also stated below the picture in a message with friends that the two went to McDonald's after his release.
She laughed that Michael lunched on a 'Big Mac and Coke.'
In an earlier post, Makiya appeared to lash out at individuals who were contacting her in the wake of her brother's arrest.
'Don't nothing need to be explained to y'all fake wanna be detectives and news pages (more like gossip sites) the police have footage and facts, so the count down to see my brother is on!,' she posted to her Facebook wall on Friday.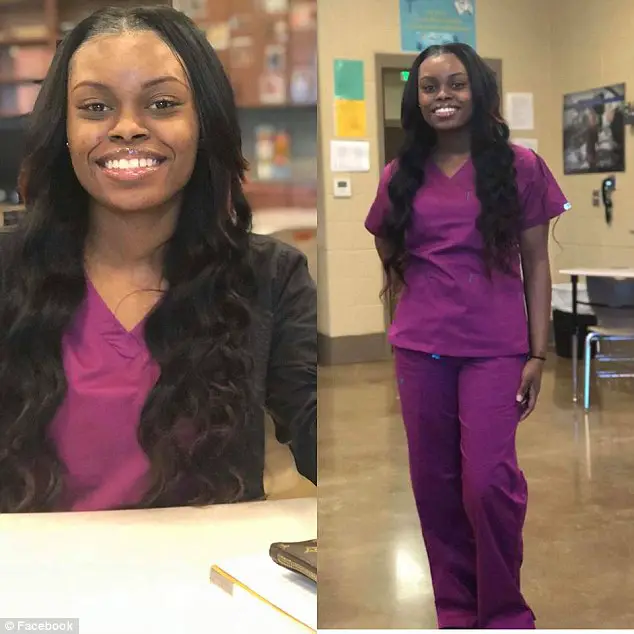 She added the hashtag #prayersforcourtlinfamily and #prayersforours at the bottom of the post.
Authorities initially investigated the shooting at Huffman High School in Birmingham, Alabama, as accidental.
But after Jefferson County District Attorney Michael Anderton reviewed the security footage charges were filed.
He said in a press statement on Friday that Barber was being charged with bringing 'a pistol onto the campus of Huffman High School and recklessly causing the death of Miss Arrington.'
Anderton confirmed Barber was charged as an adult even though he is 17-years-old.
Barber is a Huffman junior and wide receiver on the school's football team, according to Al.com.
'The District Attorney's Office has examined the investigation of the Birmingham Police Department and the evidence collected by BPD,' Anderton said in a statement.
'They have talked with many of the students in the school, in the classroom where the shooting took place and collected evidence from the scene.'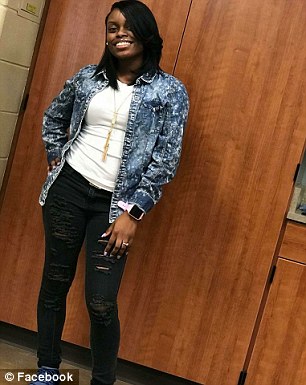 'Our hearts go out to the family of Ms. Arrington, all of her friends and those whose lives would have been changed through her nursing dreams had this event not occurred,' Anderton said.
'This is a parent's worst nightmare. We expect the charges will be heard through the court system and justice meted out to the person responsible.'