Lily Harrison was among the hundreds of people injured when a suicide bomber set off a homemade device at the Manchester Arena on May 22.
The eight-year-old had just come off a high after seeing her idol Ariana Grande perform.
Now the singer has met with Lily and many of the survivors of the atrocities on that fateful night.
Lily's father revealed that his little girl felt like a 'rock star' after meeting Ariana at the Royal Manchester Children's hospital. 
Lily suffered shrapnel wounds from the bomb blast and a bruised lung in the terror attack.
But the youngster spirits were lifted when she met pop star Ariana – with the singer cuddling Lily from her hospital bed.
The 'Focus' singer told her: "I'm so proud of you. You are so strong. You are doing really well."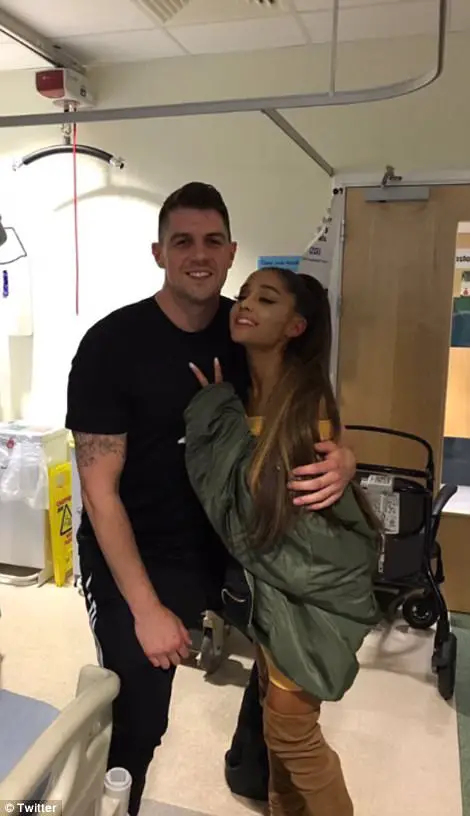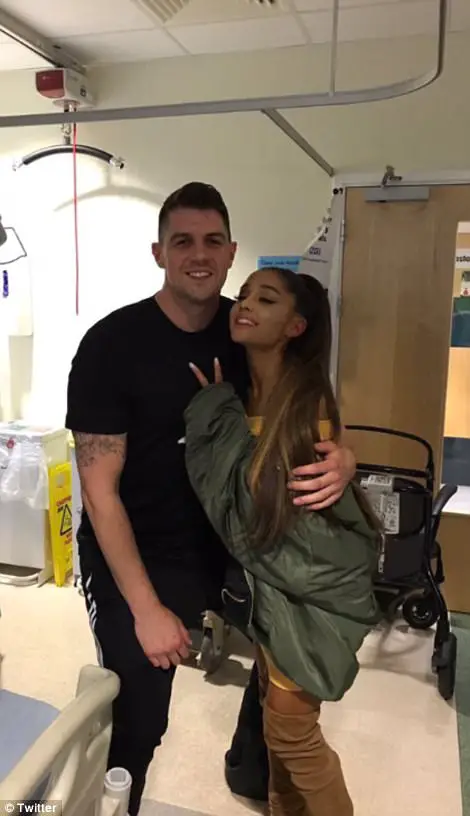 Lily's father, 32-year-old Adam Harrison, said it gave him goosebumps to see his daughter with the mega star. 
'Ariana lit the room up. She was absolutely fantastic. She knelt by Lily's bed and asked her lots of questions. She had so much time for her,' he said.
'Lily was bouncing off the walls. She was so excited. She is her biggest fan.'
Her mother Lauren Harrison said Lily "hasn't stopped talking about the visit ever since."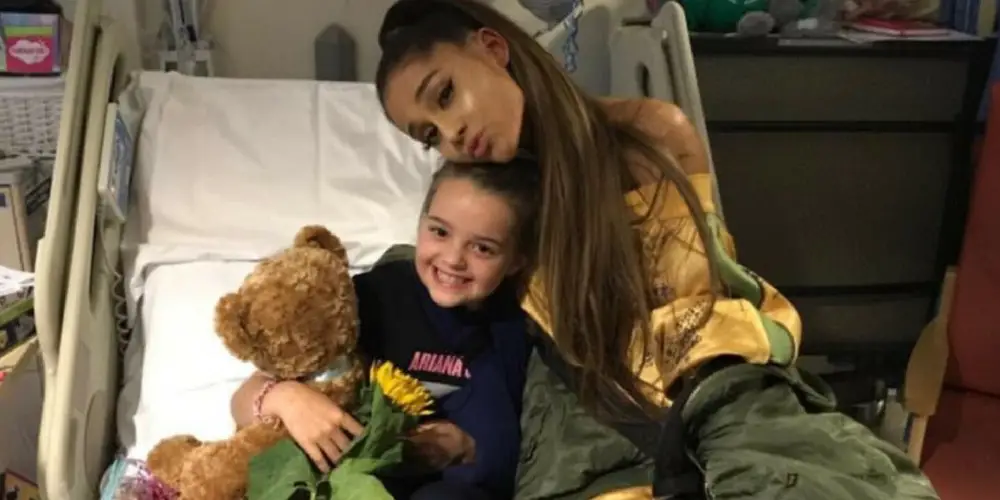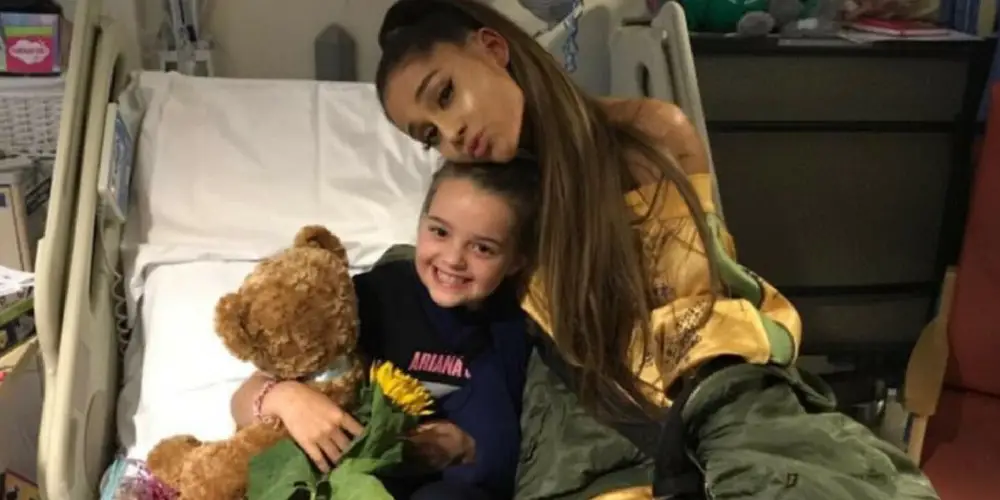 Describing his daughter's meeting the star, Mr Harrison said: 'She was so nervous she said, 'I think I might need to go to the toilet' she was that excited.'
'We were the last room on the ward that she came to visit, so I think the excitement was building and building, and then she came skipping in.'
Ariana's visit comes after a stressful and traumatic time for the Harrison family.
Lily, from Stockport, was blown to the floor in the explosion, receiving a wound to her back.
Mr Harrison said: 'As I saw her on the floor I just picked her up like a rugby ball and made a run for it.'
'But obviously being 16 stone myself and carrying Lily's weight and running at speed down a flight of stairs.'
'I met a guy's foot at the bottom of the stairs and have gone over on my ankle, which has deemed me a bit immobile.'
Once they got to the car park, Lily's injuries became more apparent. Mr Harrison said: 'Lily went unconscious when we got her into the car park and she was almost like jelly.'
'It was (a) tough realisation that we thought we may have lost her. She did come round 30 seconds later, so going from rock bottom to then….' Mr Harrison's voice trailed off.
'The wound was on her spine, so I was patting her legs and pinching her legs to see if she had a sense of feeling, and she did,' he added. 
'We had kind of gone from rock bottom to … I wouldn't say it was euphoric but it was very positive and uplifting that she was okay.'
After a few days of initial recovery, Lily began to improve.
Her father said: 'She's really come round and culminating in last night where she's ready to go – she wants to get home now and I think she feels like she's a bit of a rock star now.'
She is now likely to be discharged from hospital over the weekend and is hoping to go to the benefit concert organized by Grande.
Mr Harrison said: 'After last night's visit I think she'd probably disown me if I didn't take her on Sunday.'
'Physically she looks really well. She is giving her mum and me a heart attack because she is running up and down the corridors of the hospital. So our hearts are in our mouths but who are we not to tell her to do that?'
'She is really excited after last night. To see her face last night, to see her face tomorrow will be two things where I think we are coming full circle again, so we are really looking forward to it.' 
Ariana also surprised Jaden Farrell-Mann, from Denton and Evie Mills, 14, from Harrogate, who suffered damage to her legs and chest in the attack.
She brought the children presents and signed autographs during her ward visit.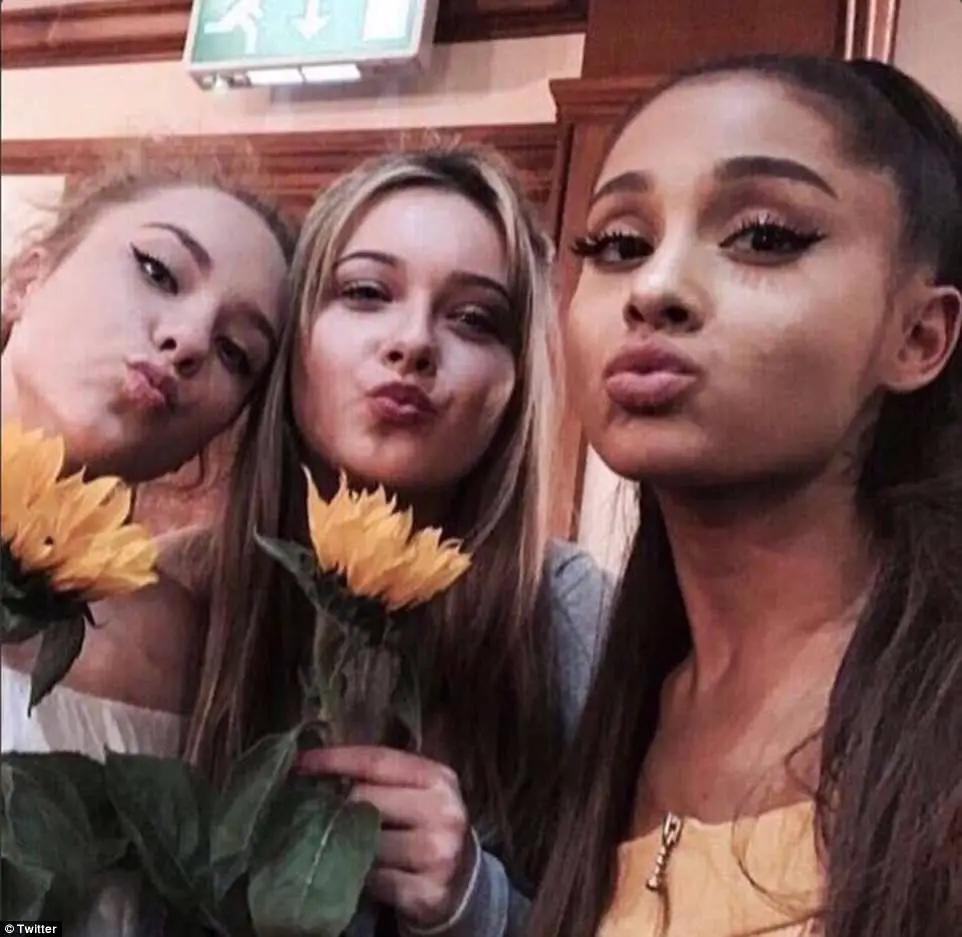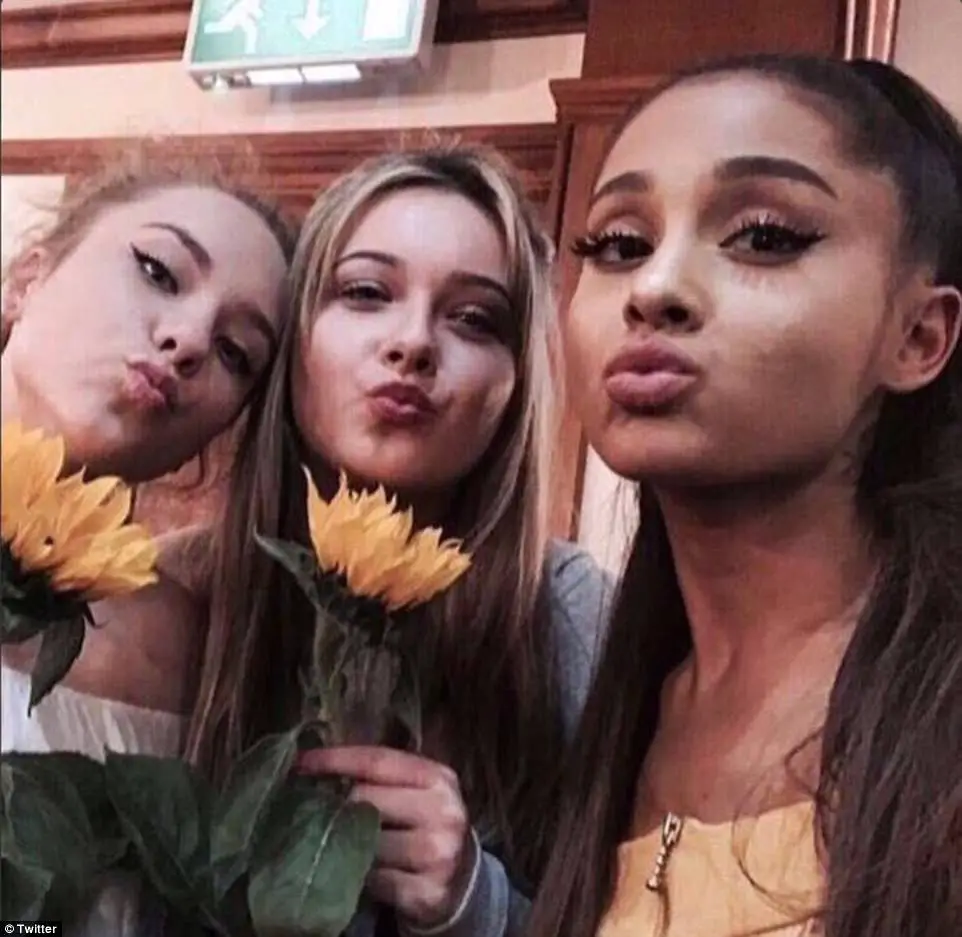 After the visit from her hero, ecstatic schoolgirl Jaden tweeted: 'I got to meet my queen today. Love you Ariana Grande.'
Jaden's mother Sharon told the Manchester Evening News: 'Jaden was just sat there watching TV and she walked in. 
'She was absolutely amazed. It was a complete surprise. She has a big smile anyway but it got even bigger, Ariana gave her a hug and a kiss, she was in awe.'
'It was absolutely fantastic to see, she was so happy.'
Her father Peter Mann wrote of Miss Grande's hospital visit: 'This means more to us than all the amazing things people have done this week.
'So happy she came I could burst. Never seen Jaden so happy; even cried again myself.' 
After the terrorist attack Ariana flew home to Florida and tweeted that she was 'broken' and 'so so sorry' after the terror attack. 
The 23-year-old is now back in Manchester to perform at the One Love benefit concert.
The superstar will headline the show at Emirates Old Trafford cricket ground this Sunday, which aims to raise millions for those injured.
The line-up includes Coldplay, Justin Bieber, Katy Perry, Miley Cyrus, Little Mix, One Direction star Niall Horan, Take That and Usher.
It has been reported that survivors of the bombing will join Ariana on stage at the gig. 
A local primary school – who were at the Manchester Arena gig – will sing with Miss Grande during her set. 
Twenty-four students from Parrs Wood High School's Harmony Choir have been chosen to sing with Ariana. Tickets for Sunday's concert went on sale at 10am yesterday and sold out in just six minutes.