To all my single ladies out there: how do you imagine the man of your dreams proposing to you?
Maybe in Paris, or in a room full of human hair wigs that are yours to keep (that's my fantasy.)
Not many would imagine that their hopefully, once in a lifetime moment, would be caught on a police body camera.
But one brazen man decided to propose just as he was being arrested. The bizarre moment actually occurred on Brandon Thompson's birthday. The incident was all filmed by bemused police.
Brandon Thompson had asked officers permission to propose to his lady before he was taken to jail.
'I didn't want to part ways with her not showing exactly how I feel for her,' he was reported as saying by CBS.
The 35-year-old got on one knee in handcuffs to ask for Leandria Keith's hand in marriage.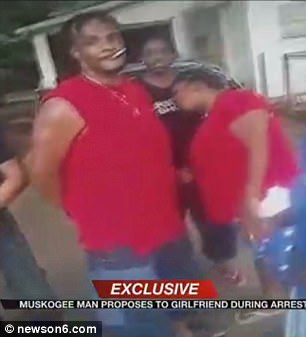 'I want her to be my wife for the rest of my life,' he added.
There had been six warrants for Thompson's arrest.
He had failed to turn up to court for previous offences and had failure to pay warrants.
Officer Lincoln Anderson said: 'It took us by surprise that he asked if he could do it.'
Thompson was later bailed after the family put their savings together.
Thompson said he has been 'doing a lot to turn his life around'.
He has been coaching a peewee football team, which gives him an opportunity to give back to the community, he said.
'So many young kids grow up without fathers and don't have the correct type of guidance," said Thompson. "I've been down that road before. I don't want them to make the same mistakes I've made.'
Well, no matter the location it's the thought and the actual marriage that counts, right?
Thompson is next in court on July 17.