Ashanti is looking like a snack! 
The 37-year-old R&B singer looked sensational in a yellow skimpy two-piece. The 'Foolish' singer hit the beach of Hawaii and showcased her toned physique and flat stomach.
Ashanti's neon bright swimwear was set off with a gorgeous statement kaftan. The kaftan featured yellow and teal fringed sleeves. 
The songstress accesorized with layered pendant necklaces and a pair of tinted shades. 
Meanwhile the Glen Cove native hit headlines this weekend when she lashed out at a male fan.
During a risqué performance, where she gave lap dances to several men, a fan threw dollar bills at her.
Ashanti stopped during a concert at the Neal S. Blaisdell Center in Hawaii, to scold the fan and tell him she wasn't a 'f****g stripper'.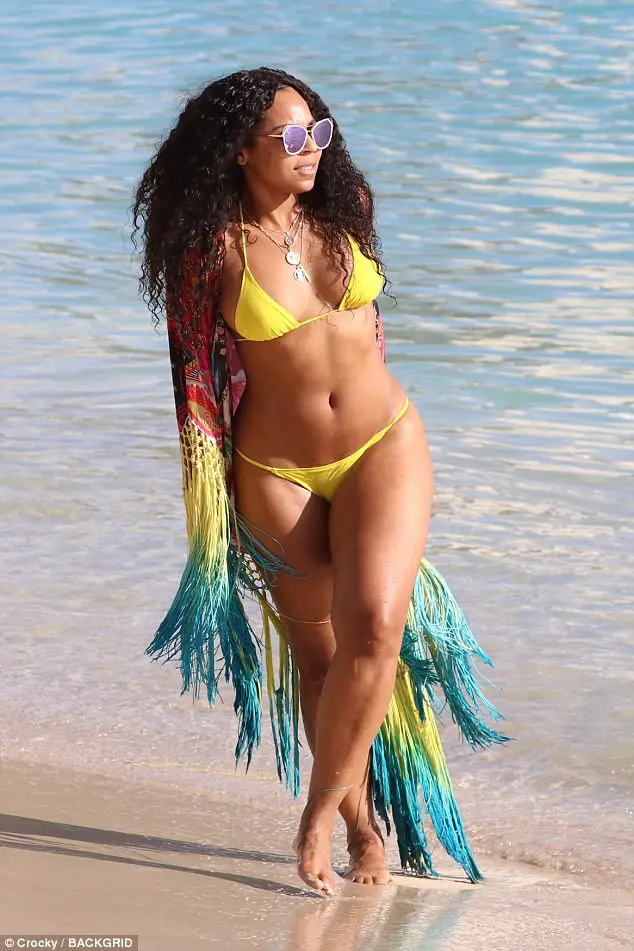 The Grammy winner stopped her song and told the crowd, 'Let me tell you something – stop, stop stop. I need you to stop throwing that money, I am not a f****** stripper, OK?' 
According to TMZ, the fan who the 'Rock Wit U (Awww Baby)' artist was yelling at was affiliated with Ballarrinas – a gentleman's club about a mile away from the venue.
The establishment's owner, Dyamin Thomas, was the one who posted the clip of Ashanti's outburst on Instagram.
'WAIT Ashanti aren't you giving a lap dance?' Thomas wrote, adding that Cardi B is 'the only one winning right now.'  
'You broke hearts tonight, girl,' Thomas wrote, adding that those who threw money did so in an effort to 'show love and that's how it's done in' Hawaii.
But the 'Rain On Me' singer did receive some support from her dedicated fans on Twitter.
One wrote, 'My girl @ashanti is a f****n queen!! Stopped mid song to let a [person] know that she [ain't] a stripper so … quit throwing money on stage.'
Another said, 'Ashanti just told someone stop throwing dollahs. She [ain't] no stripper!!!! Daaaaat' righhht girrrrrl!'