Serena Williams is on cloud nine.
She's a newlywed with a beautiful baby and a gorgeous husband.
The tennis ace showed off her enormous new wedding ring in a sweet snap of her baby girl Alexis Olympia Ohanian. 
'Daddy knows how much I love leopard print,' Williams captioned the snap on Instagram. 
The adorable up-side-down shot showed little Olympia (who the pair choose to call her) rocking a tiny leopard-print dress.
Serena's daughter looked happy and content on a cosy-looking leopard-print blanket.
Williams shared the image to her little girl's own Instagram account. 
The 39 Grand Slam winner married Reddit co-founder Alexis Ohanian in New Orleans on November 16.
The Beauty and the Beast-themed wedding was attended by A-list stars including Beyonce and Kim Kardashian.
On Wednesday Serena shared a pic of her gorgeous wedding gown.
Serena captioned the image of the stunning dress, 'For the first dress When Anna Wintour asked me what I wanted to wear I said "a cape" I just want to wear a cape" she said: "well Sarah Burton with @alexandermcqueen is the one for you.'
'Thanks Anna. Thanks Sarah. I felt like a princess and superwoman all at once.' 
Meanwhile, her adoring husband took a moment to express his gratitude for his new wife.
Ohanian shared a sweet photo of their wedding day on his Instagram page.
He captioned the pic: "You are the greatest of all time, not just in sport – I´m talking about as a mother and as a wife."
"I am so excited to write so many more chapters of our fairy tale together. And my whole life I didn't even realize it, but I was waiting for this moment."
"And everything that I have done, everything that I am so proud of in my career, and in my life, for the last 34 years, pales in comparison to what we´re doing today. And I am so grateful, and I am so in love."
When the four time Olympic gold medalist walked down the aisle, she chose to wear Nikes.
Serena showed off the bedazzled trainers she wore while exchanging vows on Instagram.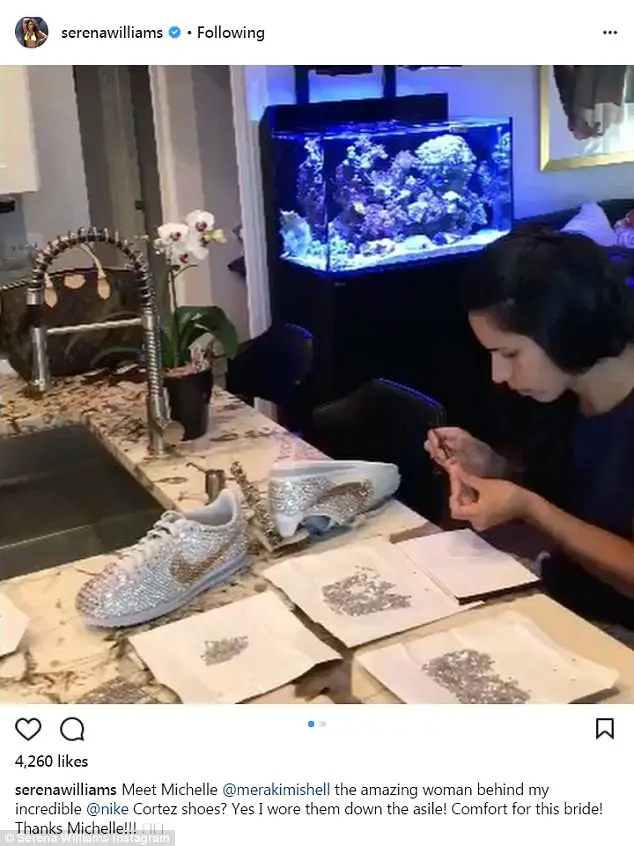 Serena was unapologetic in explaining she put comfort first on her special day.
'Meet Michelle @merakimishell the amazing woman behind my incredible @nike Cortez shoes? Yes I wore them down the asile! Comfort for this bride! Thanks Michelle!!!', she captioned the video.