Vieneese has always been close to her father Preston.
At all the key moments of her life, her dad was always there cheering her on.
She recently got engaged to the love of her life, Douglas Stanton, and was looking forward to her dad walking her down the aisle.
But, sadly, doctors broke the news to Vieneese and her family that Preston is dying.
Vieneese's father only has a few weeks to live.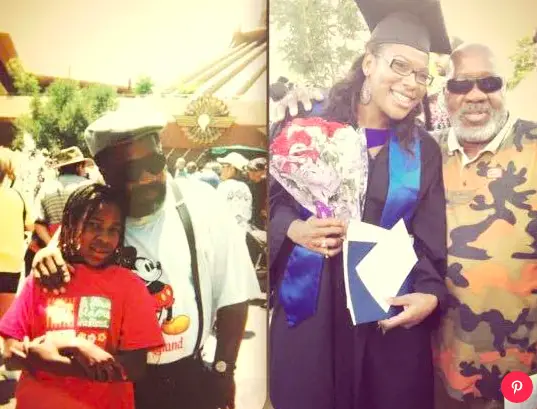 Vieneese and Douglas Stanton originally planned to have a big wedding in April 2018.
But after the devastating news but they knew they had to make some changes.
"My dad has acute leukemia … [doctors] were constantly giving us negative reports about my dad's health."
"So my fiancé — who's now my husband — and I really wanted my dad to be a part of [the wedding]," Stanton tells PEOPLE of her father, who was diagnosed with the disease in February.
"My dad was really excited when we got engaged," Stanton says.
"Then to find out he wouldn't make it to our original wedding day was sad for us, so we wanted to speed the process up a little bit."
In a truly moving and emotional ceremony, Vieneese, 27, married 30-year-old Douglas, of Richmond, California.
On Nov. 16 the couple exchanged vows at the University of California, San Francisco Medical Center.
The couple were surrounded by friends, family and nurses – and of course her father, Preston Rolan, 64.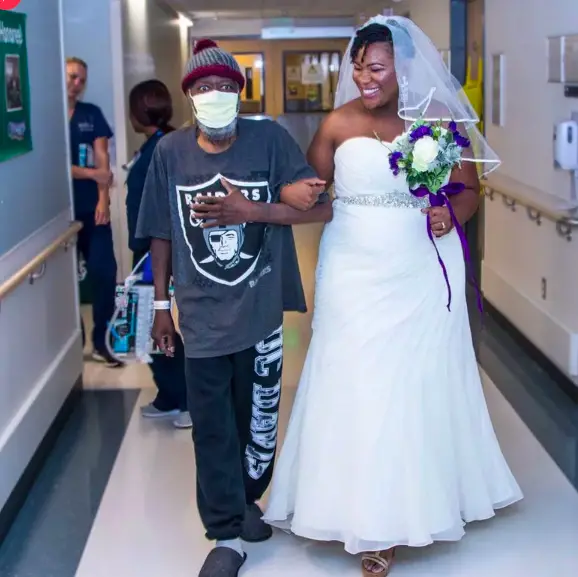 "My dad didn't even know we were planning this."
"I was working alongside the nurses and my bridal party," she tells PEOPLE.
The caring hospital staff decorated the hospital, bought a cake and even got Rolan a suit.
"I actually was hiding from him in the hospital! He takes walks around the hospital in the morning so they decided to take him for his walk and then I turned the corner on him."
His reaction was priceless, she says.
"He was completely surprised. He really was about to start crying. He was bragging. He was telling all the nurses, 'This is my daughter. This is my daughter!' " Vieneese tells PEOPLE.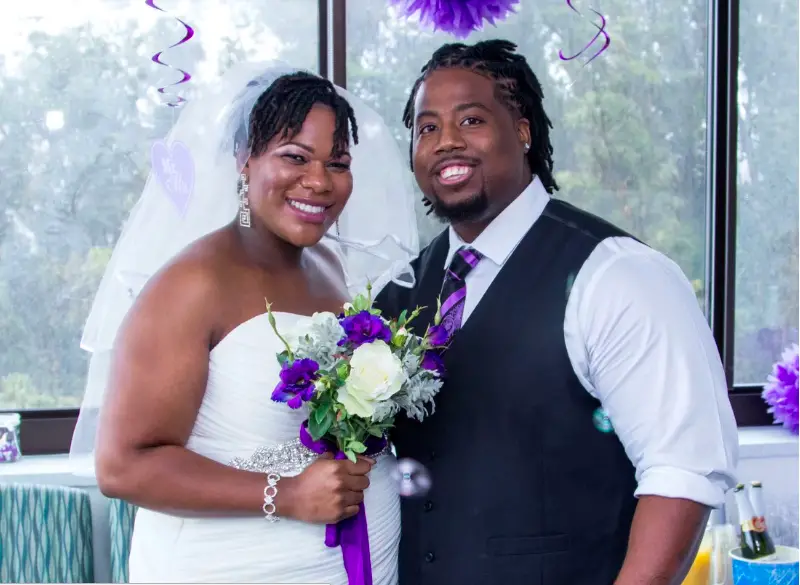 "With the help of his nurses, we were able to actually have the wedding at the hospital so that he could walk me down the aisle. We wanted him to be able to share this experience with us."
Beautiful photos of the ceremony showed Vieneese looking gorgeous in her gown. 
The bride smiled wildly as she and her father walked arm-in-arm down the hospital's halls. The nurses and guests stood on the sidelines, clapping and taking photos. The nurses also provided a lot of food and even a professional photographer.
"It was amazing. It was beautiful. I was smiling the entire time," she tells PEOPLE. 
"I was surprised just like my dad was because. I didn't know it would be that big."
When Vieneese's father first became ill, he moved in with her and her now husband.
Eventually when Preston was admitted to hospital Vieneese visited as often as she could.
She was sure to update him about all the key moments in her life – including the news that he was about to become a grandfather.
"I'm five months pregnant. It's a baby girl," she tells PEOPLE. "When we found out, I took balloons to my dad's hospital room and kind of did a gender reveal with him. He was so excited."
Doctors held off putting Rolan into hospice care so he could attend Vieneese's wedding.
But now that the magical ceremony is over, Vieneese says she's preparing to say goodbye to the first man in her life. 
"He's someone who always gives me wisdom, he is always making sure I make the right choices," Vieneese says through tears.
"I'm definitely going to miss his wisdom over all. He was full of humor, so I will miss laughing with my dad. There's so much about his personality I will definitely miss."